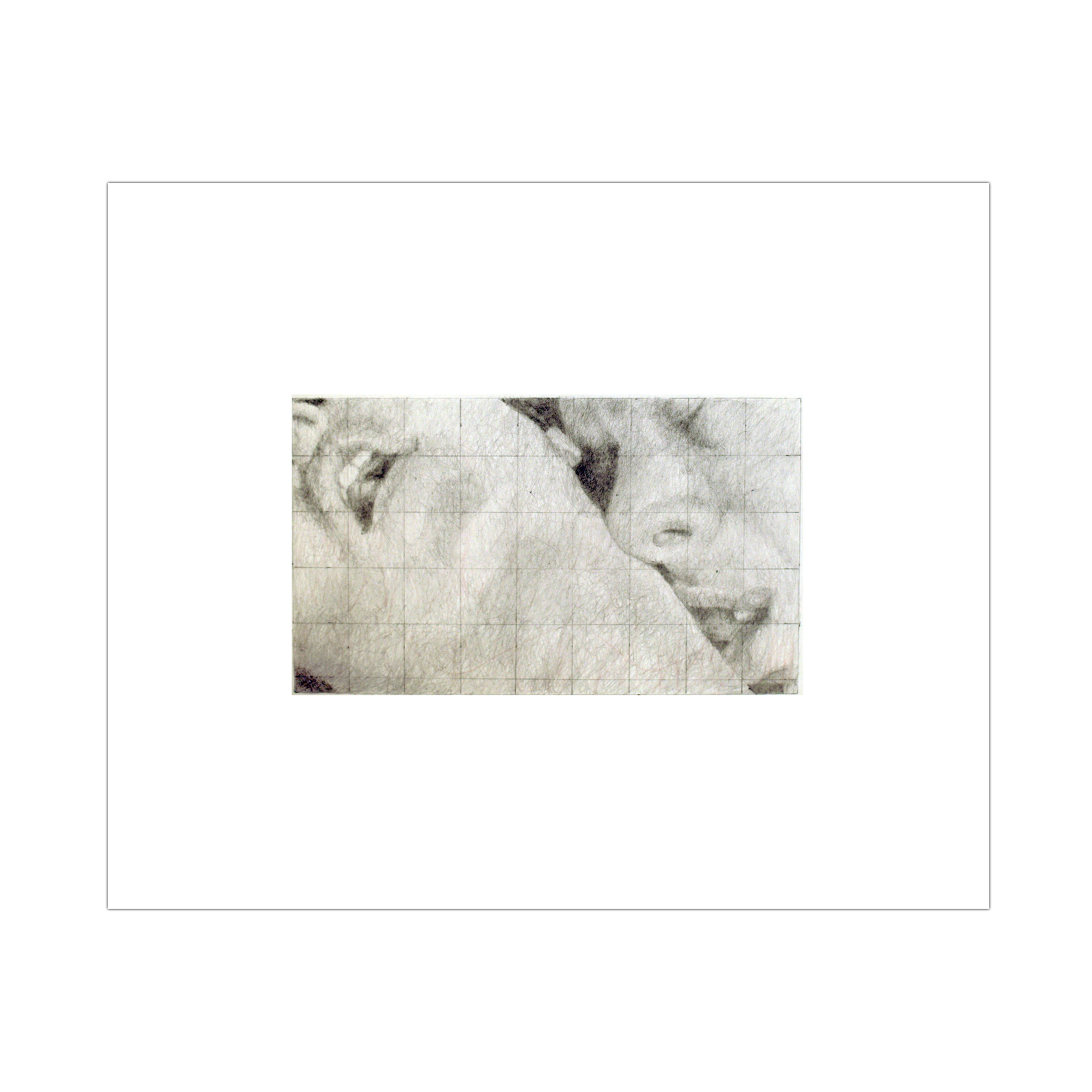 For the last forty years, Betty Tompkins has based her paintings on the tension of intimacy and the representation of sexuality, rendering explicit scenes in monochromatic tones. Her large-scale, hyper realistic figure paintings are made from erotic photographs and built layer by layer, using two airbrush nozzles to apply black and white acrylic. Text and language play a large role in Tompkins work, often driving the subject matter and concept of the piece. Her work is not meant to arouse fantasy but to transpose light and shade, the effect of the process enveloping the scene in sfumato. Tompkin's radicalism in the late 60s not only led to the unfortunate censoring of her work, but also the later recognition of her role in the American and European art scene. Like John Currin's famous series in 2006 or Paul McCarthy's sculptures, Tompkins' work has shocked the art milieu and been confiscated by customs, even in an age of omnipresent pornography. Sex Grid #8, though a small study on paper, expresses the same friction and tenderness as a larger work.
Betty Tompkins (b. 1945, Washington DC) has held solo exhibitions at P·P·O·W (New York), GAVLAK (Los Angeles), Rodolphe Janssen (Brussels), J Hammond Projects (London), The Flag Art Foundation (New York) and Ribordy Contemporary (Geneva). Her works can be found in the permanent collections of the Brooklyn Museum, Centre Pompidou, Musee National d'Art Moderne (Paris), Pennsylvania Academy of Fine Arts (Philadelphia), Museum of the City of New York, Shelly & Donald Rubin Foundation, (New York) among others. In 2021, MO.CO. Montpellier Contemporain presented Betty Tompkins: Raw Material, a revelatory survey exhibition accompanied by a monograph with specially commissioned texts by Nicolas Bourriaud, Alison M. Gingeras and Géraldine Gourbe, as well as a conversation with Tompkins. She lives and works in New York, NY and Pleasant Mount, PA.
This work is accompanied by a Certificate of Authenticity signed and numbered by the artist.
Be sure to keep your Certificate of Authenticity (COA) in a safe place. We are unable to replace or reissue COAs.
Framed artwork is custom framed once it is ordered. Allow 3-5 weeks for framing and delivery.
FRAME
All of our frames are made from sustainably sourced engineered hardwood that is manufactured in the USA. Frames are available in Black or White Matte and Walnut.
MAT
Prints are hinged to a conservation quality, acid-free and lignin-free Cellulose matboard, using acid-free polyethylene cloth tape. Each mat's surface paper is fade and bleed resistant and is attached to a conversation quality foam-core board. Some of our work (typically those pieces with a deckled edge) is floated on the matboard with spacers to separate the artwork from the glazing.
GLAZING
We use museum quality .060 mm plexiglass to frame your work. It blocks 82-85% of UV rays to prevent color fading from exposure to light, protecting your art for years to come.
DIMENSIONS
Our White and Black frames have a ⅞" wide flat face and are 15/16" deep. Mats are 1" wide for prints up to 8" x 10". Mats are 2" wide for prints larger than 8" x 10".
Our Natural and Walnut frames have a ¾" wide flat face and are 1 ⅛" deep. Mats are 1" wide for prints up to 8" x 10". Mats are 2" wide for prints larger than 8" x 10".
Any artwork that is floated will be placed in a frame that has a ⅝" wide flat face and is 1 5/16" deep. Work will be floated with a 1" border around it.
Unframed work ships within 5 business days of your order. Framed artwork is custom framed once it is ordered. Please allow 2-4 weeks for framing and delivery. Need it faster? Expedited options may be available by emailing service@exhibitiona.com. All work ships from the US. International customers are responsible for any customs, duty, or VAT charges.
If you change your mind after placing your order, please email us at service@exhibitiona.com within 24 hours. We will not be able to accommodate cancellations for framed orders after that time period (as your frame will have been ordered and cut within that time period). We may not be able to accommodate your request to cancel your order for an unframed work after 24 hours if it has been packaged and processed by our fulfillment center.
We are unable to accept returns on custom framed artwork. Our general policy is that we do not accept returns. If your print arrives damaged or does not meet your expectations, you may be eligible for a replacement or return. Any issues must be reported within 5 business days of receipt by emailing service@exhibitiona.com.