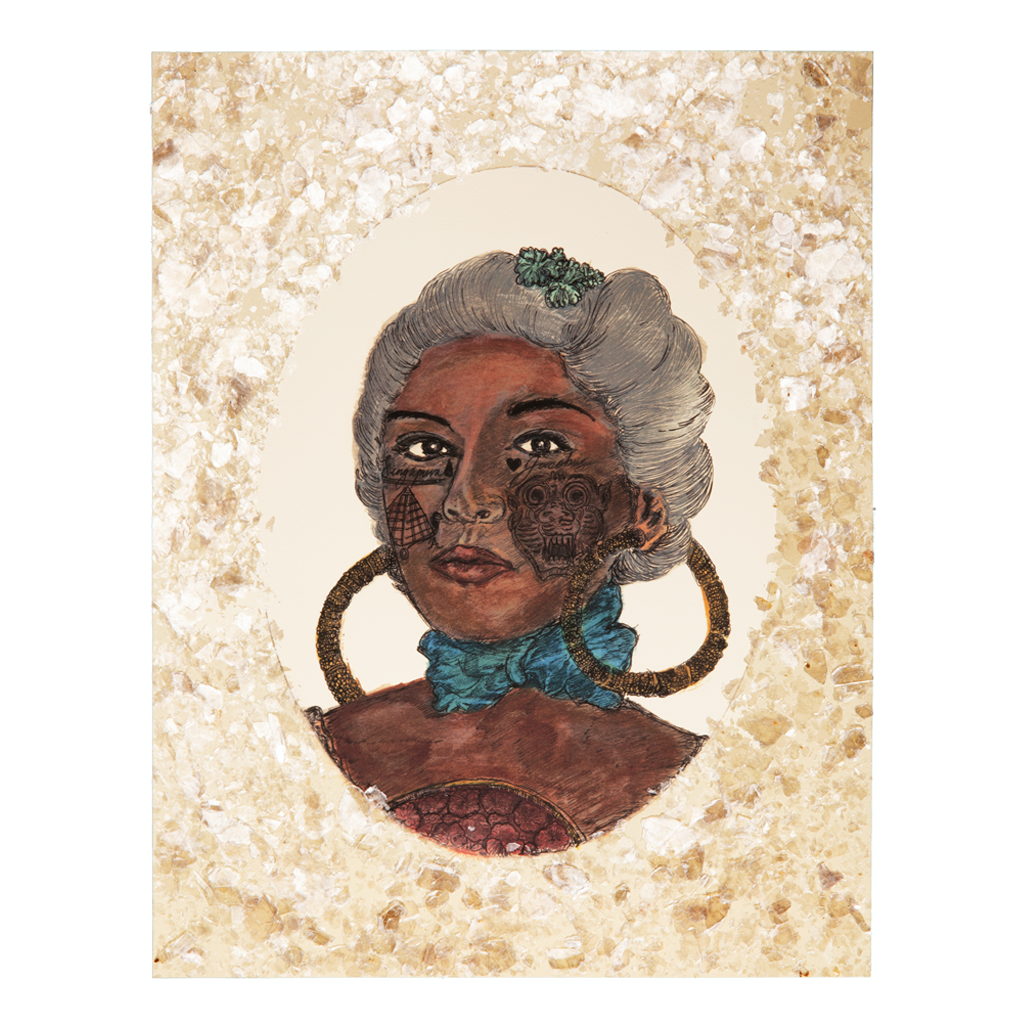 Noor, a Chinese/Malayan warlord and rebel, seeking to take over the lucrative trade routes in Singapura.

Umar Rashid is a storyteller who uses his visual works as vehicles for contemporary mythmaking and transformative relearning. Blending factual histories with the fictional details of the Frenglish Empire (1658-1880), Rashid illuminates the intersecting realities of colonial forces and indigenous peoples, crafting alternative narratives that give way to freshly imagined futures.

Our series of four print editions created by Rashid is a perfect illustration of how his practice conceptually elevates an imagined world by utilizing consistent iconography to weave symbolic thread through past, present, and future. In his own words:

"The main focus of my work is the stories and reinvented histories of people of color, who are oftentimes marginalized and omitted from the historical record, and the intricacies of race, gender, class, and overall power in the colonial world. In the process of writing and illustrating this history, I've created alternative narratives that reference the main narrative and focus on the cosmologies of the empires, with a focus on religion and spirituality. And the common thread throughout the work — aside from the written narrative — is iconography as a place marker between past, present, and future. This element is realized in the oeuvre in the "Imperial Tattoo System" — a classifying mechanism I use to define and differentiate the characters in the story — and within the maps, and cosmological diagrams. The narrative is also massively informed by the hip hop culture of my youth (golden age), various (modern and ancient) pop culture references, gang and prison culture, and revolutionary movements throughout time."
Umar Rashid (b. 1976, Chicago, IL) is the civilian name of the artist Frohawk Two Feathers. Rashid has held solo exhibitions at Almine Rech (Paris), Cokkie Snoei (Rotterdam), Blum and Poe (Los Angeles), and Half Gallery (New York). Select group exhibitions include presentations at Isaac Bell House (Newport) curated by Alison Gingeras & Dodie Kazanjian, Galerie Droste (Paris), Los Angeles County Museum of Art, Hammer Museum (Los Angeles), Transformative Arts Now (Los Angeles), Tiwani Contemporary (London), New Image Art (Los Angeles), Johannes Vogt (New York), Jeffery Deitch (Los Angeles), Studio d Arte Raffaeli (Trento), and the Cape Town Art Fair at the Tyburn Gallery (Cape Town). Rashid's work is in the permanent collections of the Brooklyn Museum, Conseil Regional de la Guadeloupe, Hudson River Museum (Yonkers), Jorge Pérez Collection (Miami), Santa Barbara Museum of Art, and Zeitz Museum of Contemporary Art Africa (Cape Town). Rashid currently lives and works in Los Angeles.
Signed and numbered by the artist en verso
This work is accompanied by a Certificate of Authenticity signed and numbered by the Exhibition A.
Be sure to keep your Certificate of Authenticity (COA) in a safe place. We are unable to replace or reissue COAs.
By purchasing this work, you agree that the print will not be resold for a minimum period of 18 months from the purchase date.
Please email service@exhibitiona.com to have this work framed.
Framed artwork is custom framed once it is ordered. Allow 3-5 weeks for framing and delivery.
FRAME
All of our frames are made from sustainably sourced engineered hardwood that is manufactured in the USA. Frames are available in Black or White Matte and Walnut.
MAT
Prints are hinged to a conservation quality, acid-free and lignin-free Cellulose matboard, using acid-free polyethylene cloth tape. Each mat's surface paper is fade and bleed resistant and is attached to a conversation quality foam-core board. Some of our work (typically those pieces with a deckled edge) is floated on the matboard with spacers to separate the artwork from the glazing.
GLAZING
We use museum quality .060 mm plexiglass to frame your work. It blocks 82-85% of UV rays to prevent color fading from exposure to light, protecting your art for years to come.
DIMENSIONS
Our White and Black frames have a ⅞" wide flat face and are 15/16" deep. Mats are 1" wide for prints up to 8" x 10". Mats are 2" wide for prints larger than 8" x 10".
Our Natural and Walnut frames have a ¾" wide flat face and are 1 ⅛" deep. Mats are 1" wide for prints up to 8" x 10". Mats are 2" wide for prints larger than 8" x 10".
Any artwork that is floated will be placed in a frame that has a ⅝" wide flat face and is 1 5/16" deep. Work will be floated with a 1" border around it.
Unframed work ships within 5 business days of your order. Framed artwork is custom framed once it is ordered. Please allow 2-4 weeks for framing and delivery. Need it faster? Expedited options may be available by emailing service@exhibitiona.com. All work ships from the US. International customers are responsible for any customs, duty, or VAT charges.
If you change your mind after placing your order, please email us at service@exhibitiona.com within 24 hours. We will not be able to accommodate cancellations for framed orders after that time period (as your frame will have been ordered and cut within that time period). We may not be able to accommodate your request to cancel your order for an unframed work after 24 hours if it has been packaged and processed by our fulfillment center.
We are unable to accept returns on custom framed artwork. Our general policy is that we do not accept returns. If your print arrives damaged or does not meet your expectations, you may be eligible for a replacement or return. Any issues must be reported within 5 business days of receipt by emailing service@exhibitiona.com.