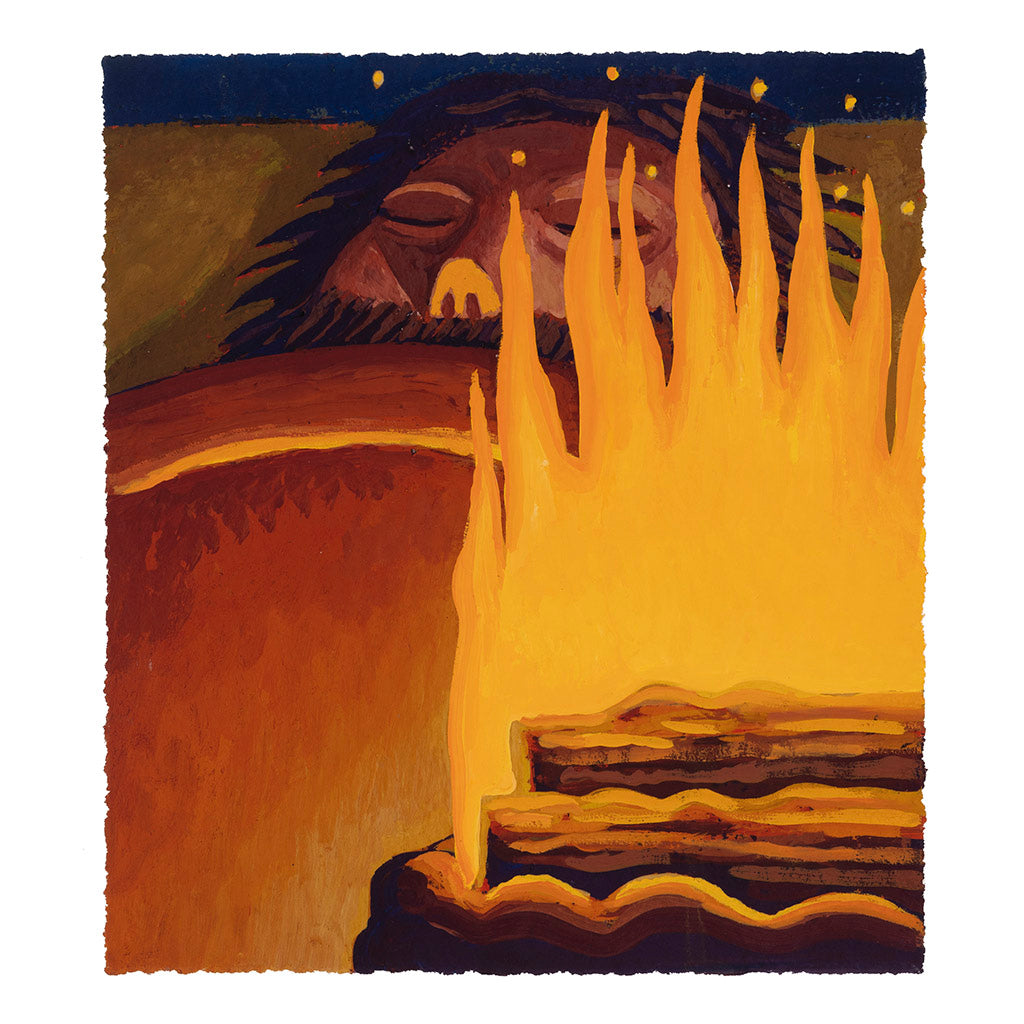 In the glow of a solitary campfire, the essence of introspection and the quest for self is illuminated in Nat Meade's limited hand-finished print edition, "Campside". An intimate series of only 20 prints, each piece is meticulously enhanced with gouache to bring the vibrant campfire flames to life, offering a unique beacon of light within the work. Nat Meade's latest creations are a reverent nod to the archetypal traveler—the seeker of truths and collector of experiences. The work captures a tranquil moment of solace where a lone wanderer rests, the fire's persistent burn a testament to the continuous journey even in stillness. This series is not just an artistic endeavor but a narrative symphony that echoes the restless spirit found in the folklore of the American West and the transformative passage from youth to old age. Meade's figures are a fusion of sage philosophers, rugged outdoorsmen, and youthful romantics traversing through both land and water. Their adventures are framed by the idealism of American Regionalism and the rebellious icons of the 50s and 60s. Yet, there's a subversion of expectations—a questioning of the quests we undertake and the prophets we encounter. The work challenges the viewer to look beyond the romantic veneer of an ultimately fruitless journey and to confront the inaccessibility of the destination. "Campside" stands as a reflective piece, inviting the observer to join in the silent pilgrimage, to find comfort in the flickering light, and perhaps to question what we seek in the flames of our own fires.
Nat Meade is an evocative force in contemporary painting, whose oeuvre delves into the nuanced journey of masculinity and selfhood within the American cultural landscape. With a BFA from the University of Oregon and an MFA with distinction from Pratt Institute, Meade weaves his academic rigor into the fabric of his narratives. His works are a contemplation of life's transitions, capturing the passage from youth through adulthood to elder wisdom. Known for his unique blend of narrative and formalism, Meade's solo exhibitions, such as "Hank Stamper's Bones" at Hesse Flatow Gallery and "Nurse Log" at L21 Gallery, showcase his ability to harmonize storytelling with visual impact. His group exhibitions, including "C'AN BOOM" at L21 Gallery and "Come a Little Closer" at DC Moore Gallery, further attest to his collaborative spirit and the resonance of his vision. Meade's residency experiences, from the bucolic Skowhegan School of Painting and Sculpture to the historic James Castle House, have enriched his practice, infusing it with diverse influences and a sense of place. His work is a dialogue between the internal and the external, a reflection on the archetypes that shape us, and the personal lore we create. As a Brooklyn-based painter and educator, Meade's commitment to his craft extends beyond the canvas, fostering a new generation of thinkers and creators. His work is a testament to the enduring search for meaning and the beautiful struggle of the human experience.
Signed and numbered by the artist en verso. This work is also accompanied by a Certificate of Authenticity signed and numbered by Exhibition A.
Be sure to keep your Certificate of Authenticity (COA) in a safe place. We are unable to replace or reissue COAs.
Please check with help@exhibitiona.com to frame this work. Framed artwork is custom framed once it is ordered. Allow 3-5 weeks for framing and delivery.
FRAME
All of our frames are made from sustainably sourced engineered hardwood that is manufactured in the USA. Frames are available in Black or White Matte and Walnut.
MAT
Prints are hinged to a conservation quality, acid-free and lignin-free Cellulose matboard, using acid-free polyethylene cloth tape. Each mat's surface paper is fade and bleed resistant and is attached to a conversation quality foam-core board. Some of our work (typically those pieces with a deckled edge) is floated on the matboard with spacers to separate the artwork from the glazing.
GLAZING
We use museum quality .060 mm plexiglass to frame your work. It blocks 82-85% of UV rays to prevent color fading from exposure to light, protecting your art for years to come.
DIMENSIONS
Our White and Black frames have a ⅞" wide flat face and are 15/16" deep. Mats are 1" wide for prints up to 8" x 10". Mats are 2" wide for prints larger than 8" x 10".
Our Natural and Walnut frames have a ¾" wide flat face and are 1 ⅛" deep. Mats are 1" wide for prints up to 8" x 10". Mats are 2" wide for prints larger than 8" x 10".
Any artwork that is floated will be placed in a frame that has a ⅝" wide flat face and is 1 5/16" deep. Work will be floated with a 1" border around it.
Unframed work ships within 5 business days of your order. Framed artwork is custom framed once it is ordered. Please allow 2-4 weeks for framing and delivery. Need it faster? Expedited options may be available by emailing help@exhibitiona.com. All work ships from the US. International customers are responsible for any customs, duty, or VAT charges.
If you change your mind after placing your order, please email us at help@exhibitiona.com within 24 hours. We will not be able to accommodate cancellations for framed orders after that time period (as your frame will have been ordered and cut within that time period). We may not be able to accommodate your request to cancel your order for an unframed work after 24 hours if it has been packaged and processed by our fulfillment center.
We are unable to accept returns on custom framed artwork. Our general policy is that we do not accept returns. If your print arrives damaged or does not meet your expectations, you may be eligible for a replacement or return. Any issues must be reported within 5 business days of receipt by emailing help@exhibitiona.com.