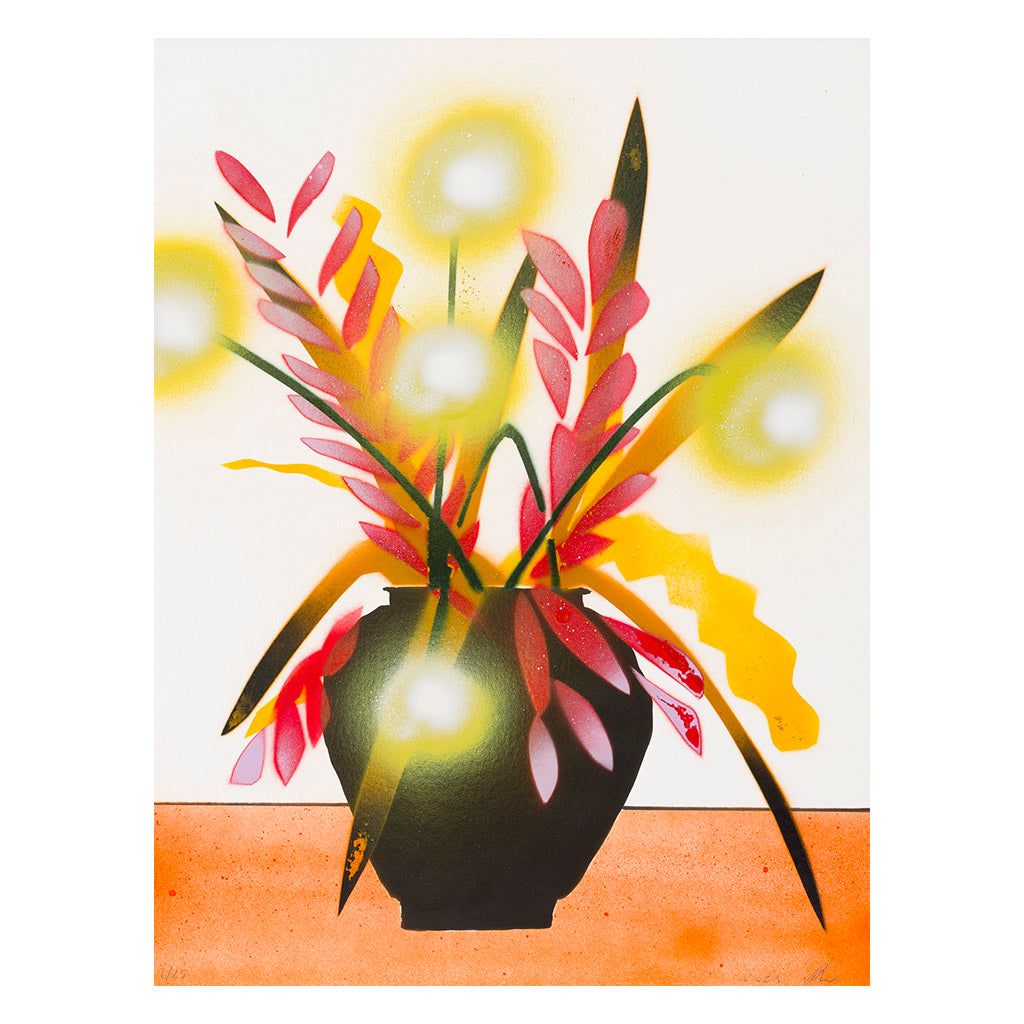 Every eye creates the image
Drawing inspiration from Wackers' enduring fascination with vessel forms, a single vessel base print lays the groundwork for each piece. Through the ingenious use of several stencils, Wackers uses spray paint to create uniquely collaged images atop each base print. While the foundational elements remain consistent, the potential outcomes are infinite, making each piece in this edition of 25 distinct. This method encapsulates the essence of Wackers' broader practice. He has an exceptional ability to transform the familiar – in this case, the recurrent motif of vessels – into something uniquely captivating. Much like his paintings, which embed everyday objects with new narratives and emotions, this edition offers a similar sense of exploration. Each print, though born from the same vessel form, tells its own story, shaped by Wackers' precise and intuitive use of stencils. In this edition, we witness a convergence of Paul Wackers' respect for ancient forms, his modern interpretation of the still life, and his adventurous foray into various mediums and textures. It's a testament to his ability to keep the familiar fresh and the classic contemporary.
Paul Wackers (1978, New Haven, Connecticut) is an esteemed Brooklyn-based artist celebrated for his modern-day revitalization of still life paintings. With a keen eye for transforming ordinary objects into poignant visual stories, Wackers' works bridge the gap between traditional motifs and contemporary techniques. An alumnus of the Corcoran College of Art and Design and the San Francisco Art Institute, he has most recently exhibited solo shows at renowned galleries such as "Sounds Before the Sun Hits" at Jack Hanley Gallery, New York (2023), "The Window Goes Both Ways" at Alice Gallery, Brussels (2023), "The Space We Take" at Eleanor Harwood Gallery, San Francisco (2021), "IN A HOUSE OF SHIFTING FORMS" at Alice Gallery, Brussels (2020), and "Silent Language" at Galeria Impakto, Lima (2019). This evolving artist's narrative skillfully layers history, introspection, and the world around him, making him a notable presence in today's art landscape.
Signed, dated, and numbered on front by the artist
This work is also accompanied by a Certificate of Authenticity signed and numbered by Exhibition A.
Be sure to keep your Certificate of Authenticity (COA) in a safe place. We are unable to replace or reissue COAs.
Introducing our sleek solid maple hardwood frame. Available in black or white maple, as well as lacquered natural maple.
Prints are hinged to a conservation quality, acid-free, lignin-free Cellulose matboard using acid-free polyethylene cloth tape. The fade and bleed-resistant mat's surface paper is attached to a conversation quality foam-core board.
For glazing, we utilize museum-quality .060 mm plexiglass that blocks 82-85% of UV rays, shielding your art from light exposure and ensuring long-lasting vibrancy.
Frame dimensions include a 5/8" wide flat face and 1 1/4" depth. It is framed with a floated presentation and a 1" border.
The frame is priced at $215 each. To add this frame to your order, kindly contact us at help@exhibitiona.com.
Unframed work ships within 7 business days of your order. Framed artwork is custom framed once it is ordered. Please allow 2-4 weeks for framing and delivery. Need it faster? Expedited options may be available by emailing help@exhibitiona.com. All work ships from the US. International customers are responsible for any customs, duty, or VAT charges.
If you change your mind after placing your order, please email us at help@exhibitiona.com within 24 hours. We will not be able to accommodate cancellations for framed orders after that time period (as your frame will have been ordered and cut within that time period). We may not be able to accommodate your request to cancel your order for an unframed work after 24 hours if it has been packaged and processed by our fulfillment center.
We are unable to accept returns on custom framed artwork. Our general policy is that we do not accept returns. If your print arrives damaged or does not meet your expectations, you may be eligible for a replacement or return. Any issues must be reported within 5 business days of receipt by emailing help@exhibitiona.com.