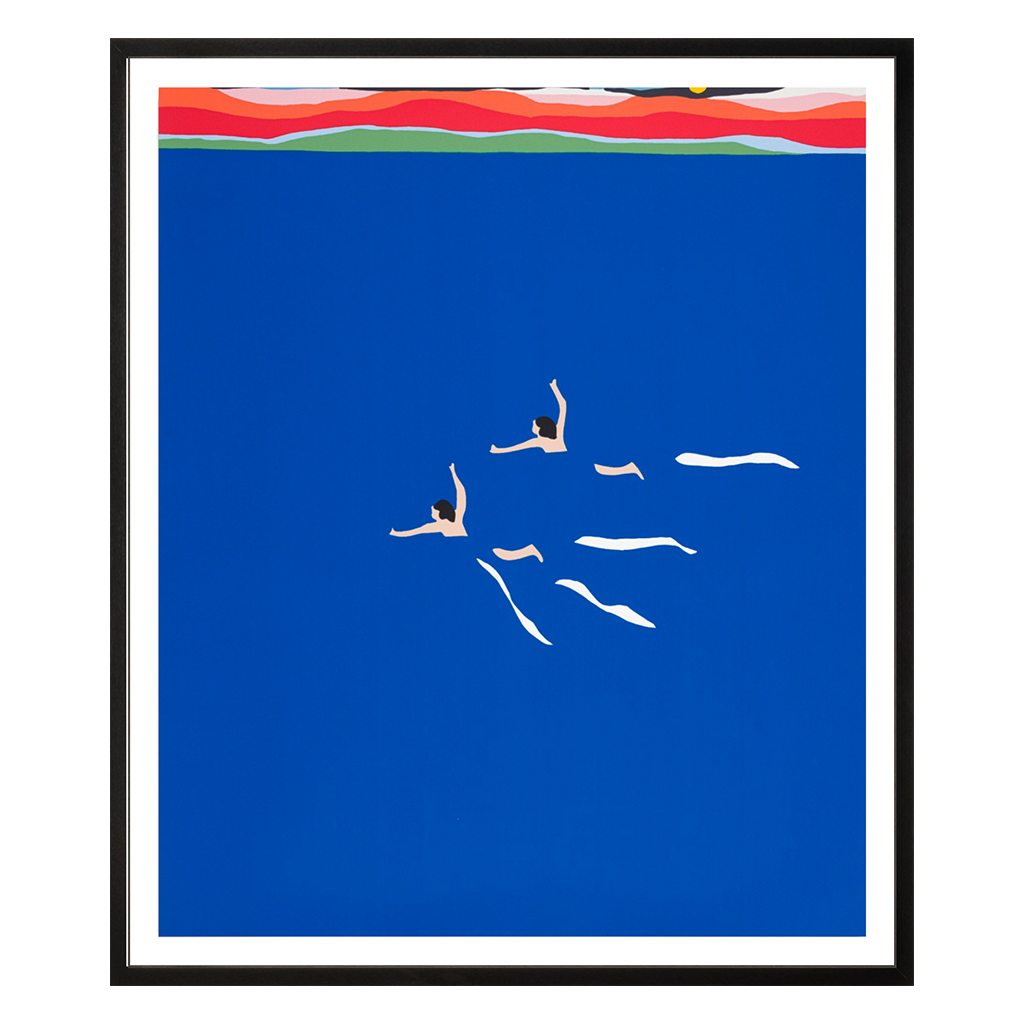 James Ulmer's paintings utilize a rudimentary vocabulary that is simple and universal. Whether people or animals, still lifes or landscapes, the artist's work renders childlike elements with sophistication and restraint. The human figure and its varying environmental relationships have been ongoing sites of intrigue for Ulmer, who excels in the depiction of boldly-hued shapes, evoking various narratives through soft geometric forms. Our new collaboration with the painter, Swimmers (2023), a series of three differently colored silkscreen editions of 13, illustrates the increasingly poetic minimalism he's conjured in recent scenes.

Our previous collaborations with the artist, Blue Bird (2018) and Big Fruit (2021), focused on exaggerated proportions via compositional intimacy, the vantage point in Swimmers urges towards the bigger picture. Soothing fields of blue appear to nearly overflow from the paper's deckled edge, rippling beneath an undulating horizon, its clearly delineated organic curvature cycling through a rainbow-like spectrum. Two figures lap alongside one another in the water — its depth a mere suggestion — kinesis represented by trailing wavy white lines. Swimmers is a serene example of Ulmer's larger body of work, wherein the sublime endears itself through carefully calculated balance.
James Ulmer has a May/June 2023 two-person exhibition at Carl Kostyál (Stockholm) alongside Lamar Peterson. Previous solo exhibitions were held at V1 Gallery (Copenhagen), The Pit (Los Angeles), The Hole (New York), Marvins Gardens (Brooklyn), and Amala Gallery (Tokyo), among others. Select group exhibitions include presentations at Chart Gallery (New York), Jeffrey Deitch (New York), Salon 94 (New York), Eric Firestone Gallery (East Hampton) and Steinsland Berliner Gallery (Stockholm). Ulmer lives and works in Queens, New York.
Signed en verso by the artist.
This work is accompanied by a Certificate of Authenticity signed and numbered by Exhibition A.
Be sure to keep your Certificate of Authenticity (COA) in a safe place. We are unable to replace or reissue COAs.
Framed artwork is custom framed once it is ordered. Allow 3-5 weeks for framing and delivery.
FRAME
This frame is made of solid hardwood maple, manufactured in the USA. Frames are available in a Black, White, or Natural finish.
MAT
Prints are hinged to a conservation quality, acid-free and lignin-free Cellulose matboard, using acid-free polyethylene cloth tape. Each mat's surface paper is fade and bleed resistant and is attached to a conversation quality foam-core board. This particular work is floated on the matboard with spacers to separate the artwork from the glazing.
GLAZING
We use museum quality .060 mm plexiglass to frame your work. It blocks 82-85% of UV rays to prevent color fading from exposure to light, protecting your art for years to come.
DIMENSIONS
Any artwork that is floated will be placed in a frame that has a ⅝" wide flat face and is 1 1/4" deep. Work will be floated with a 1" border around it.
Unframed work ships within 5 business days of your order. Framed artwork is custom framed once it is ordered. Please allow 2-4 weeks for framing and delivery. Need it faster? Expedited options may be available by emailing service@exhibitiona.com. All work ships from the US. International customers are responsible for any customs, duty, or VAT charges.
If you change your mind after placing your order, please email us at service@exhibitiona.com within 24 hours. We will not be able to accommodate cancellations for framed orders after that time period (as your frame will have been ordered and cut within that time period). We may not be able to accommodate your request to cancel your order for an unframed work after 24 hours if it has been packaged and processed by our fulfillment center.
We are unable to accept returns on custom framed artwork. Our general policy is that we do not accept returns. If your print arrives damaged or does not meet your expectations, you may be eligible for a replacement or return. Any issues must be reported within 5 business days of receipt by emailing service@exhibitiona.com.