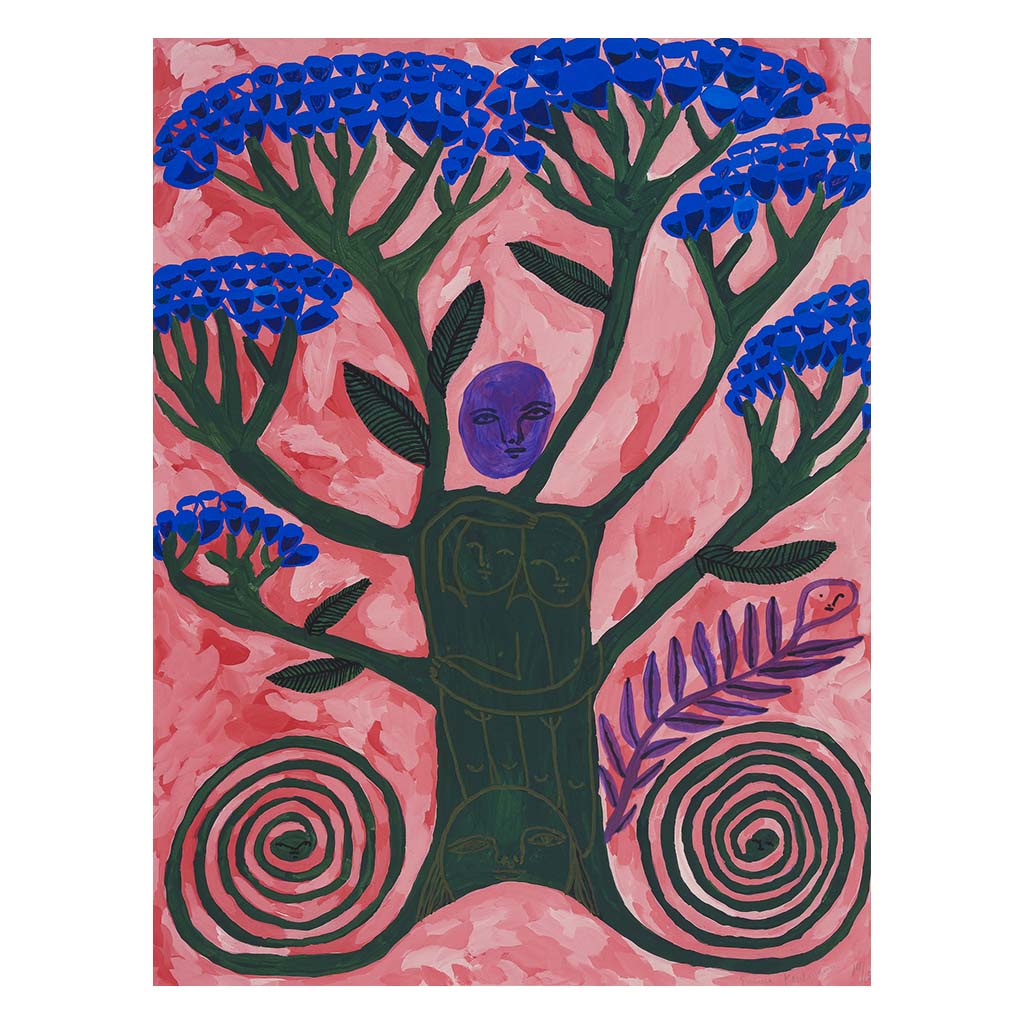 "Queen Anne's Lace or wild carrot is one of my favorite flowers. I like how there are millions of florets in the one flower. How there is always one dark flower that grows in the center. I like imagining there is a whole world inside one plant. Living within a creation myth and a melting world. I love how in alchemical processes, plants are represented by two beings coming together to create something new or multiplying. In this series of paintings, each painting became a talismanic remedy based on a specific plant." - Emma Kohlmann
Emma Kohlmann (1989) born in New York City, lives and works in Western Massachusetts. She received her B.A. from Hampshire College, Amherst, MA. Her work has been exhibited at Jack Hanley, New York City, V1 Gallery, Copenhagen, Denmark, and NEVVEN Gallery, Gothenburg, Sweden. Selected group exhibitions include the Portland Museum of Art, Portland, OR, MOCA Tucson, The Pit, Los Angeles and Venus Over Manhattan, NYC. Kohlmann self-publishes her own artist's books and zines. She has created a new press with her sister, Charlotte, called Mundus Press.
Signed and numbered by the artist on front. This work is also accompanied by a Certificate of Authenticity signed and numbered by Exhibition A.
Be sure to keep your Certificate of Authenticity (COA) in a safe place. We are unable to replace or reissue COAs.
Please contact service@exhibitiona.com to have this work framed. Framed artwork is custom framed once it is ordered. Allow 3-5 weeks for framing and delivery.
FRAME
All of our frames are made from sustainably sourced engineered hardwood that is manufactured in the USA. Frames are available in Black or White Matte and Walnut.
MAT
Prints are hinged to a conservation quality, acid-free and lignin-free Cellulose matboard, using acid-free polyethylene cloth tape. Each mat's surface paper is fade and bleed resistant and is attached to a conversation quality foam-core board. Some of our work (typically those pieces with a deckled edge) is floated on the matboard with spacers to separate the artwork from the glazing.
GLAZING
We use museum quality .060 mm plexiglass to frame your work. It blocks 82-85% of UV rays to prevent color fading from exposure to light, protecting your art for years to come.
DIMENSIONS
Our White and Black frames have a ⅞" wide flat face and are 15/16" deep. Mats are 1" wide for prints up to 8" x 10". Mats are 2" wide for prints larger than 8" x 10".
Our Natural and Walnut frames have a ¾" wide flat face and are 1 ⅛" deep. Mats are 1" wide for prints up to 8" x 10". Mats are 2" wide for prints larger than 8" x 10".
Any artwork that is floated will be placed in a frame that has a ⅝" wide flat face and is 1 5/16" deep. Work will be floated with a 1" border around it.
If you change your mind after placing your order, please email us at service@exhibitiona.com within 24 hours. We will not be able to accommodate cancellations for framed orders after that time period (as your frame will have been ordered and cut within that time period). We may not be able to accommodate your request to cancel your order for an unframed work after 24 hours if it has been packaged and processed by our fulfillment center.
We are unable to accept returns on custom framed artwork. Our general policy is that we do not accept returns. If your print arrives damaged or does not meet your expectations, you may be eligible for a replacement or return. Any issues must be reported within 5 business days of receipt by emailing service@exhibitiona.com.