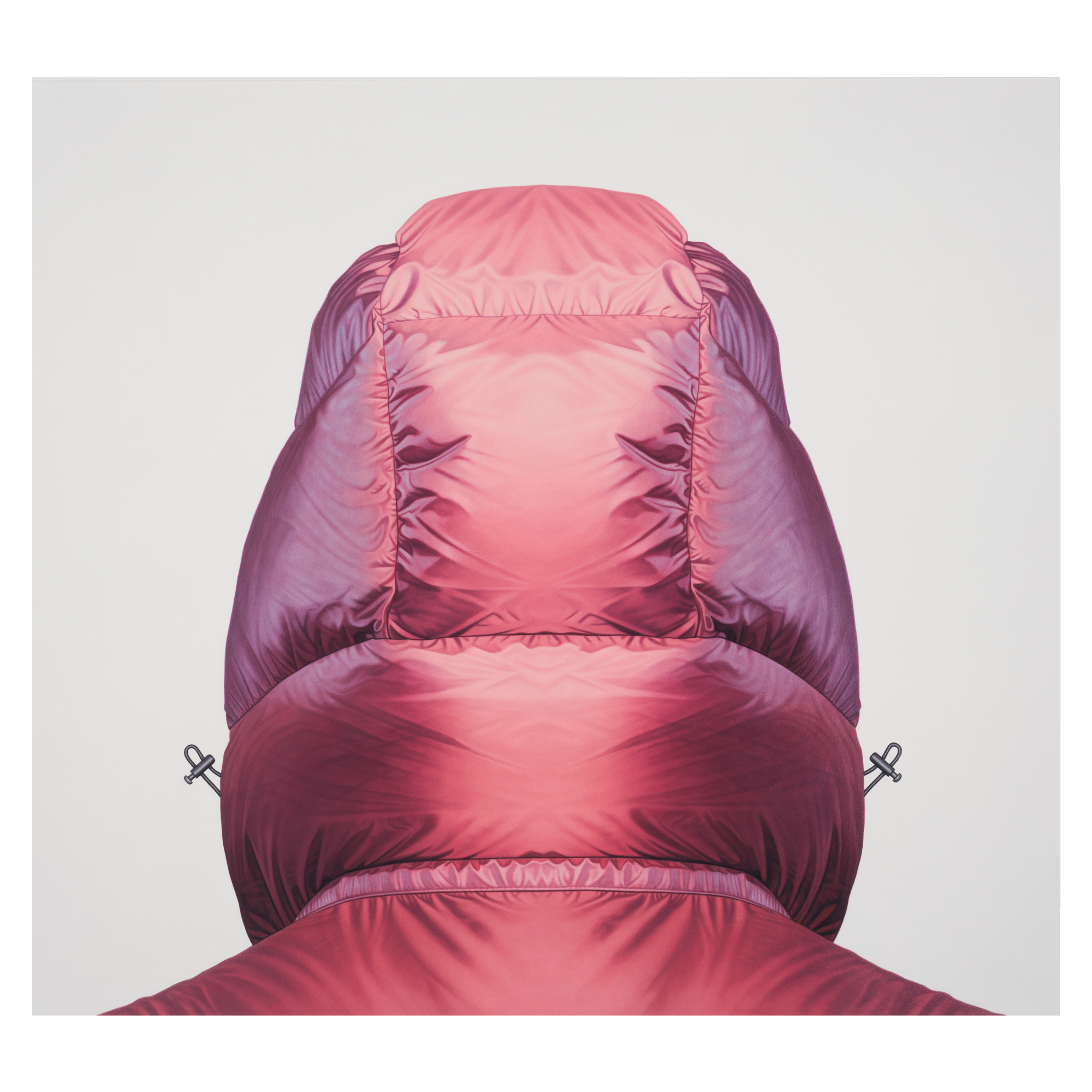 Realist painter Karel Funk creates portraits of subjects at obscure close-up angles, making it seem as though they were standing next to you on a crowded train or bus. His portraits portray his subjects facing inwards or away from the viewer. " I want my paintings to be as complex and full of intensity as possible, but at the same time simplified and distilled to their purest essence. With this in mind, I explore and emphasize form texture, references to the contemporary and a reverence for the past. I'm constantly pushing the boundaries on how these investigations can be organized and realized in one painting. Untitled #101, 2021, is my newest investigation and this new print from Exhibition A vibrantly and beautifully celebrates this painting. I would like to thank the extremely professional and passionate people at Exhibition A, together they have produced a beautiful print that resonates incredibly with the true essence of the painting. " - Karel Funk.
Karel Funk (b. 1971, Winnipeg, Canada) has held multiple solo exhibitions at 303 Gallery (New York) and was the subject of a museum retrospective held at the Winnipeg Art Gallery. Other solo exhibitions have been held at Blouin Division (Montreal), Monte Clark Gallery (Vancouver), Ribordy Thetaz (Geneva), and Jessica Silverman Gallery (San Francisco), among many others. His work is in the collections of institutions such as Art Gallery of Ontario (Toronto), Dallas Museum of Art, Jordan Schnitzer Museum of Art at the University of Oregon (Eugene), Los Angeles County Museum of Art, Musee d'Art Contemporain de Montreal, The Montreal Museum of Fine Arts, National Gallery of Canada (Ottawa), San Francisco Museum of Modern Art, Solomon R. Guggenheim Museum (New York), Whitney Museum of American Art (New York), and the Hammer Museum (Los Angeles). The artist received a BFA from the University of Manitoba in 1997 and an MFA from Columbia University in New York in 2003. He lives and works in Winnipeg, Canada.
This work is accompanied by a Certificate of Authenticity signed and numbered by the artist.
Be sure to keep your Certificate of Authenticity (COA) in a safe place. We are unable to replace or reissue COAs.
Framed artwork is custom framed once it is ordered. Allow 3-5 weeks for framing and delivery.
FRAME
All of our frames are made from sustainably sourced engineered hardwood that is manufactured in the USA. Frames are available in Black or White Matte and Walnut.
MAT
Prints are hinged to a conservation quality, acid-free and lignin-free Cellulose matboard, using acid-free polyethylene cloth tape. Each mat's surface paper is fade and bleed resistant and is attached to a conversation quality foam-core board. Some of our work (typically those pieces with a deckled edge) is floated on the matboard with spacers to separate the artwork from the glazing.
GLAZING
We use museum quality .060 mm plexiglass to frame your work. It blocks 82-85% of UV rays to prevent color fading from exposure to light, protecting your art for years to come.
DIMENSIONS
Our White and Black frames have a ⅞" wide flat face and are 15/16" deep. Mats are 1" wide for prints up to 8" x 10". Mats are 2" wide for prints larger than 8" x 10".
Our Natural and Walnut frames have a ¾" wide flat face and are 1 ⅛" deep. Mats are 1" wide for prints up to 8" x 10". Mats are 2" wide for prints larger than 8" x 10".
Any artwork that is floated will be placed in a frame that has a ⅝" wide flat face and is 1 5/16" deep. Work will be floated with a 1" border around it.
Unframed work ships within 5 business days of your order. Framed artwork is custom framed once it is ordered. Please allow 2-4 weeks for framing and delivery. Need it faster? Expedited options may be available by emailing service@exhibitiona.com. All work ships from the US. International customers are responsible for any customs, duty, or VAT charges.
If you change your mind after placing your order, please email us at service@exhibitiona.com within 24 hours. We will not be able to accommodate cancellations for framed orders after that time period (as your frame will have been ordered and cut within that time period). We may not be able to accommodate your request to cancel your order for an unframed work after 24 hours if it has been packaged and processed by our fulfillment center.
We are unable to accept returns on custom framed artwork. Our general policy is that we do not accept returns. If your print arrives damaged or does not meet your expectations, you may be eligible for a replacement or return. Any issues must be reported within 5 business days of receipt by emailing service@exhibitiona.com.