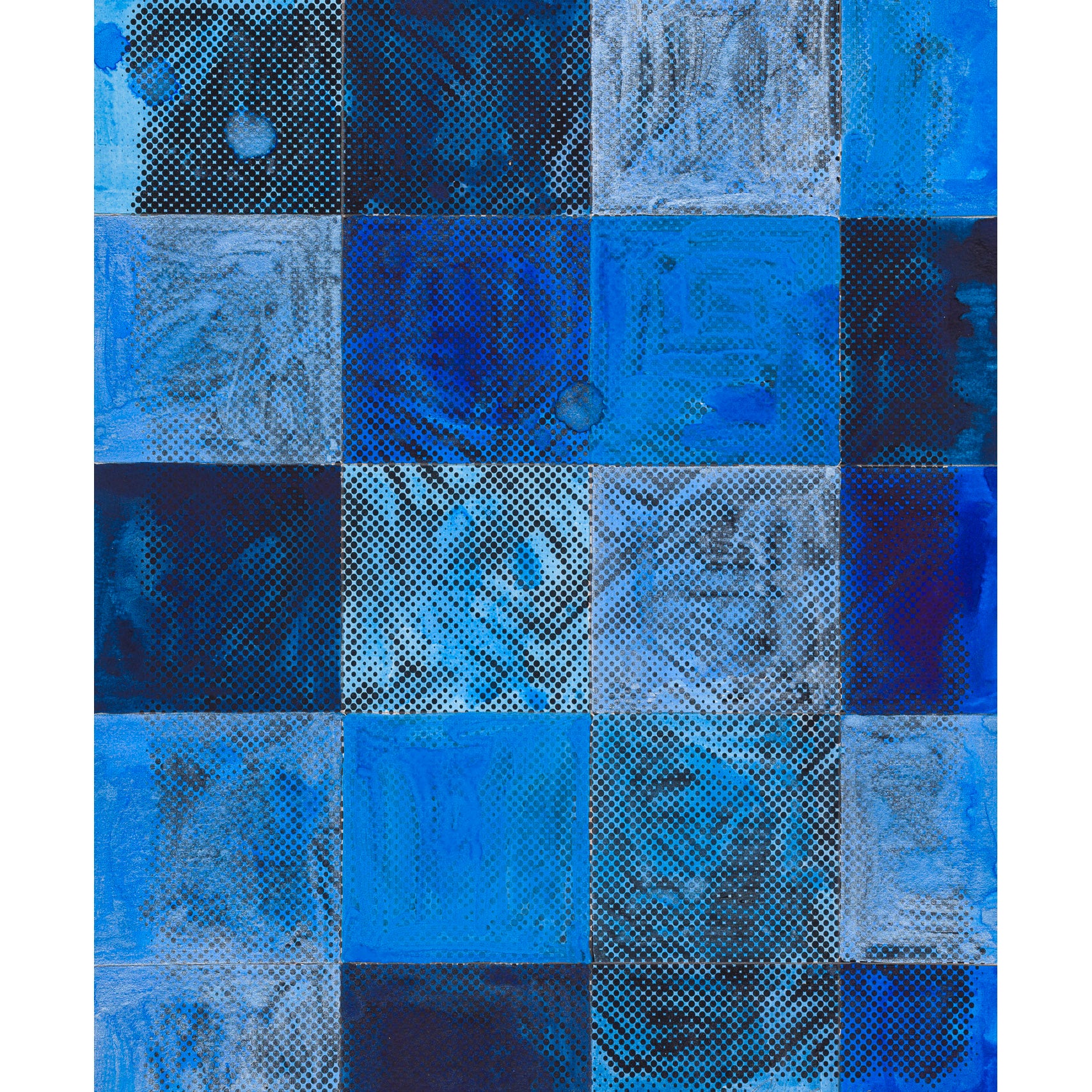 In partnership with Dashiell Manley, we proudly present the hand-finished print series, Elegy Study (a Collapse). This piece elegantly interweaves multiple motifs central to Dash's body of work, showcasing his deep connection and evolving journey with painting. The Elegy series stands as a cornerstone in Dash's oeuvre. More than just paintings, these are meditations – a means through which he processes complex emotions, negative energy, and the transitory nature of life. Each Elegy is a cathartic release, a therapeutic exploration of the fleeting interplay between light and shadow, bridging his personal experiences with his present artistic endeavors. Dash's experimentation with halftones introduced a visually distinct phase in his practice. Rendering work in halftones – a technique where images are represented using dots of varying sizes and spacing, commonly seen in industrial printing – was a natural progression for Dash. It allowed him to extend the time he dedicated to each image and resonated with his interest in visual illusion and the science of optics. This intricate method served as a deliberate departure from the Elegy series, offering both a challenge and a fresh perspective in his creative journey. Elegy Study (a Collapse) features an Elegy painting, rendered in halftones, to create a sophisticated archival pigment print base to the artwork. Over this halftone backdop, Dash used ink to layer a grid in varied blue tones. The grid, a recurring motif in his practice and life, represents structure, balance, and his ongoing exploration of space and relationships within a canvas. By harmoniously intertwining the Elegy's emotional depth, the halftone's meditative process, and the grid's structural essence, Elegy Study (a Collapse) encapsulates Dash's holistic artistic vision. With each grid individually hand-painted, every print stands as a unique testament to his dedication and passion for his craft.
Dashiell Manley, born in 1983 in Fontana, CA, is a contemporary artist living and working in Los Angeles, CA. Manley received his MFA from the University of California, Los Angeles in 2011, and his BFA from the California Institute of the Arts in 2007. His practice spans a variety of mediums, with a focus on the relationship between materiality, process, and meaning. Manley has had numerous solo exhibitions at prestigious galleries, including Marianne Boesky Gallery in New York, Jessica Silverman Gallery in San Francisco, and Nino Mier Gallery in Brussels. His work has been featured in significant group exhibitions at renowned institutions such as the Whitney Museum of American Art in New York, The Hammer Museum in Los Angeles, and Yuz Museum Shanghai. Manley's work is held in key public collections including the Los Angeles County Museum of Art (LACMA) and The Hammer Museum.
Signed and numbered by the artist on front. This work is also accompanied by a Certificate of Authenticity signed and numbered by Exhibition A.
Be sure to keep your Certificate of Authenticity (COA) in a safe place. We are unable to replace or reissue COAs.
Please contact help@exhibitiona.com to frame this artwork. Framed artwork is custom framed once it is ordered. Allow 3-5 weeks for framing and delivery.
FRAME
All of our frames are made from sustainably sourced engineered hardwood that is manufactured in the USA. Frames are available in Black or White Matte and Walnut.
MAT
Prints are hinged to a conservation quality, acid-free and lignin-free Cellulose matboard, using acid-free polyethylene cloth tape. Each mat's surface paper is fade and bleed resistant and is attached to a conversation quality foam-core board. Some of our work (typically those pieces with a deckled edge) is floated on the matboard with spacers to separate the artwork from the glazing.
GLAZING
We use museum quality .060 mm plexiglass to frame your work. It blocks 82-85% of UV rays to prevent color fading from exposure to light, protecting your art for years to come.
DIMENSIONS
Our White and Black frames have a ⅞" wide flat face and are 15/16" deep. Mats are 1" wide for prints up to 8" x 10". Mats are 2" wide for prints larger than 8" x 10".
Our Natural and Walnut frames have a ¾" wide flat face and are 1 ⅛" deep. Mats are 1" wide for prints up to 8" x 10". Mats are 2" wide for prints larger than 8" x 10".
Any artwork that is floated will be placed in a frame that has a ⅝" wide flat face and is 1 5/16" deep. Work will be floated with a 1" border around it.
Unframed work ships within 5 business days of your order. Framed artwork is custom framed once it is ordered. Please allow 2-4 weeks for framing and delivery. Need it faster? Expedited options may be available by emailing help@exhibitiona.com. All work ships from the US. International customers are responsible for any customs, duty, or VAT charges.
If you change your mind after placing your order, please email us at help@exhibitiona.com within 24 hours. We will not be able to accommodate cancellations for framed orders after that time period (as your frame will have been ordered and cut within that time period). We may not be able to accommodate your request to cancel your order for an unframed work after 24 hours if it has been packaged and processed by our fulfillment center.
We are unable to accept returns on custom framed artwork. Our general policy is that we do not accept returns. If your print arrives damaged or does not meet your expectations, you may be eligible for a replacement or return. Any issues must be reported within 5 business days of receipt by emailing help@exhibitiona.com.