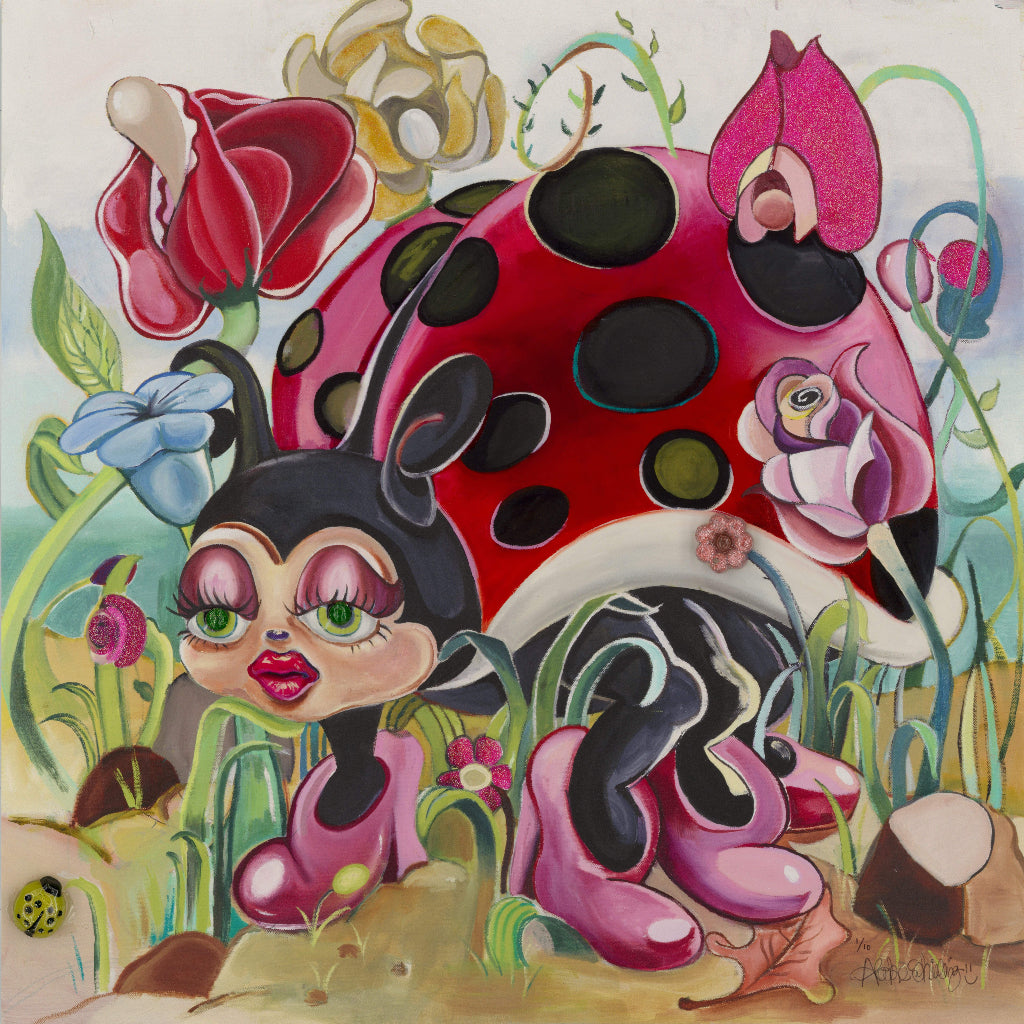 Luscious Lady Takes a Stroll in the Lush
Luscious Lady Takes a Stroll in the Lush (2023) by Alake Shilling is the artist's first and only hand-finished series. A true blend of thoughtful original touch and innovative print edition, our first collaboration with the artist is an organic extension of Shilling's multi-disciplinary practice, created alongside her 2023 solo exhibition A Bug's Life at Jeffrey Deitch Gallery.

Luscious Lady Takes a Stroll in the Lush incorporates key elements of Shilling's larger body of work: diverse textural narratives that playfully reconfigure material boundaries à la sculptural paintings and painterly sculptures. Each print in the series features 3D epoxy adhered molds created by Shilling in her Los Angeles studio through an experimental process of layering plastics and UV gels. Additionally, each unique work includes a combination of meticulously applied glitter, painted acrylic embellishments, holographic foils, and UV-printed spot varnish coating the lips and shell of Shilling's fantastical ladybug.
Alake Shilling (b. 1993, Los Angeles, CA) has a forthcoming 2024 solo exhibition at the Palm Springs Art Museum. Other solo exhibitions have been held at Jeffrey Deitch (Los Angeles and New York) and Laura Owen's 365 Mission (Los Angeles). Select group exhibitions include presentations at Anthony Gallery (Chicago), Museum of Art and Design (New York), NSU Art Museum (Fort Lauderdale), Hammer Museum (Los Angeles), Rubell Family Collection (Miami), Karma (Los Angeles), Night Gallery (Los Angeles), LOYAL (Stockholm), Steve Turner (Los Angeles), and Josh Lilley (Los Angeles). The artist lives and works in Los Angeles, California.
Each print in the series is signed and numbered by the artist on front.

By making a purchase, the buyer acknowledges and agrees to all the terms of sale. It is understood that the purchased edition will not be resold within one year from the date of purchase. This no-resale agreement remains in effect for the specified duration, irrespective of any subsequent transfer or gifting of the artwork to another buyer.