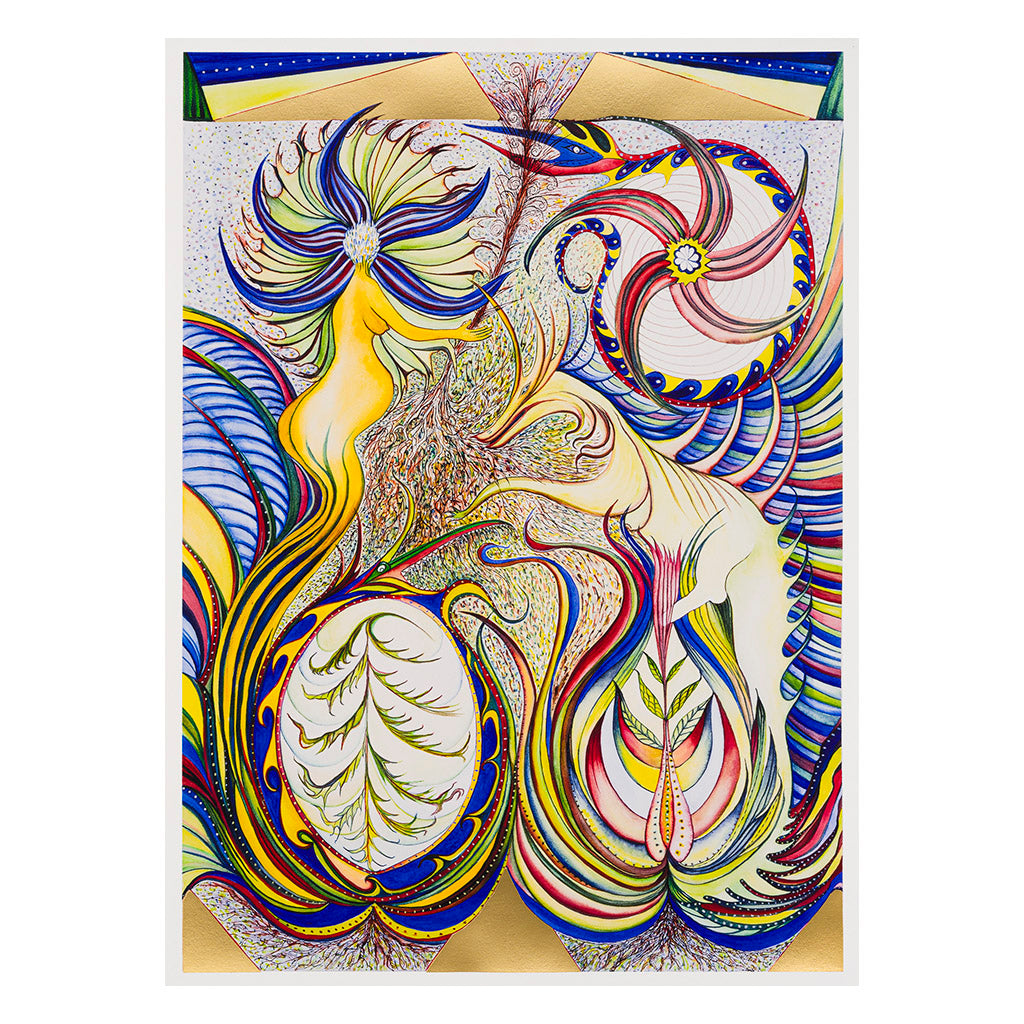 Three Dragons, One Goddess
To mark the 80th birthday of celebrated artist Faith Wilding, Exhibition A and Anat Ebgi Gallery are thrilled to present Three Dragons, One Goddess. This exquisite archival pigment print is rendered on the sumptuous Hanhemuhle hemp paper, accentuated with gold foil, in a limited edition of 40. Embodying Wilding's eco-feminist tenets, the artwork addresses the environmental decay in South America, particularly in her homeland, Paraguay. The piece encapsulates Wilding's signature symmetrical dualities, invoking mysticism while channeling both spiritual fervor and an impassioned environmental message. Wilding, a stalwart of the Feminist Art wave in Los Angeles during the 1960s and 1970s, has left an indelible mark on the art landscape. A pivotal moment in her career and feminist art history was the inception of Womanhouse—a groundbreaking art installation and performance space born from the CalArts Feminist Art Program. It showcased collaborative feminist ideas, aiming to redefine a predominantly male-centric art world. As we celebrate Womanhouse's 50th anniversary, the echoes of Wilding's groundbreaking "Womb Room" fiber installation and her "Waiting" performance remind us of the timeless nature of her art. They serve as benchmarks, illustrating how feminist art transcends eras. Faith Wilding's profound impact on the art world is further highlighted by her extensive global exhibitions, from the Whitney Museum of American Art in New York to the Reina Sofia Museum in Madrid. Her academic pursuits, including her professorship at the School of the Art Institute of Chicago and her co-founding role in the cyberfeminist collective, subRosa, show her diverse range of contributions to the arts and education. Exhibition A and Anat Ebgi are profoundly honored to bring this limited edition to collectors and enthusiasts, uniting them with the profound narrative strength of Faith Wilding's work. Three Dragons, One Goddess stands as a testament to Wilding's lifelong commitment to eco-feminism, her visionary artistic prowess, and her undying passion for challenging and reshaping societal narratives.
Born in Paraguay in 1943, Faith Wilding has been an instrumental figure in the Feminist Art Movement since the late 1960s. Emerging from Los Angeles, Wilding's artistry melds her eco-feminist stance with poignant depictions of the natural world's degradation, particularly in South America. Her signature dualities—whether open and closed, up and down, or in and out—narrate stories that are personal, mystical, and esoteric, accentuating the force of growth, interconnectedness, and spiritual exuberance. Wilding co-initiated the groundbreaking Feminist Art Programs alongside Miriam Shapiro and Judy Chicago. One of its pivotal outcomes, Womanhouse, showcased collaborative and feminist ideas, aiming to challenge a largely male-dominant art history narrative. Her contributions to the Womanhouse project, particularly the "Womb Room" fiber installation and the performance "Waiting," have become emblematic of 1970s Feminist Art. Faith Wilding's five-decade career is dotted with influential exhibitions across the globe. Her work, which deftly challenges societal norms and the status quo, has been featured at renowned institutions like The Whitney Museum of American Art, The Hammer Museum, and the Reina Sofia Museum. The 2014 retrospective, "Fearful Symmetries," celebrated her extensive contribution and traveled across the US. As an educator, Wilding has imparted knowledge at esteemed institutions such as the School of the Art Institute of Chicago, New York University, and Carnegie Mellon University, where she co-founded the cyberfeminist collective, subRosa. Honoring her immense impact, Wilding received a Guggenheim Fellowship in 2009 and the Women's Caucus for Art Lifetime Achievement Award in 2014. Today, she continues her artistic journey from Rhode Island.
Signed and numbered by the artist on front. This work is also accompanied by a Certificate of Authenticity signed and numbered by Exhibition A.
Be sure to keep your Certificate of Authenticity (COA) in a safe place. We are unable to replace or reissue COAs.
Introducing our sleek solid maple hardwood frame. Available in black or white maple, as well as lacquered natural maple.
Prints are hinged to a conservation quality, acid-free, lignin-free Cellulose matboard using acid-free polyethylene cloth tape. The fade and bleed-resistant mat's surface paper is attached to a conversation quality foam-core board.
For glazing, we utilize museum-quality .060 mm plexiglass that blocks 82-85% of UV rays, shielding your art from light exposure and ensuring long-lasting vibrancy.
Frame dimensions include a 5/8" wide flat face and 1 1/4" depth. It is framed with a floated presentation with a ¾" border.
Unframed work ships within 5 business days of your order. Framed artwork is custom framed once it is ordered. Please allow 2-4 weeks for framing and delivery. Need it faster? Expedited options may be available by emailing help@exhibitiona.com. All work ships from the US. International customers are responsible for any customs, duty, or VAT charges.
If you change your mind after placing your order, please email us at help@exhibitiona.com within 24 hours. We will not be able to accommodate cancellations for framed orders after that time period (as your frame will have been ordered and cut within that time period). We may not be able to accommodate your request to cancel your order for an unframed work after 24 hours if it has been packaged and processed by our fulfillment center.
We are unable to accept returns on custom framed artwork. Our general policy is that we do not accept returns. If your print arrives damaged or does not meet your expectations, you may be eligible for a replacement or return. Any issues must be reported within 5 business days of receipt by emailing service@exhibitiona.com.