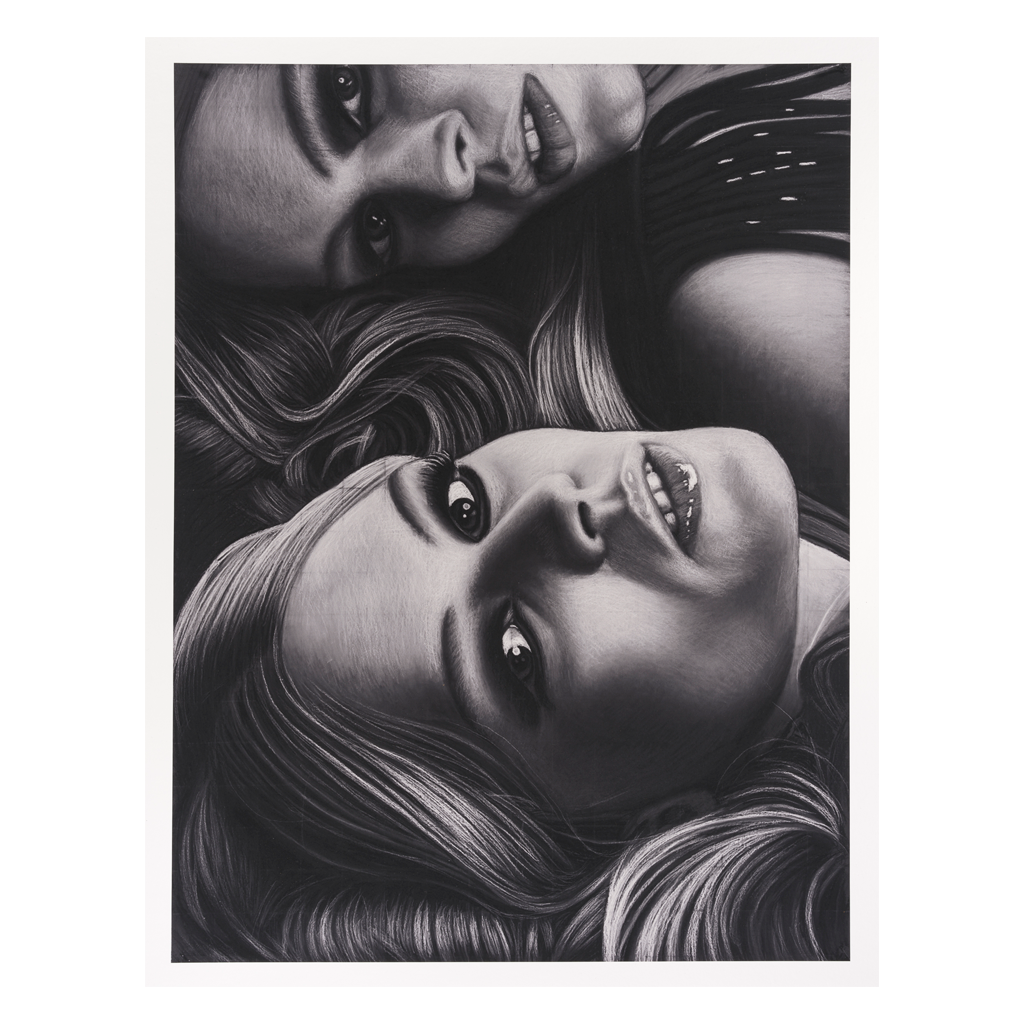 "The new print Anna is based on a finished charcoal and chalk drawing I recently made in preparation for a large painting featured on the cover of Self-Service Magazine. The drawing is based on my original digital collage assembled from images of the model Anna Ewers photographed by Ezra Petronio for a Self-Service editorial shoot. The drawing shows Anna in close proximity to herself, amplifying the effect of how cover images and social media advance notions of the endless representations of the reproduction of the self. I chose to partner with Exhibition A as an exciting way to share the experience of this detailed drawing of Anna as distinct from its role in support of the painting and by extension the magazine format. I wanted to retrieve and upcycle the image from fashion media and insist on its function as autonomous art. I knew from my experience working with Exhibition A on our inaugural project [in 2010], creating an edition of my painting Der Bodensee, that [their] serious attention to quality would create an edition that would accurately communicate the sensitivities and original intention of my artwork. Incredibly — because of the materials and process Exhibition A uses, the print is practically indistinguishable from the original drawing even on very close inspection. The feeling of the drawing being present is uncanny. What I like most about working with Exhibition A is the possibility to more broadly communicate by way of creating works where the focus on quality and detail is objectively far beyond reason, leading to extraordinary experiences with art that is well within reason with it comes to making it a part of one's own collection." - Richard Phillips
Richard Phillips was born in 1962 in Marblehead, Massachusetts. He received his B.F.A. in 1984 from Massachusetts College of Art, Boston, and his M.F.A. in 1986 from Yale University of Art, Connecticut. Recent solo museum exhibitions include Kunsthalle Zürich, Switzerland (2000); Kunstverein Hamburg, Germany (2002); "Paintings and Drawings," Le Consortium, Dijon (2004); "Lindsay Lohan," Institute of Modern Art, Brisbane (2012); and "Negation of the Universe," Dallas Contemporary, Texas (2014). Public collections include the Museum of Modern Art, New York; Whitney Museum of American Art, New York; Albright-Knox Art Gallery, Buffalo, New York; San Francisco Museum of Modern Art, California; Denver Art Museum, Colorado; Modern Art Museum of Fort Worth, Texas; Museum of Contemporary Art, North Miami; Tate Modern, London; and Van Abbemuseum, Eindhoven, the Netherlands.
This work is signed and numbered by the artist on front and accompanied by a Certificate of Authenticity signed and numbered by Exhibition A.
Be sure to keep your Certificate of Authenticity (COA) in a safe place. We are unable to replace or reissue COAs.
Framed artwork is custom framed once it is ordered. Allow 3-5 weeks for framing and delivery.
FRAME
All of our frames are made from sustainably sourced engineered hardwood that is manufactured in the USA. Frames are available in Black or White Matte and Walnut.
MAT
Prints are hinged to a conservation quality, acid-free and lignin-free Cellulose matboard, using acid-free polyethylene cloth tape. Each mat's surface paper is fade and bleed resistant and is attached to a conversation quality foam-core board. Some of our work (typically those pieces with a deckled edge) is floated on the matboard with spacers to separate the artwork from the glazing.
GLAZING
We use museum quality .060 mm plexiglass to frame your work. It blocks 82-85% of UV rays to prevent color fading from exposure to light, protecting your art for years to come.
DIMENSIONS
Our White and Black frames have a ⅞" wide flat face and are 15/16" deep. Mats are 1" wide for prints up to 8" x 10". Mats are 2" wide for prints larger than 8" x 10".
Our Natural and Walnut frames have a ¾" wide flat face and are 1 ⅛" deep. Mats are 1" wide for prints up to 8" x 10". Mats are 2" wide for prints larger than 8" x 10".
Any artwork that is floated will be placed in a frame that has a ⅝" wide flat face and is 1 5/16" deep. Work will be floated with a 1" border around it.
Unframed work ships within 5 business days of your order. Framed artwork is custom framed once it is ordered. Please allow 2-4 weeks for framing and delivery. Need it faster? Expedited options may be available by emailing service@exhibitiona.com. All work ships from the US. International customers are responsible for any customs, duty, or VAT charges.
If you change your mind after placing your order, please email us at service@exhibitiona.com within 24 hours. We will not be able to accommodate cancellations for framed orders after that time period (as your frame will have been ordered and cut within that time period). We may not be able to accommodate your request to cancel your order for an unframed work after 24 hours if it has been packaged and processed by our fulfillment center.
We are unable to accept returns on custom framed artwork. Our general policy is that we do not accept returns. If your print arrives damaged or does not meet your expectations, you may be eligible for a replacement or return. Any issues must be reported within 5 business days of receipt by emailing service@exhibitiona.com.