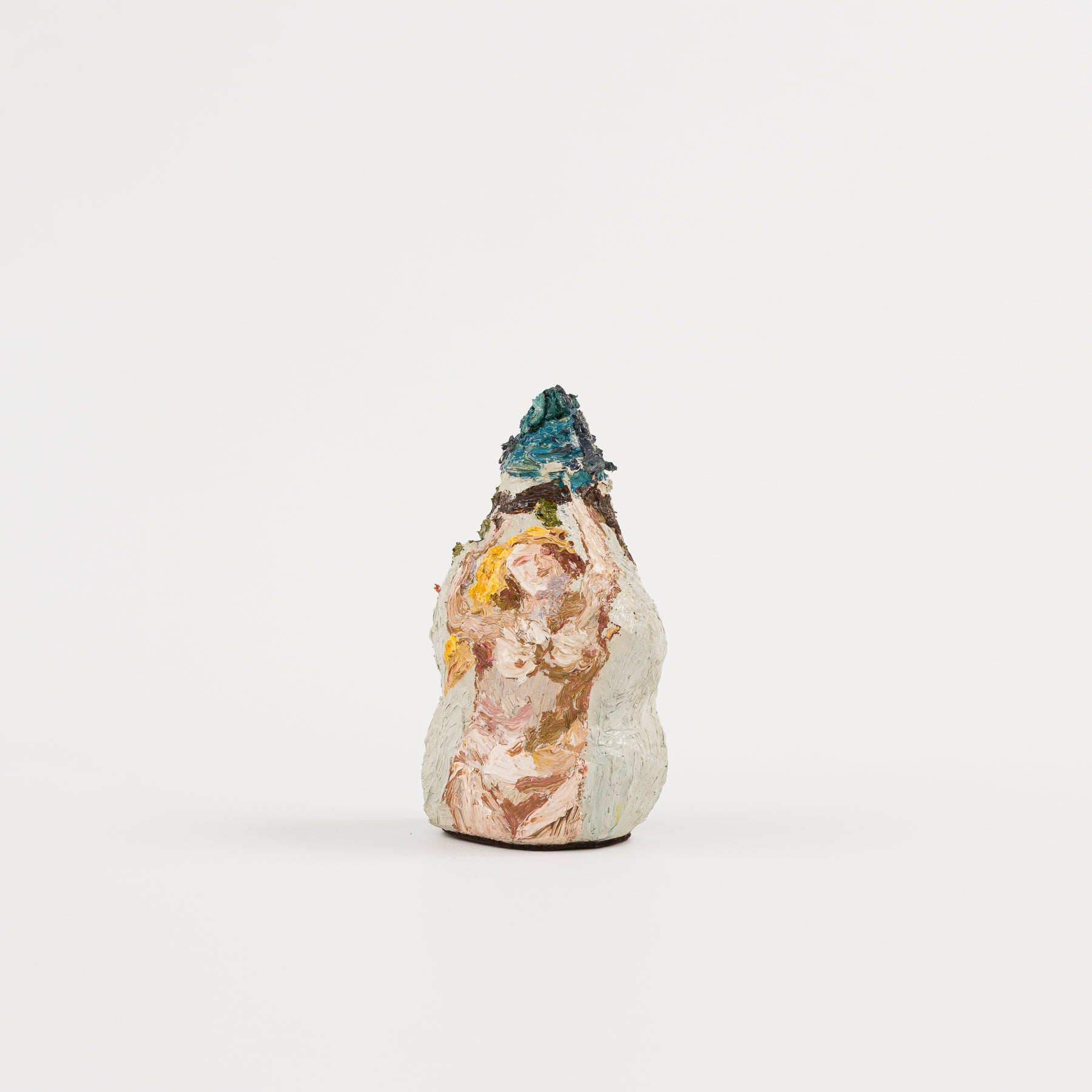 We are pleased to have collaborated once again with Mia Chaplin to release another series of original vessels, following her sold out 2021 series of unique sculptures. Born in South Africa and currently based in Cape Town, we're thrilled for the opportunity to continue introducing Chaplin, a young artist on the rise, to our broad base of collectors, fellow artists, and contemporary art enthusiasts. Chaplin's practice, comprising oil paintings on canvas and paper, as well as bronze and plaster sculptures, resonates with an intuitive emotionality – there is an earthen, eternal sense to the motifs that bind. Dense impasto is present throughout her oeuvre, as if to underscore the layered emotion, thick and abstract, like remnants from a dream.

Reflecting on her process to create this new series, Chaplin describes, "My sculptures are usually a lot bigger and time consuming so I found that with these small vessels I can work in a way that feels more intimate. I think given their size — you can easily hold them in your hands — the objects become like good luck charms that you can return to and feel a different connection with depending on the space you're in." Remarking on what intrigued her about working with Exhibition A to create this new series, Chaplin says, "One thing that drew me to this collaboration is the scale. I don't often get the opportunity to show smaller 'sketches' or models for the larger works as they can easily be dwarfed in [an exhibition]. I like that [Exhibition A's] platform gives [these vessels] the opportunity to be viewed and appreciated as precious handheld objects. It is also a great honor to have my work shown in a group of such diverse, talented artists from across the world."
Mia Chaplin (b. 1990, South Africa) has held solo exhibitions at No Man's Art Gallery (Amsterdam), WHATIFTHEWORLD (Cape Town), and Salon 91 (Capetown) among others. Select group exhibitions include presentations at Kummelholmen (Stockholm), Cunningham Contemporary (Johannesburg), IZIKO Museum (Cape Town), and Galerie extérieure at Cité internationale des arts (Paris). Chaplin lives and works in Cape Town, South Africa.
This work is accompanied by a Certificate of Authenticity signed by Exhibition A.
Be sure to keep your Certificate of Authenticity (COA) in a safe place. We are unable to replace or reissue COAs.
Unframed work ships within 5 business days of your order. Framed artwork is custom framed once it is ordered. Please allow 2-4 weeks for framing and delivery. Need it faster? Expedited options may be available by emailing service@exhibitiona.com. All work ships from the US. International customers are responsible for any customs, duty, or VAT charges.
If you change your mind after placing your order, please email us at service@exhibitiona.com within 24 hours. We will not be able to accommodate cancellations for framed orders after that time period (as your frame will have been ordered and cut within that time period). We may not be able to accommodate your request to cancel your order for an unframed work after 24 hours if it has been packaged and processed by our fulfillment center.
We are unable to accept returns on custom framed artwork. Our general policy is that we do not accept returns. If your print arrives damaged or does not meet your expectations, you may be eligible for a replacement or return. Any issues must be reported within 5 business days of receipt by emailing service@exhibitiona.com.