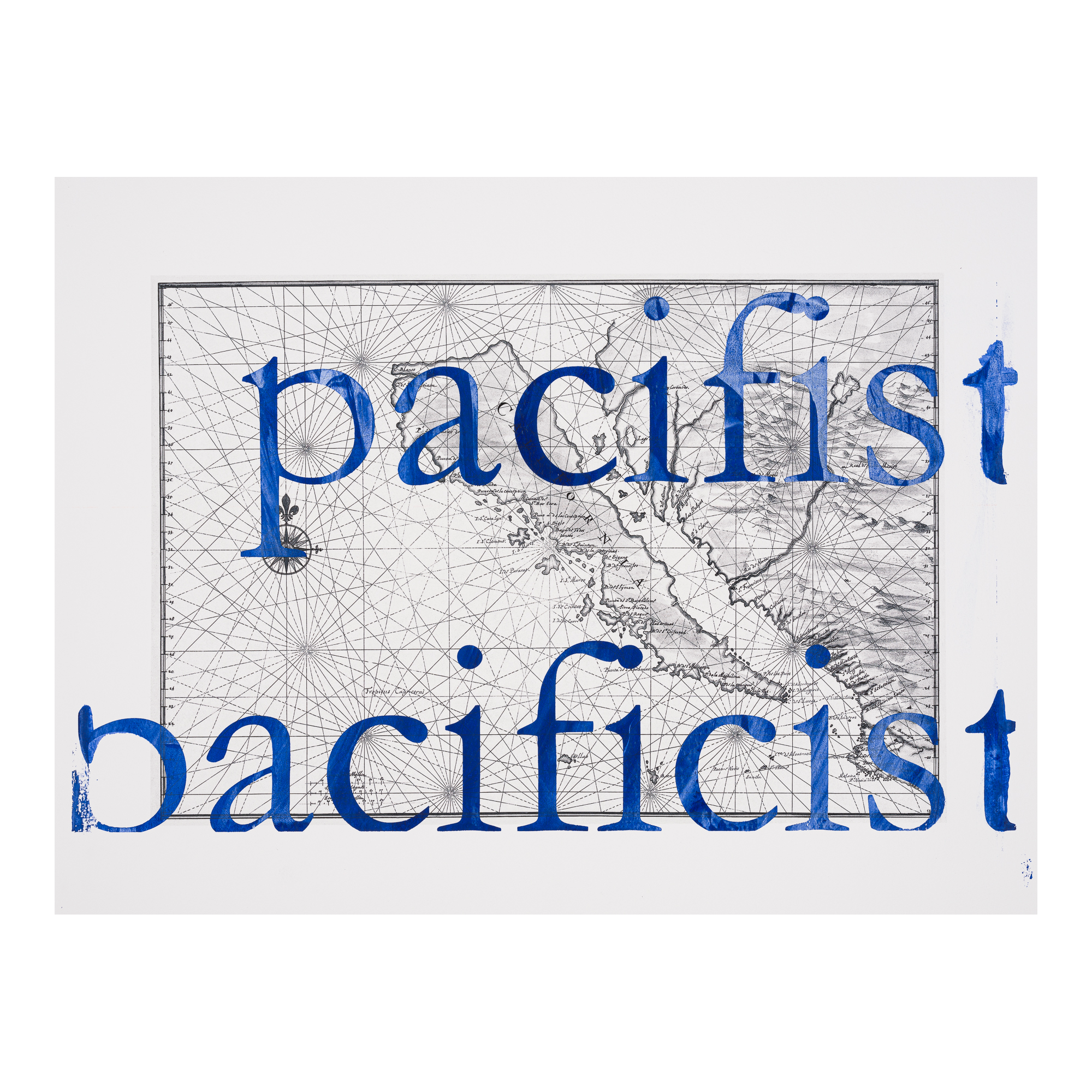 The California Dreamin' series explores the possibilities originating from a circa 1650 map of California as an island. The works hint to natural environmental forces and humankind's grand dreams. They broadly represent Sternberg's conceptual opus 'The Free Republic of California' in which he enacts an agitprop public movement via exhibitions, dedicated website, propaganda factory, educational program and presentation of a comprehensive legal and budgetary system to demonstrate what a more enlightened society could look like. Each work is unique and hand-embellished by the Artist.
Cole Sternberg was born in 1979 and lives and works in California. His practice contemplates humanity's existential quandary: that of being hopelessly destructive, yet forever and inevitably linked with nature. Through varied media (including painting, sculpture, installation, performance, photography, film and writing), Sternberg positions the aspirations of humankind against the dominant and regenerative forces of the environment and the arbitration of time. For the artist, the conclusion is unavoidable. Human enterprises -- art, language, history, law, and republic -- are ephemeral / illusory endeavors that attempt to reflect, parallel, and challenge the ascendency of nature to no avail. His works are held by major collections throughout the world, such as the Los Angeles County Museum of Art (LACMA), the Pérez Art Museum Miami (PAMM), the El Segundo Museum of Art (ESMoA), the American University Museum (AUM) and Deutsche Telekom. He has forthcoming solo exhibitions at Praz Delavallade (Los Angeles) and Yeo Workshop (Singapore).
This work is accompanied by a Certificate of Authenticity signed and numbered by the artist.
Be sure to keep your Certificate of Authenticity (COA) in a safe place. We are unable to replace or reissue COAs.
Please contact service@exhibitiona.com if you would like us to frame this work.
Framed artwork is custom framed once it is ordered. Allow 3-5 weeks for framing and delivery.
FRAME
All of our frames are made from sustainably sourced engineered hardwood that is manufactured in the USA. Frames are available in Black or White Matte and Walnut.
MAT
Prints are hinged to a conservation quality, acid-free and lignin-free Cellulose matboard, using acid-free polyethylene cloth tape. Each mat's surface paper is fade and bleed resistant and is attached to a conversation quality foam-core board. Some of our work (typically those pieces with a deckled edge) is floated on the matboard with spacers to separate the artwork from the glazing.
GLAZING
We use museum quality .060 mm plexiglass to frame your work. It blocks 82-85% of UV rays to prevent color fading from exposure to light, protecting your art for years to come.
DIMENSIONS
Our White and Black frames have a ⅞" wide flat face and are 15/16" deep. Mats are 1" wide for prints up to 8" x 10". Mats are 2" wide for prints larger than 8" x 10".
Our Natural and Walnut frames have a ¾" wide flat face and are 1 ⅛" deep. Mats are 1" wide for prints up to 8" x 10". Mats are 2" wide for prints larger than 8" x 10".
Any artwork that is floated will be placed in a frame that has a ⅝" wide flat face and is 1 5/16" deep. Work will be floated with a 1" border around it.
Unframed work ships within 5 business days of your order. Framed artwork is custom framed once it is ordered. Please allow 2-4 weeks for framing and delivery. Need it faster? Expedited options may be available by emailing service@exhibitiona.com. All work ships from the US. International customers are responsible for any customs, duty, or VAT charges.
If you change your mind after placing your order, please email us at service@exhibitiona.com within 24 hours. We will not be able to accommodate cancellations for framed orders after that time period (as your frame will have been ordered and cut within that time period). We may not be able to accommodate your request to cancel your order for an unframed work after 24 hours if it has been packaged and processed by our fulfillment center.
We are unable to accept returns on custom framed artwork. Our general policy is that we do not accept returns. If your print arrives damaged or does not meet your expectations, you may be eligible for a replacement or return. Any issues must be reported within 5 business days of receipt by emailing service@exhibitiona.com.