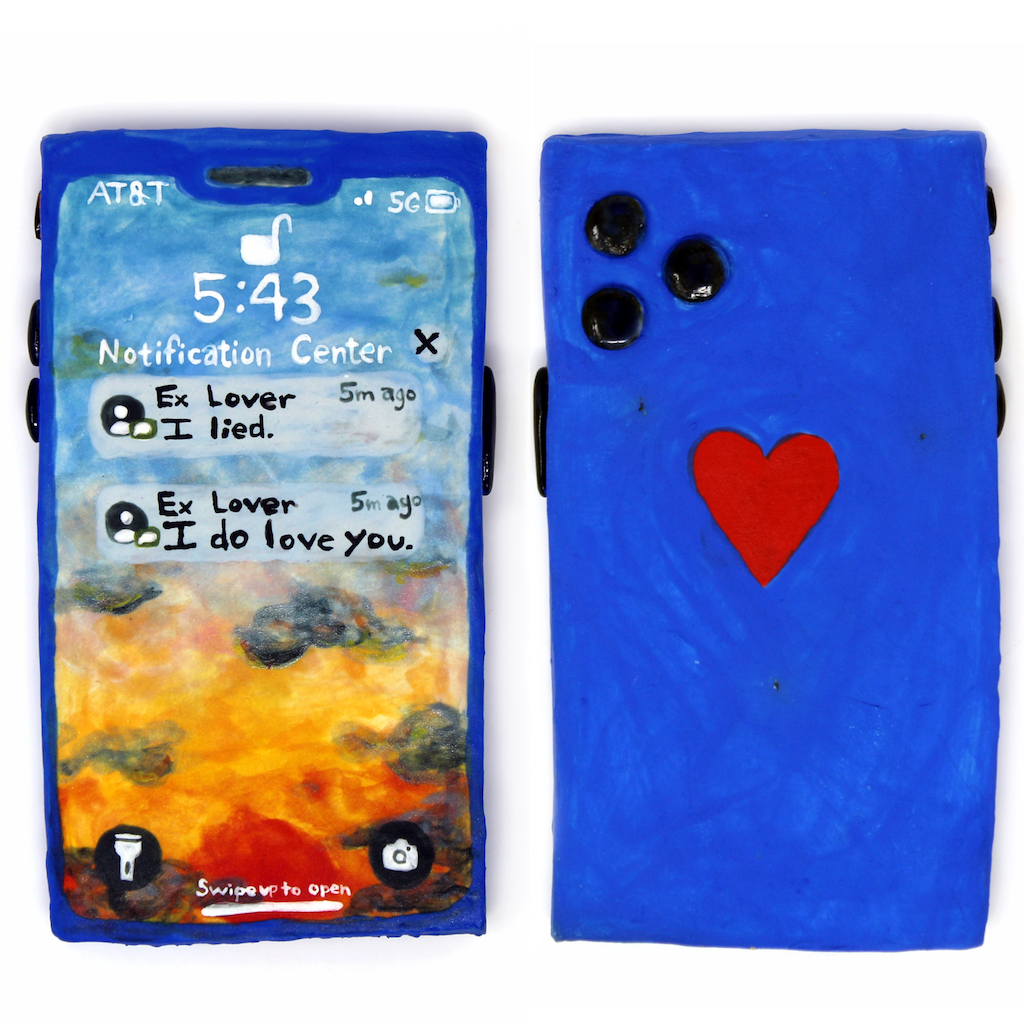 "Chronicling my successes and failures in love, my work is autobiographical and at times confessional—focusing on my personal experiences of love, sex, and intimacy in the context of Queer digital space. Stemming from my own over-attachment and reliance to my phone, particularly in forming queer friendships and romances, the ceramic phones often pull directly from my own interactions on dating apps and social media. While deceptively playful, the ceramic phones explore the dynamics of queer relationships today, how young people navigate intimacy in a digital world, and the nuances of language and socialization in dating apps and social media." - Colin Radcliffe
Colin Radcliffe has held solo & two person exhibitiobs at The Java Project (Brooklyn), Schlomer-haus Gallery (San Francisco), SPRING/BREAK Art Show (New York), Lauren Powell (New York), Proto Gomez Gallery (New York), among others. Select group exhibitions include presentations at Lauren Powell Projects (Los Angeles), The Royal Society of American Art (Brooklyn), Fort Makers (Brooklyn), and Bob Mizer Foundation (San Francisco).
This is a unique, original artwork made by the artist in his studio.
Unframed work ships within 5 business days of your order. Framed artwork is custom framed once it is ordered. Please allow 2-4 weeks for framing and delivery. Need it faster? Expedited options may be available by emailing service@exhibitiona.com. All work ships from the US. International customers are responsible for any customs, duty, or VAT charges.
If you change your mind after placing your order, please email us at service@exhibitiona.com within 24 hours. We will not be able to accommodate cancellations for framed orders after that time period (as your frame will have been ordered and cut within that time period). We may not be able to accommodate your request to cancel your order for an unframed work after 24 hours if it has been packaged and processed by our fulfillment center.
We are unable to accept returns on custom framed artwork. Our general policy is that we do not accept returns. If your print arrives damaged or does not meet your expectations, you may be eligible for a replacement or return. Any issues must be reported within 5 business days of receipt by emailing service@exhibitiona.com.