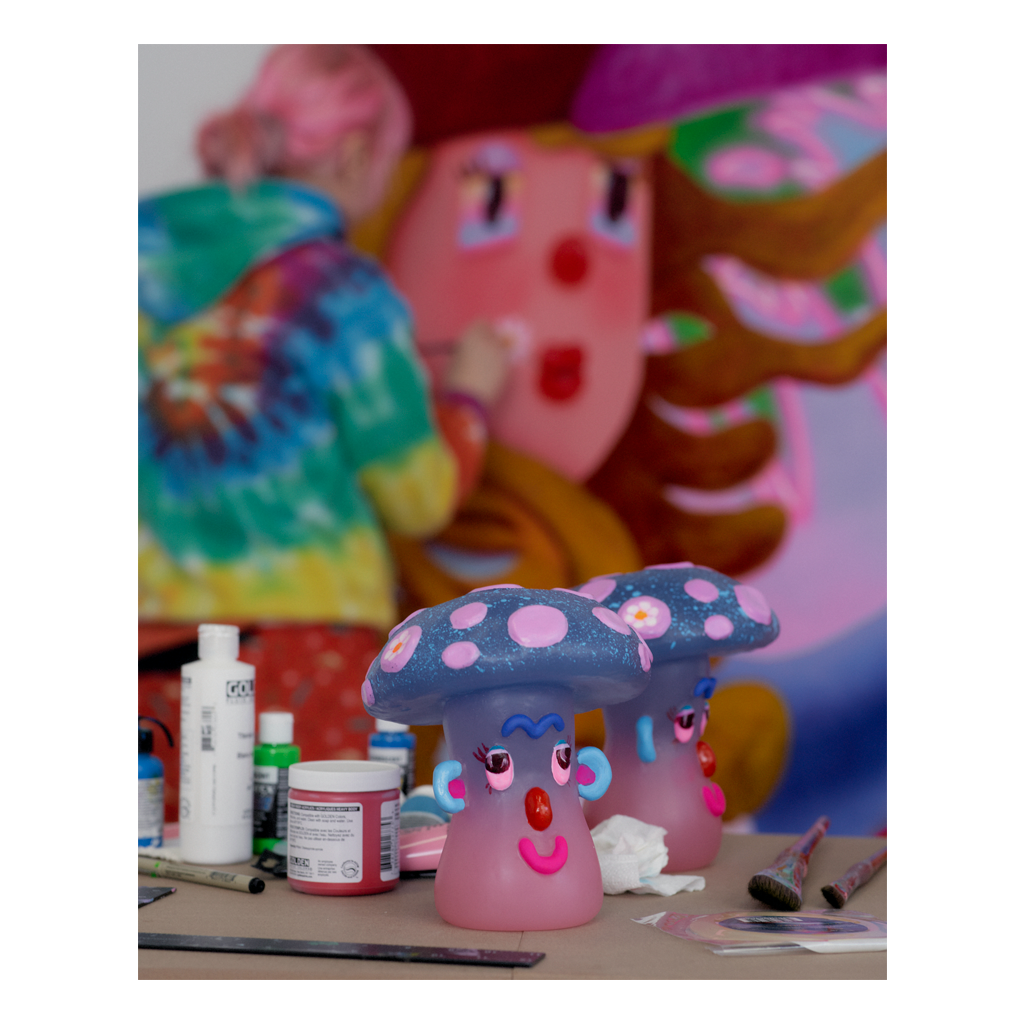 Born in East Germany prior to the fall of the wall, Super Future Kid's body of work reflects the frenetic joy associated with experiencing an influx of pop culture. Developing from digital drawings into her current tactile, high chroma world, Super Future Kid's body of work is a psychedelic dream where sculpture and painting engage in playful conversation. Characters in her scenes are often depicted alongside candy-colored, rave-palette gradients and suspended in cartoon-like aerated movement, as if the world is breathing. We've collaborated with the artist to create a sculpture edition featuring another recurrent motif in her work, a humanoid mushroom. Through interplays of glossy, matte, and transparent color fields, Super Future Kid encourages us to take a trip exploring the layers of our imagination.
Super Future Kid has held solo exhibitions at Over the Influence (Hong Kong), Arsham/Fieg Gallery (New York), Gallery Poulsen (Copenhagen), and Hiromart Gallery (Tokyo). Select group exhibitions include presentations at Mindy Solomon Gallery (Miami), Koenig Gallery (Berlin), The Garage (Amsterdam), Galerie Droste (Wuppertal, Germany), and Museum of Art and History (Lancaster, CA). She currently lives and works in Brooklyn, New York.
This work is signed by the artist on bottom, and accompanied by a Certificate of Authenticity signed and numbered by a founder of Exhibition A.
Be sure to keep your Certificate of Authenticity (COA) in a safe place. We are unable to replace or reissue COAs.
This edition will ship by May 30, 2022. If you order after that date, work will ship out within 5 business days. All work ships from the US. International customers are responsible for any customs, duty, or VAT charges.
If you change your mind after placing your order, please email us at service@exhibitiona.com within 24 hours. We may not be able to accommodate your request to cancel your order for work after 24 hours if it has been packaged and processed by our fulfillment center.
Our general policy is that we do not accept returns. If your work arrives damaged or does not meet your expectations, you may be eligible for a replacement or return. Any issues must be reported within 5 business days of receipt by emailing service@exhibitiona.com.