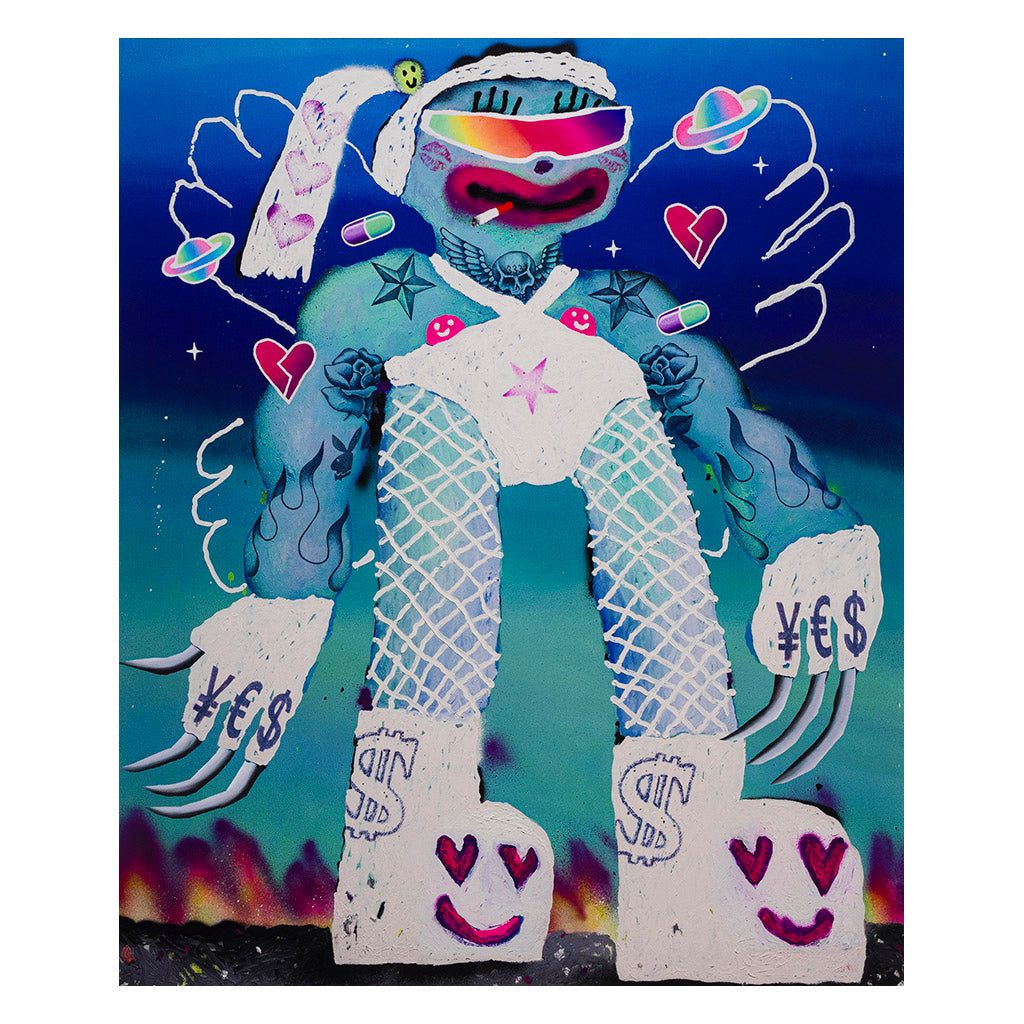 Delve into the evocative world of Bel Fullana, a Mallorcan-born artist whose surroundings have left an indelible mark on her artistry. Hailing from a background steeped in rich culture and the ever-changing landscape of tourists, Fullana's artworks capture the essence of Mallorca's vibrant environment.
Bel Fullana, a prodigious talent who emerged from Mallorca and graduated from Sant Jordi University of Barcelona, shares, "Cry Baby Bae is a painting I crafted in 2022 for David Zwirner's platform during my solo exhibition 'PutiPandi' at Freight + Volume Gallery in NY. The original artwork, an eclectic mix of oil, acrylic, and spray painting, stands at 47 x 39 inches. In crafting this print edition, I have reimagined the original by digitally modifying intricate details, resulting in varied versions of the same painting." Fullana's evolution over the past decade has been nothing short of remarkable. Moving from subdued hues to arresting colors like gum pink, her work dances between thick impasto techniques and ethereal spray paint washes. This dichotomy pulls the viewer into a space of indeterminacy, juxtaposing mature narratives with naive, childlike depictions. Painting directly onto the canvas, Fullana's artistry thrives on improvisation, but she remains deeply attuned to the final presentation. Internationally recognized, her art has adorned walls from Seoul and Taiwan to New York, Los Angeles, Denmark, and Germany. Notably, in 2017, Fullana's artistic prowess was celebrated with the prestigious Prize Ciutat de Palma of Visual Arts. Fullana's narrative is rich – her paintings echo with voices of liberated girls, mischievous hooligans, and hedonist epicureans. These characters often serve as Fullana's alter-egos, from pleasure seekers to empowered cyborgs. Through a raw, unfiltered style, she highlights the dichotomy of innocent hues and a powerful undercurrent. Her women are fierce, self-assured, and in command of both their sexuality and societal space.
Bel Fullana, born in Mallorca, Spain in 1985, is a trailblazing artist whose oeuvre is deeply influenced by her Mediterranean roots. Her transformative journey, from the historic mansion of Casal Solleric in Palma de Mallorca to the vibrant galleries of New York's Freight + Volume, captures her essence of perpetual evolution. With significant solo exhibitions including "Puti Pandi" (2022) at Freight + Volume, "Miau Planet" (2021) at Galeria Fran Reus, and "Foxy Gangstas by Bel Fullana" (2021) at ALLOUCHE BENIAS, Fullana has left her mark on both sides of the Atlantic. Her collaborative spirit has been showcased in notable group exhibitions like "PUNGENT DYSTOPIA" at Freight + Volume (2020) and "BADASS" at Dopeness Art Lab (2021). An artist of intuition, Fullana predominantly paints directly onto her canvas, blending improvisation with a meticulous concern for the final outcome. Her accolades include the esteemed Prize Ciutat de Palma of Visual Arts in 2017. Through her vivid compositions, Fullana offers a juxtaposition of liberated women - from hedonist epicureans to militant cyborgs - underscoring their agency in both sexuality and societal roles.
Signed, dated, numbered en verso. This work is also accompanied by a Certificate of Authenticity signed and numbered by Exhibition A.
Be sure to keep your Certificate of Authenticity (COA) in a safe place. We are unable to replace or reissue COAs.
Please contact help@exhibitiona.com to frame this work.Framed artwork is custom framed once it is ordered. Allow 3-5 weeks for framing and delivery.
FRAME
All of our frames are made from sustainably sourced engineered hardwood that is manufactured in the USA. Frames are available in Black or White Matte and Walnut.
MAT
Prints are hinged to a conservation quality, acid-free and lignin-free Cellulose matboard, using acid-free polyethylene cloth tape. Each mat's surface paper is fade and bleed resistant and is attached to a conversation quality foam-core board. Some of our work (typically those pieces with a deckled edge) is floated on the matboard with spacers to separate the artwork from the glazing.
GLAZING
We use museum quality .060 mm plexiglass to frame your work. It blocks 82-85% of UV rays to prevent color fading from exposure to light, protecting your art for years to come.
DIMENSIONS
Our White and Black frames have a ⅞" wide flat face and are 15/16" deep. Mats are 1" wide for prints up to 8" x 10". Mats are 2" wide for prints larger than 8" x 10".
Our Natural and Walnut frames have a ¾" wide flat face and are 1 ⅛" deep. Mats are 1" wide for prints up to 8" x 10". Mats are 2" wide for prints larger than 8" x 10".
Any artwork that is floated will be placed in a frame that has a ⅝" wide flat face and is 1 5/16" deep. Work will be floated with a 1" border around it.
Unframed work ships within 5 business days of your order. Framed artwork is custom framed once it is ordered. Please allow 2-4 weeks for framing and delivery. Need it faster? Expedited options may be available by emailing help@exhibitiona.com. All work ships from the US. International customers are responsible for any customs, duty, or VAT charges.
If you change your mind after placing your order, please email us at help@exhibitiona.com within 24 hours. We will not be able to accommodate cancellations for framed orders after that time period (as your frame will have been ordered and cut within that time period). We may not be able to accommodate your request to cancel your order for an unframed work after 24 hours if it has been packaged and processed by our fulfillment center.
We are unable to accept returns on custom framed artwork. Our general policy is that we do not accept returns. If your print arrives damaged or does not meet your expectations, you may be eligible for a replacement or return. Any issues must be reported within 5 business days of receipt by emailing help@exhibitiona.com.