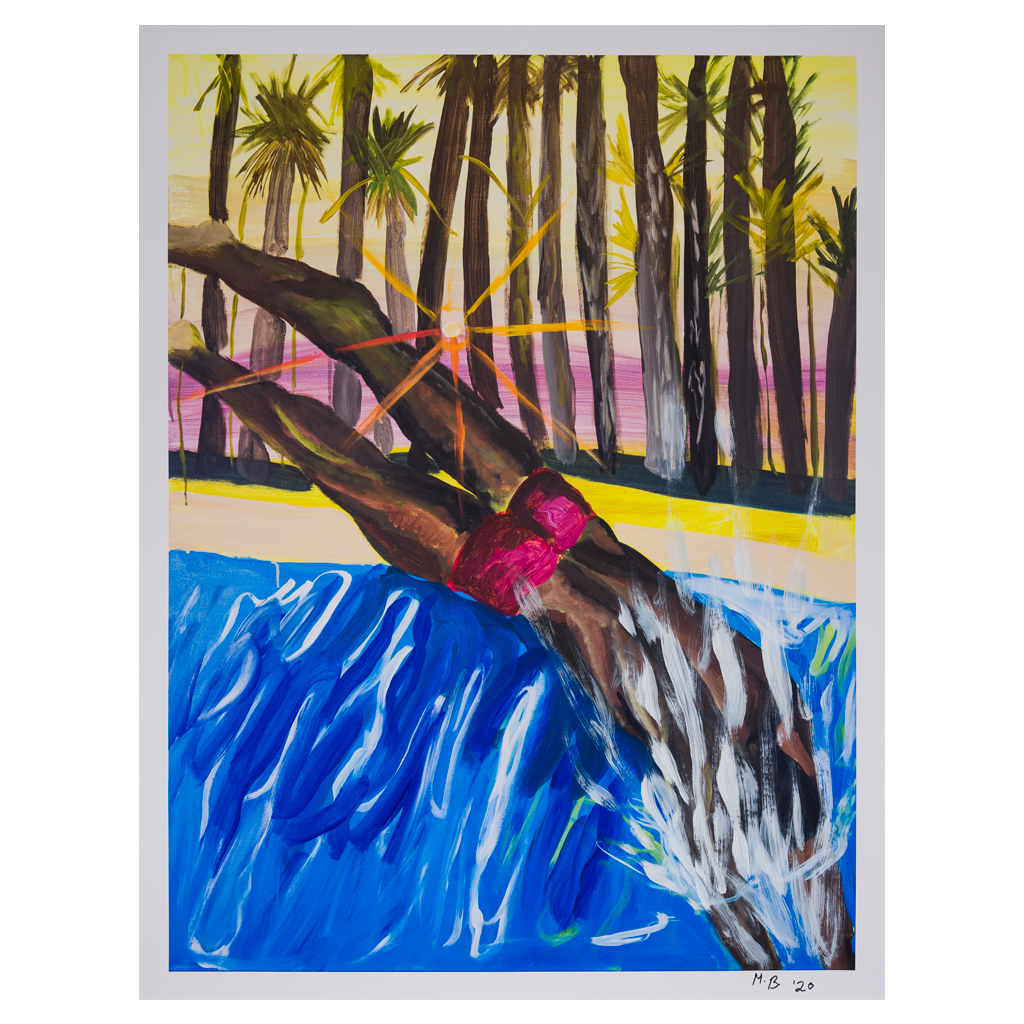 Life, now on view all around us. It is summer, it is 2020, and yet 'summer 2020' has an odd ring of forbearance. For nothing is the same. And yet - joy is everlasting, a most fundamental pursuit, all the more sweet when experienced as a respite, fresh cold water in the heat. Marcus Brutus creates paintings that are like this; like sites of solace, like the inspirational relief associated with feeling seen. Brutus collapses histories and cultural references the way one moment in your life distills the entirety of existence, with subtlety and in color. His patiently rendered portraits of black American life and identity swell with a sense of regality and quiet unrest, when the act of being alive is also an act of revolution. In Deep, our new collaboration with Brutus featuring one print edition of 50 and one unique series of 15, a lone figure dives headfirst into a body of water, witnessed by rows of palm trees and a glowing sunset in the distance. Close your eyes, let it wash over you. Little by little details transform, not every dive results in the same splash and sometimes the environment changes entirely. Art exists beyond the frame and Brutus directs our perspective to worlds that matter.
Marcus Brutus (b. 1991, Silver Spring, MD) has held four solo exhibitions with Harper's (New York). Other solo exhibitions include a 2023 presentation at Stems Gallery (Brussels) and a 2021 presentation at Library Street Collective (Detroit). Select group exhibitions were held at Phillips (New York), König Galerie (Berlin), Arsenal Contemporary (New York), Carl Kostyál (Stockholm), and Gana Art (Seoul). His work has been acquired by the Davis Museum, Wellesley, MA. Brutus's painting Bus Stop appears on the cover of the anthology The Movement for Black Lives: Philosophical Perspectives, published in September 2021 by Oxford University Press. In 2021, Brutus collaborated with streetwear brand Kith to reimagine its logo. His first monograph Marcus Brutus: The Uhmericans, featuring an essay by Gagosian director and curator Antwaun Sargent, was published by Harper's in 2019. Brutus lives and works in New York.
This work is accompanied by a Certificate of Authenticity signed and numbered by the artist.
Be sure to keep your Certificate of Authenticity (COA) in a safe place. We are unable to replace or reissue COAs.
Framed artwork is custom framed once it is ordered. Allow 3-5 weeks for framing and delivery.
FRAME
All of our frames are made from sustainably sourced engineered hardwood that is manufactured in the USA. Frames are available in Black or White Matte and Walnut.
MAT
Prints are hinged to a conservation quality, acid-free and lignin-free Cellulose matboard, using acid-free polyethylene cloth tape. Each mat's surface paper is fade and bleed resistant and is attached to a conversation quality foam-core board. Some of our work (typically those pieces with a deckled edge) is floated on the matboard with spacers to separate the artwork from the glazing.
GLAZING
We use museum quality .060 mm plexiglass to frame your work. It blocks 82-85% of UV rays to prevent color fading from exposure to light, protecting your art for years to come.
DIMENSIONS
Our White and Black frames have a ⅞" wide flat face and are 15/16" deep. Mats are 1" wide for prints up to 8" x 10". Mats are 2" wide for prints larger than 8" x 10".
Our Natural and Walnut frames have a ¾" wide flat face and are 1 ⅛" deep. Mats are 1" wide for prints up to 8" x 10". Mats are 2" wide for prints larger than 8" x 10".
Any artwork that is floated will be placed in a frame that has a ⅝" wide flat face and is 1 5/16" deep. Work will be floated with a 1" border around it.
Unframed work ships within 5 business days of your order. Framed artwork is custom framed once it is ordered. Please allow 2-4 weeks for framing and delivery. Need it faster? Expedited options may be available by emailing service@exhibitiona.com. All work ships from the US. International customers are responsible for any customs, duty, or VAT charges.
If you change your mind after placing your order, please email us at service@exhibitiona.com within 24 hours. We will not be able to accommodate cancellations for framed orders after that time period (as your frame will have been ordered and cut within that time period). We may not be able to accommodate your request to cancel your order for an unframed work after 24 hours if it has been packaged and processed by our fulfillment center.
We are unable to accept returns on custom framed artwork. Our general policy is that we do not accept returns. If your print arrives damaged or does not meet your expectations, you may be eligible for a replacement or return. Any issues must be reported within 5 business days of receipt by emailing service@exhibitiona.com.