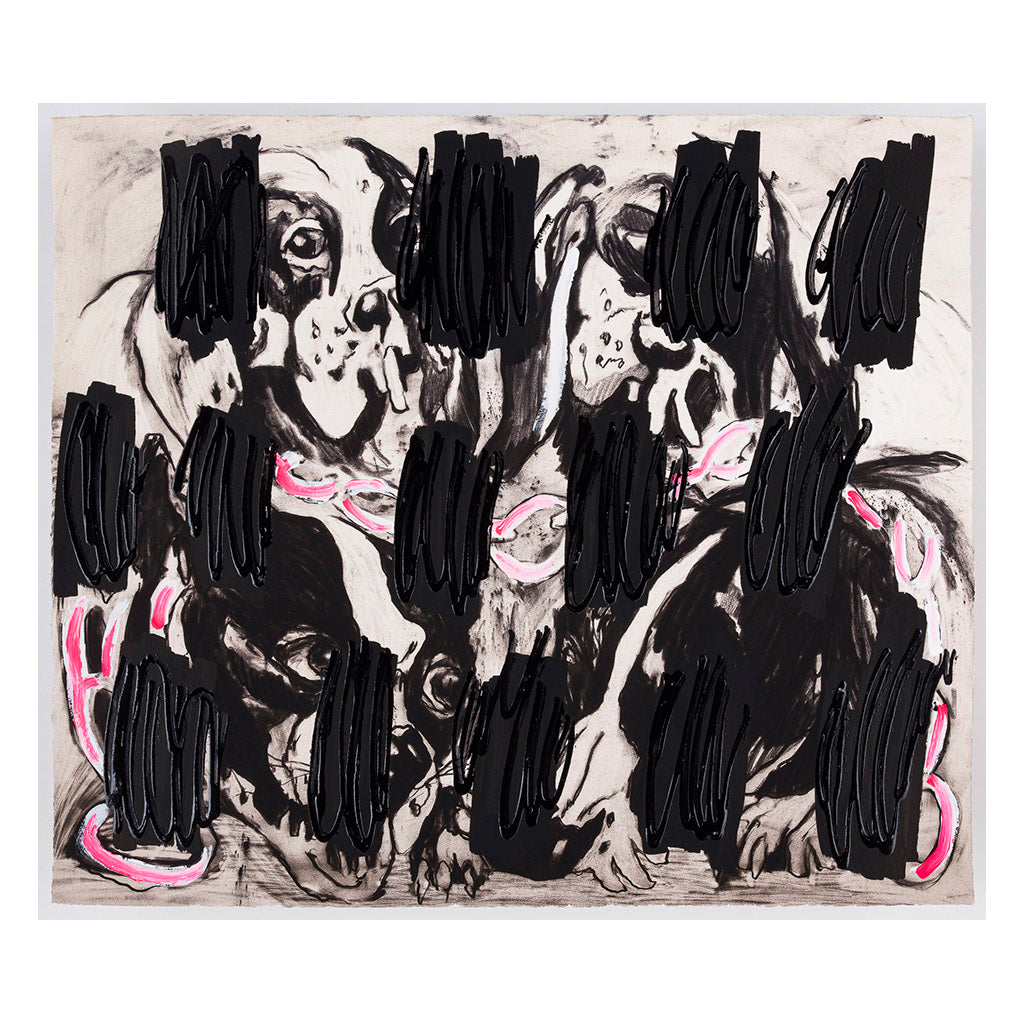 We're pleased to introduce Taylor Marie Prendergast, one of our 2023 Artists On the Rise. Working primarily in charcoal, Prendergast cleverly allows the inherent chiaroscuro of the compressed medium to echo the conceptual light and shadow found in her otherworldly canines.

To create four earthly strays (2023), Prendergast developed an original work on paper that Exhibition A published as a series of ten base prints on which the Los Angeles based artist could showcase the expressive marks and compositional variation found in her larger practice. The unique series of 10 features original gestures by the artist created using enamel and acrylic paint atop archival pigment print on Hahnemuhle museum etching paper with a hand-torn deckled edge.

While Ceberus guards the gates of the Underworld, an evil darkness roams free amongst the living, one that manifests violently. Prendergast examines the multidimensional nature of dog as symbol, challenging the mythical radioactive version of 'man's best friend' and subverting the expectations associated with 'woman as creator' by channeling an unflinching rawness in her oft-large scale works, wherein light and shadow coalesce. In order to complete their journey, any archetypal hero must claw through fear, casting tender forgiveness to internal conflict. Prendergast's bold body of work doesn't rush towards any destination, instead encouraging viewers to embrace the kinesis of liminal uncertainty.
Taylor Marie Prendergast (b. 1990, Palo Alto, CA) has held solo exhibitions at Over the Influence (Los Angeles) and Carlye Packer (Los Angeles). Select group exhibitions include presentations at Rusha & Co. (Los Angeles), Stems Gallery (Paris), Good Mother Gallery (Los Angeles), Franchise (Los Angeles), and LVL3 Gallery (Chicago). The artist lives and works in Los Angeles.