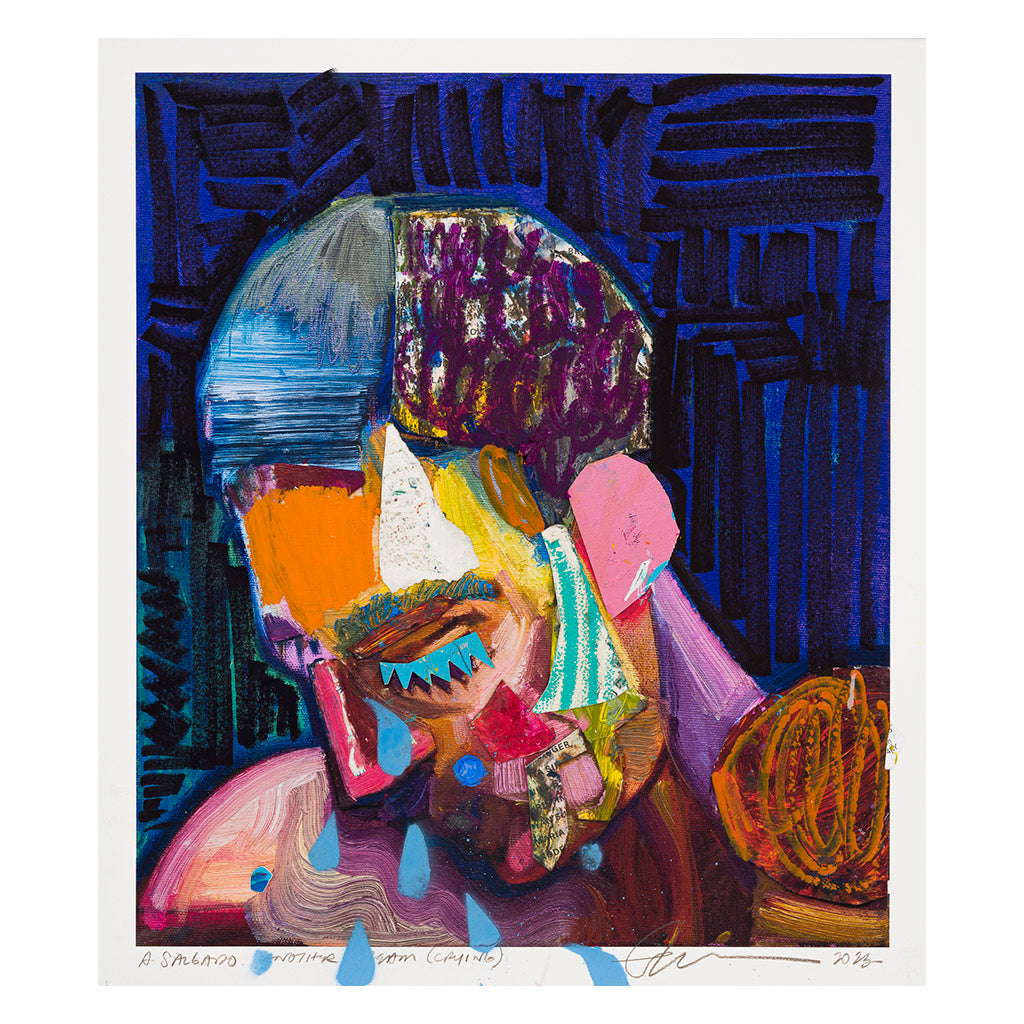 From One Dream to Another
Andrew Salgado creates explosively colorful portraits that reflect the multi-faceted nature of human forms in the 21st century. What's more contemporary than feeling pulled in a million directions at once? Dismantled identity donned as reality — perhaps our curated masks are not as fixed as we'd like to believe. Neither fully dreaming or truly awake, Salgado's subjects are drenched in textured emotion, exploring and ricocheting within frame, akin to the individual impulse to transform our limited dispositions. For Salgado, confines of composition are ripe for revision.

Our new collaboration with the artist, a unique series of 20 collaged prints created in the artist's studio, features a figure undergoing continual metamorphosis. In Salgado's own words, "I allowed myself to play with the myriad possibilities that might have been and that, on some level, already are. To me, the idea of interpreting dreams is both very real and very fantastical, and like this series, left open to interpretation and possibility."

Reality is in the eye of the beholder and we're thrilled to provide twenty lucky collectors the ability to revisit Salgado's actualized imagination again and again.
Andrew Salgado (b. 1982, Canada) has held solo exhibitions at PIERMARQ* Gallery (Sydney), Maki Gallery (Tokyo), BEERS (London), Christopher Moller Gallery (Cape Town), Canadian High Commission (Trafalgar Sq, London), and Thierry Goldberg (New York). His works have been collected extensively in private and public collections worldwide, including The Oketa Collection, The Royal Bank of Canada Collection, The Masahiro Collection, Government of Canada, The Jordanian Royal Family, Simmons & Simmons, the Esquinazi Collection, Edwin Oostmeier Collection, and more. Salgado lives and works in London, England.
Signed and numbered by the artist on front.
This work is accompanied by a Certificate of Authenticity signed and numbered by Exhibition A.
Be sure to keep your Certificate of Authenticity (COA) in a safe place. We are unable to replace or reissue COAs.
Unframed work ships within 5 business days of your order. Framed artwork is custom framed once it is ordered. Please allow 2-4 weeks for framing and delivery. Need it faster? Expedited options may be available by emailing service@exhibitiona.com. All work ships from the US. International customers are responsible for any customs, duty, or VAT charges.
If you change your mind after placing your order, please email us at service@exhibitiona.com within 24 hours. We will not be able to accommodate cancellations for framed orders after that time period (as your frame will have been ordered and cut within that time period). We may not be able to accommodate your request to cancel your order for an unframed work after 24 hours if it has been packaged and processed by our fulfillment center.
We are unable to accept returns on custom framed artwork. Our general policy is that we do not accept returns. If your print arrives damaged or does not meet your expectations, you may be eligible for a replacement or return. Any issues must be reported within 5 business days of receipt by emailing service@exhibitiona.com.