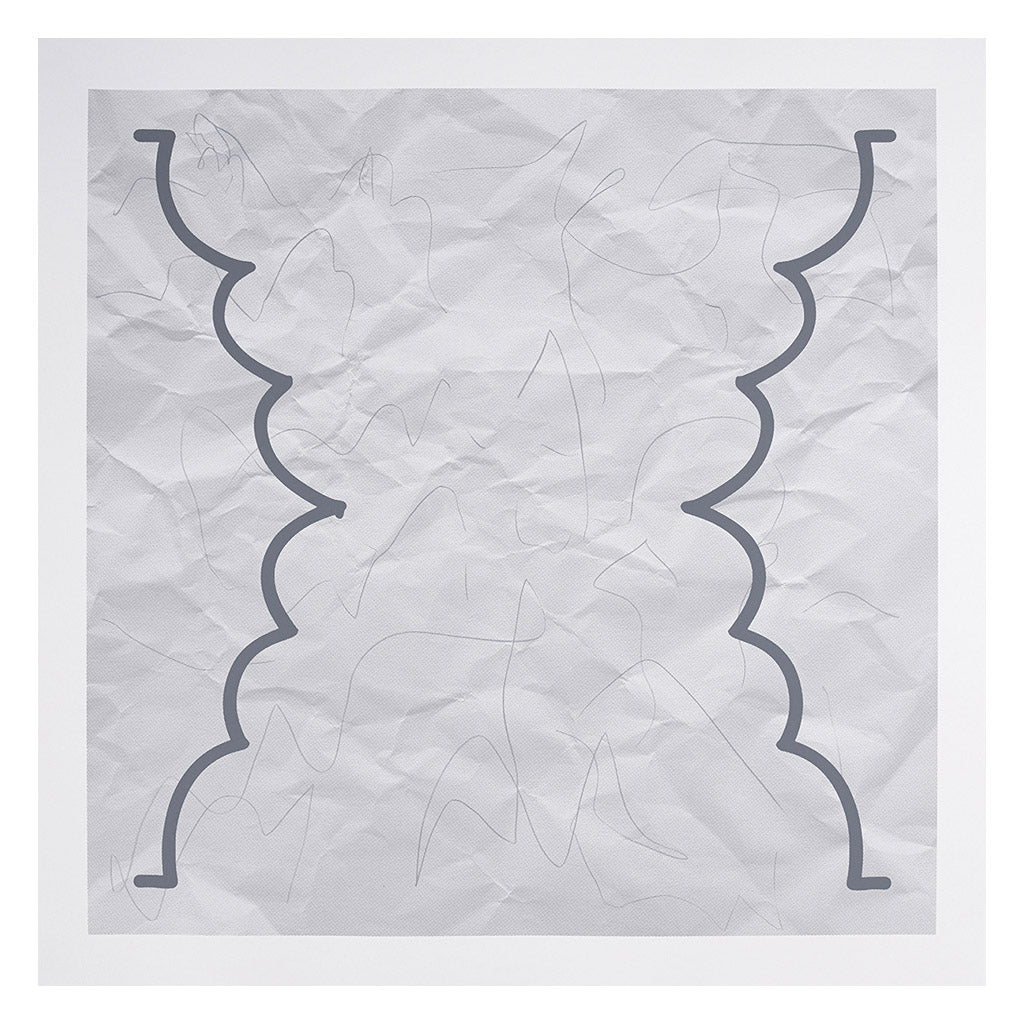 "My artmaking process often involves scribbling out ideas on paper. If I don't like where an initial idea is headed, I'll crumple it up and toss it into the wastebasket. I enjoy the timing and elegant gesture of this action — scoring regardless even if I've made a dud. On occasion, however, something from a discarded drawing will catch my eye and I'll retrieve it from the bin, smooth its wrinkled creases, and use it as the basis for a new creation." — Amy Feldman

Are precious uncertainties lost in the quest for finality? In the endgame, how present is the unwitnessed process; the breathlessly jotted down inspiration and solitary nights in the studio? Feldman's paintings communicate without saying a word. Using the visual language of abstraction within her characteristic restrained shades-of-gray palette, Feldman channels the rigor of draftsmanship alongside improvisational risks, resulting in smoke-like echoes of paused gestures, swelling snapshots of spontaneous expression. The compositions are geometric in nature but forgo harshness of line in favor of more organic, amoebic shapes, creating the sense we are perceiving hyper close-ups of something much smaller — cellular, even.

Our new collaboration with Feldman, HAPPY HOOP (2023), a hand-finished series of 12, features a bold undulation that suggests an hourglass shape, referencing the body and its nuanced ability to change over time, as if the form were twirling inside a Hula Hoop with just the right amount of pressure to continuously sustain the pleasure of movement.

Drawing connections with her larger practice, Feldman further explains HAPPY HOOP's conceptual undertones:

"A scribble mark is handwriting in its rawest form and offers a counter to the mass-produced by favoring something physically primal over the sheen of image duplication. The printed trompe l'oeil ground is a nod to cubist and surrealist interventions that pique the viewer's willingness to accept fiction as reality — to embrace the uncanny. Presenting the actual paper, crumpled up, within a print of itself, engages this suspension of disbelief. The viewer may wish to believe the paper is actually crumpled though the image is clearly printed. The dissonance between the printed and hand-drawn marks toy with authenticity of gesture, and illuminates the paradoxical relationship between the physical and formal, the psychic and conceptual nature of my work. I'm interested in how this type of poetic faith relates to making art in a moment when the idea of truth — its existence/non-existence — has become increasingly challenging to decipher."
Amy Feldman (b. 1981, New Windsor, NY) has held solo exhibitions at Galerie Eva Presenhuber (Zürich and New York), The Journal (New York), 39 Great Jones (New York) curated by Ugo Rondinone, Anna Bohman (Stockholm), James Cohan Gallery (New York), Blain Southern (Berlin), Corbett vs. Dempsey (Chicago), Brand New Gallery (Milan), Ratio 3 (San Francisco) and Sorry We're Closed (Brussels), among others. Select group exhibitions include presentation at Kunstmuseum Schloss Derneburg, Hall Art Foundation (Holle, Germany), Museum of Contemporary Art Chicago, The Sheldon Museum of Art (Lincoln, NE), Kunstmuseum Bonn (Bonn, Germany), Palazzo Fruscione Salerno (Salerno, Italy), and Musée d'art Moderne Saint-Étienne (Saint-Étienne, France). Feldman lives and works in Brooklyn, NY.
Signed and dated by the artist en verso. This work is also accompanied by a Certificate of Authenticity signed and numbered by Exhibition A.
Be sure to keep your Certificate of Authenticity (COA) in a safe place. We are unable to replace or reissue COAs.
Please contact service@exhibitiona.com to have this work framed. Framed artwork is custom framed once it is ordered. Allow 3-5 weeks for framing and delivery.
FRAME
All of our frames are made from sustainably sourced engineered hardwood that is manufactured in the USA. Frames are available in Black or White Matte and Walnut.
MAT
Prints are hinged to a conservation quality, acid-free and lignin-free Cellulose matboard, using acid-free polyethylene cloth tape. Each mat's surface paper is fade and bleed resistant and is attached to a conversation quality foam-core board. Some of our work (typically those pieces with a deckled edge) is floated on the matboard with spacers to separate the artwork from the glazing.
GLAZING
We use museum quality .060 mm plexiglass to frame your work. It blocks 82-85% of UV rays to prevent color fading from exposure to light, protecting your art for years to come.
DIMENSIONS
Our White and Black frames have a ⅞" wide flat face and are 15/16" deep. Mats are 1" wide for prints up to 8" x 10". Mats are 2" wide for prints larger than 8" x 10".
Our Natural and Walnut frames have a ¾" wide flat face and are 1 ⅛" deep. Mats are 1" wide for prints up to 8" x 10". Mats are 2" wide for prints larger than 8" x 10".
Any artwork that is floated will be placed in a frame that has a ⅝" wide flat face and is 1 5/16" deep. Work will be floated with a 1" border around it.
Unframed work ships within 5 business days of your order. Framed artwork is custom framed once it is ordered. Please allow 2-4 weeks for framing and delivery. Need it faster? Expedited options may be available by emailing service@exhibitiona.com. All work ships from the US. International customers are responsible for any customs, duty, or VAT charges.
If you change your mind after placing your order, please email us at service@exhibitiona.com within 24 hours. We will not be able to accommodate cancellations for framed orders after that time period (as your frame will have been ordered and cut within that time period). We may not be able to accommodate your request to cancel your order for an unframed work after 24 hours if it has been packaged and processed by our fulfillment center.
We are unable to accept returns on custom framed artwork. Our general policy is that we do not accept returns. If your print arrives damaged or does not meet your expectations, you may be eligible for a replacement or return. Any issues must be reported within 5 business days of receipt by emailing service@exhibitiona.com.