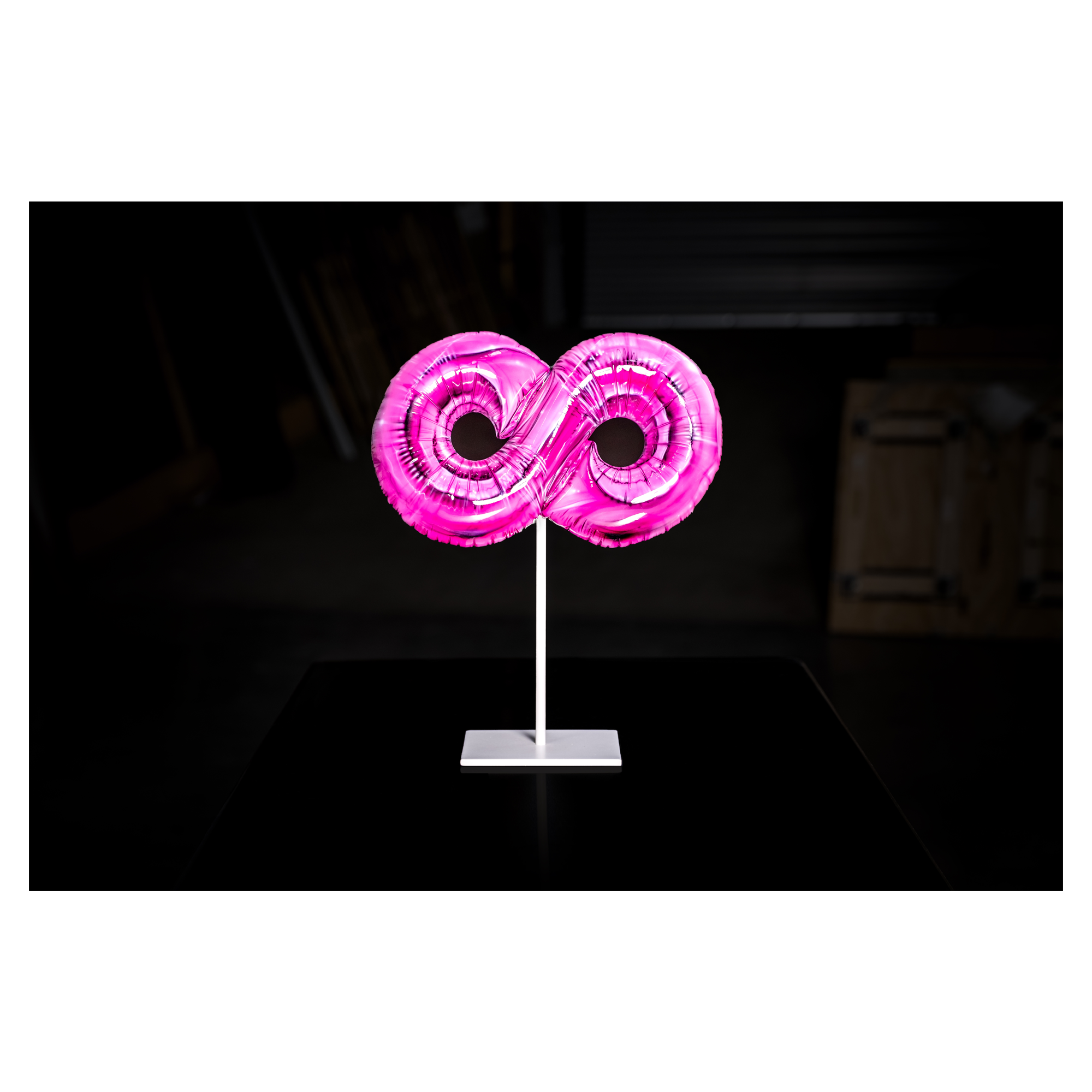 Infinity Vanitas (Bubble Gum, Cloud, Gold)
Adam Parker Smith's painted sculpture edition, made from urethane, cast resin, and steel, reminds us of the finite nature of celebratory moments and beautiful things. Thoughtfully referencing the 16th and 17th century Dutch vanitas paintings of rotten fruit and wilting bouquets, the balloons in their shiny, deflating nature mirror our own impermanence.

Painted in a photorealistic style to give the impression of a reflective mylar balloon, one might be surprised to hold the cast resin sculpture and note its weight. The more time spent basking in Infinity Vanitas, the more paradoxes there are to discover: painting vs. sculpture, heavy vs. weightless, gone tomorrow vs. infinity and forever.
Adam Parker Smith has held solo and two-person exhibitions at The Watermill Center (New York), The Hole (New York), Galería Curro (Guadalajara), Ever Gold Projects (San Francisco), and LVL3 (Chicago) among others. Select group exhibitions include presentations at Spurs Gallery (Beijing), Marlborough (London), Library Street Collective (Detroit), Galerie Odile Ouizeman (Paris), Honor Fraser (Los Angeles), and Derek Eller Gallery (New York). Smith lives and works in New York.
This work is accompanied by a Certificate of Authenticity signed and numbered by the artist.
Be sure to keep your Certificate of Authenticity (COA) in a safe place. We are unable to replace or reissue COAs.
Unframed work ships within 5 business days of your order. Framed artwork is custom framed once it is ordered. Please allow 2-4 weeks for framing and delivery. Need it faster? Expedited options may be available by emailing service@exhibitiona.com. All work ships from the US. International customers are responsible for any customs, duty, or VAT charges.
If you change your mind after placing your order, please email us at service@exhibitiona.com within 24 hours. We will not be able to accommodate cancellations for framed orders after that time period (as your frame will have been ordered and cut within that time period). We may not be able to accommodate your request to cancel your order for an unframed work after 24 hours if it has been packaged and processed by our fulfillment center.
We are unable to accept returns on custom framed artwork. Our general policy is that we do not accept returns. If your print arrives damaged or does not meet your expectations, you may be eligible for a replacement or return. Any issues must be reported within 5 business days of receipt by emailing service@exhibitiona.com.