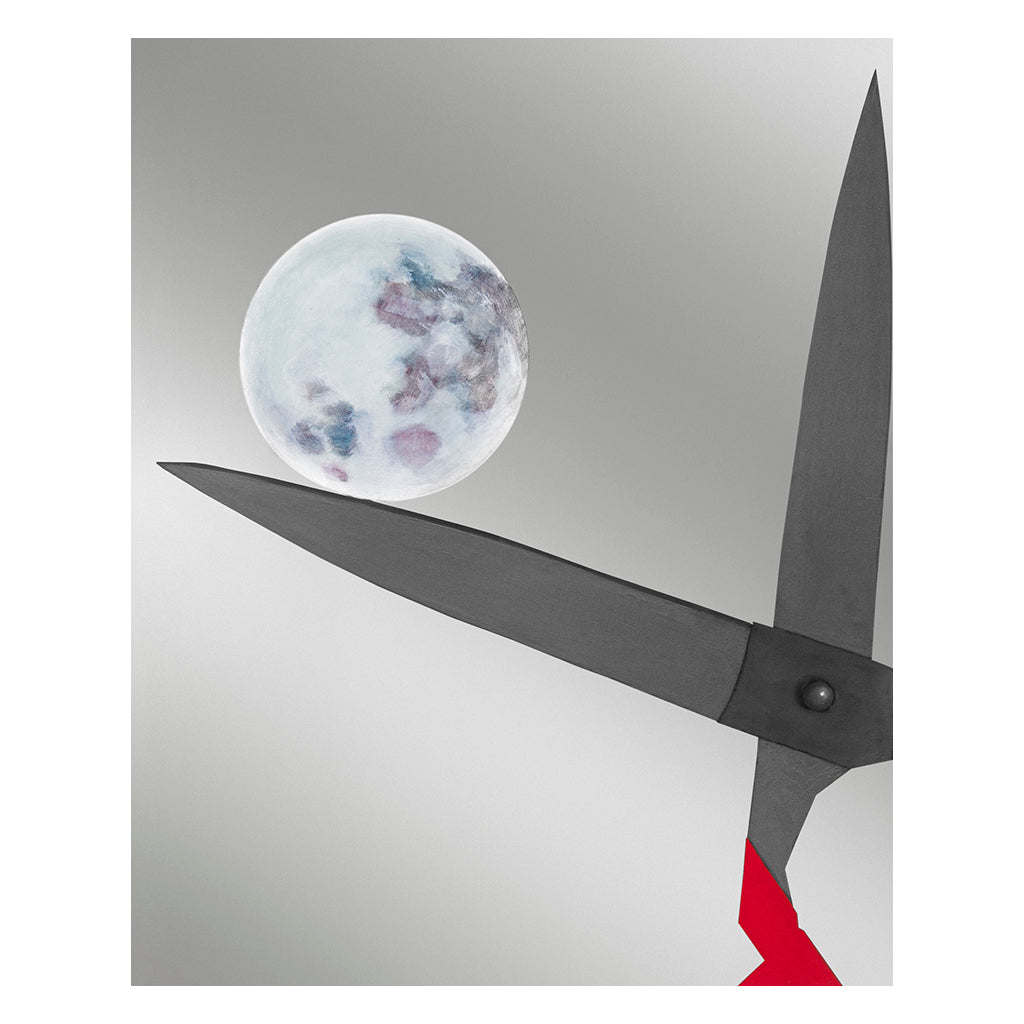 In this exquisite series, Furr's emblematic starlit and monochromatic canvases are artfully reimagined using mirrored dibond. Elevating the craft, the painting's central motifs — robust metallic blades juxtaposed with a radiant full moon — are meticulously rendered using UV cured pigments atop the luminous backdrop, marrying advanced printing techniques with timeless artistry.

In her surreal oil paintings, Furr blends the tangible and the transcendent. With an architectural sense of space and sumptuous technique, the artist designs a thoughtful world at once historic and futuristic, an interdimensional catalogue. Our edition Lunar Cut is intended for direct visual dialogue with Furr's broader body of work, inviting viewers to contemplate the ultimate paradox of how that which appears readily — the moon, a pair of scissors, mirror, mirror on the wall — is at once formed from refined elegance yet remains imbued with an unknowable and intricate complexity, ultimately reflecting the cosmic wonders that surround us.
Emily Furr (b. St. Louis, MO) has held solo exhibitions at Sargent's Daughters (New York), SCAD Museum (Savannah), 12.26 Gallery (Dallas), 12.26 Gallery West (Los Angeles), and Rebecca Camacho Presents (San Francisco, CA). Select group exhibitions include presentations at Office Baroque (Antwerp), O'Flaherty's (New York), Galerie Hussenot (Paris), Achenbach Hagemeier (Berlin), and Halsey McKay Gallery (East Hampton). The artist lives and works in Brooklyn, New York.
Artist signature and edition number are laser engraved en verso. This work is also accompanied by a Certificate of Authenticity signed and numbered by Exhibition A.
Be sure to keep your Certificate of Authenticity (COA) in a safe place. We are unable to replace or reissue COAs.
Unframed work ships within 7 business days of your order. Framed artwork is custom framed once it is ordered. Please allow 2-4 weeks for framing and delivery. Need it faster? Expedited options may be available by emailing help@exhibitiona.com. All work ships from the US. International customers are responsible for any customs, duty, or VAT charges.
If you change your mind after placing your order, please email us at help@exhibitiona.com within 24 hours. We will not be able to accommodate cancellations for framed orders after that time period (as your frame will have been ordered and cut within that time period). We may not be able to accommodate your request to cancel your order for an unframed work after 24 hours if it has been packaged and processed by our fulfillment center.
We are unable to accept returns on custom framed artwork. Our general policy is that we do not accept returns. If your print arrives damaged or does not meet your expectations, you may be eligible for a replacement or return. Any issues must be reported within 5 business days of receipt by emailing help@exhibitiona.com.