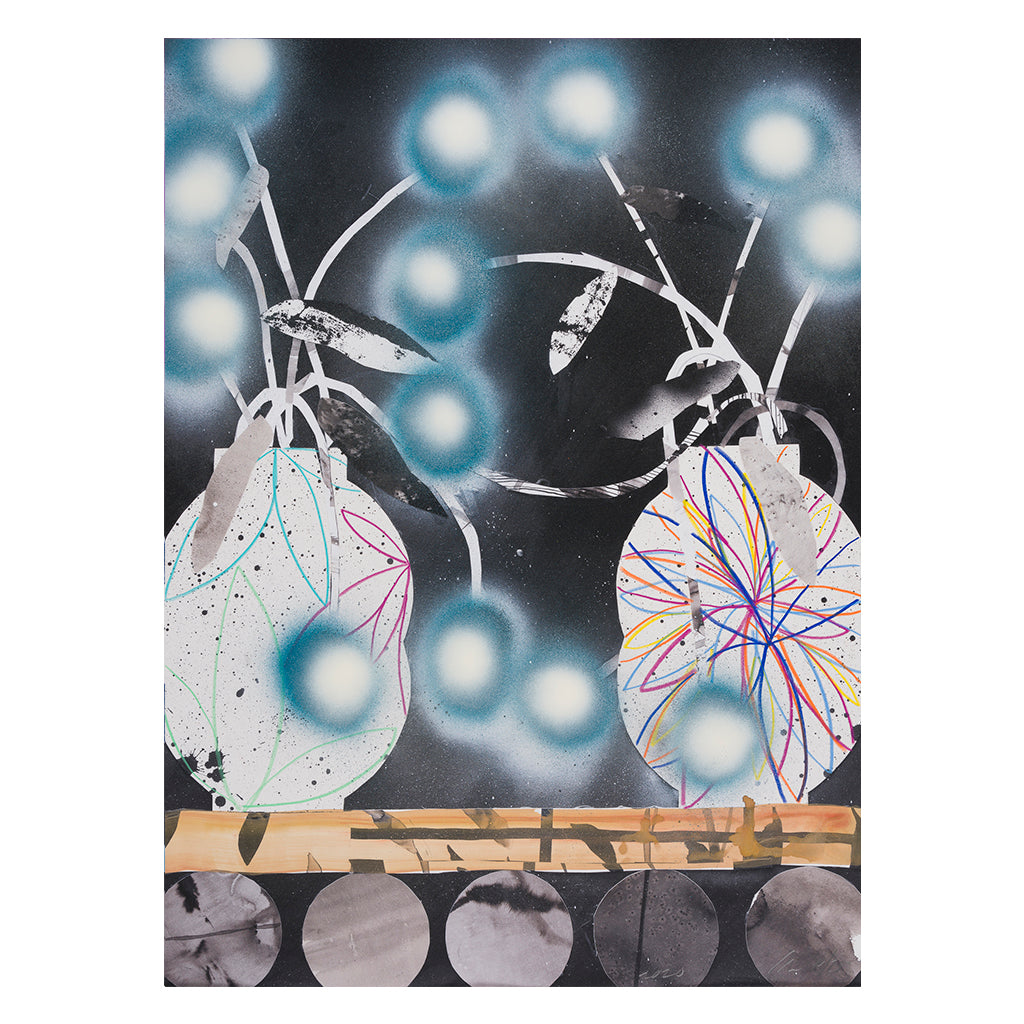 Paul Wackers makes paintings that feel like secrets. Secrets in the way that your coffee mug holds a secret, the way your paper weight contains mysteries, or how your plants carry coded intimacies based on the angle you pour the water jug. Wackers' scenes of domestic interiors capture and magnify the imbued magic found in personal environments through celebrations of form, expressive line, and energetic texture. Hints of a statue, the suggestion of ceramic, and remembrances of book binding flow with a unique kinesthesis in his mindfully composed compositions, oft featuring geometric structures, indicating an ever present exploration of balance. Wackers work is borne within and out of frame; objects in his paintings often find themselves occupying dimensional space as part of his ceramics practice. As an extension of this oscillation between mediums, we have collaborated with Wackers to produce two new series that utilize archival pigment prints as the base canvas for his hand-embellishments. As we come to redefine our quotidian in these unprecedented times, artwork like Wackers' new hand-touched series available now on Exhibition A, reminds us that the sacred is in the everyday - that meaning is always closer than we think.
Paul Wackers (b. 1978) has held solo exhibitions at Alice Gallery (Brussels), Morgan Lehman Gallery (New York), Eleanor Harwood Gallery (San Francisco), and The Wall (Berlin) among others. Group exhibitions include presentations at New Image Art (Los Angeles) and Halsey McKay (East Hampton). His work is in the MIMA Museum (Brussels) and many prominent private and public collections including The Stanford University Medical Center Collection. He has also installed a public art mural as part of the James Hotel in New York City.
This work is accompanied by a Certificate of Authenticity signed and numbered by the artist.
Be sure to keep your Certificate of Authenticity (COA) in a safe place. We are unable to replace or reissue COAs.
Framed artwork is custom framed once it is ordered. Allow 3-5 weeks for framing and delivery.
FRAME
All of our frames are made from sustainably sourced engineered hardwood that is manufactured in the USA. Frames are available in Black or White Matte and Walnut.
MAT
Prints are hinged to a conservation quality, acid-free and lignin-free Cellulose matboard, using acid-free polyethylene cloth tape. Each mat's surface paper is fade and bleed resistant and is attached to a conversation quality foam-core board. Some of our work (typically those pieces with a deckled edge) is floated on the matboard with spacers to separate the artwork from the glazing.
GLAZING
We use museum quality .060 mm plexiglass to frame your work. It blocks 82-85% of UV rays to prevent color fading from exposure to light, protecting your art for years to come.
DIMENSIONS
Our White and Black frames have a ⅞" wide flat face and are 15/16" deep. Mats are 1" wide for prints up to 8" x 10". Mats are 2" wide for prints larger than 8" x 10".
Our Natural and Walnut frames have a ¾" wide flat face and are 1 ⅛" deep. Mats are 1" wide for prints up to 8" x 10". Mats are 2" wide for prints larger than 8" x 10".
Any artwork that is floated will be placed in a frame that has a ⅝" wide flat face and is 1 5/16" deep. Work will be floated with a 1" border around it.
Unframed work ships within 5 business days of your order. Framed artwork is custom framed once it is ordered. Please allow 2-4 weeks for framing and delivery. Need it faster? Expedited options may be available by emailing service@exhibitiona.com. All work ships from the US. International customers are responsible for any customs, duty, or VAT charges.
If you change your mind after placing your order, please email us at service@exhibitiona.com within 24 hours. We will not be able to accommodate cancellations for framed orders after that time period (as your frame will have been ordered and cut within that time period). We may not be able to accommodate your request to cancel your order for an unframed work after 24 hours if it has been packaged and processed by our fulfillment center.
We are unable to accept returns on custom framed artwork. Our general policy is that we do not accept returns. If your print arrives damaged or does not meet your expectations, you may be eligible for a replacement or return. Any issues must be reported within 5 business days of receipt by emailing service@exhibitiona.com.