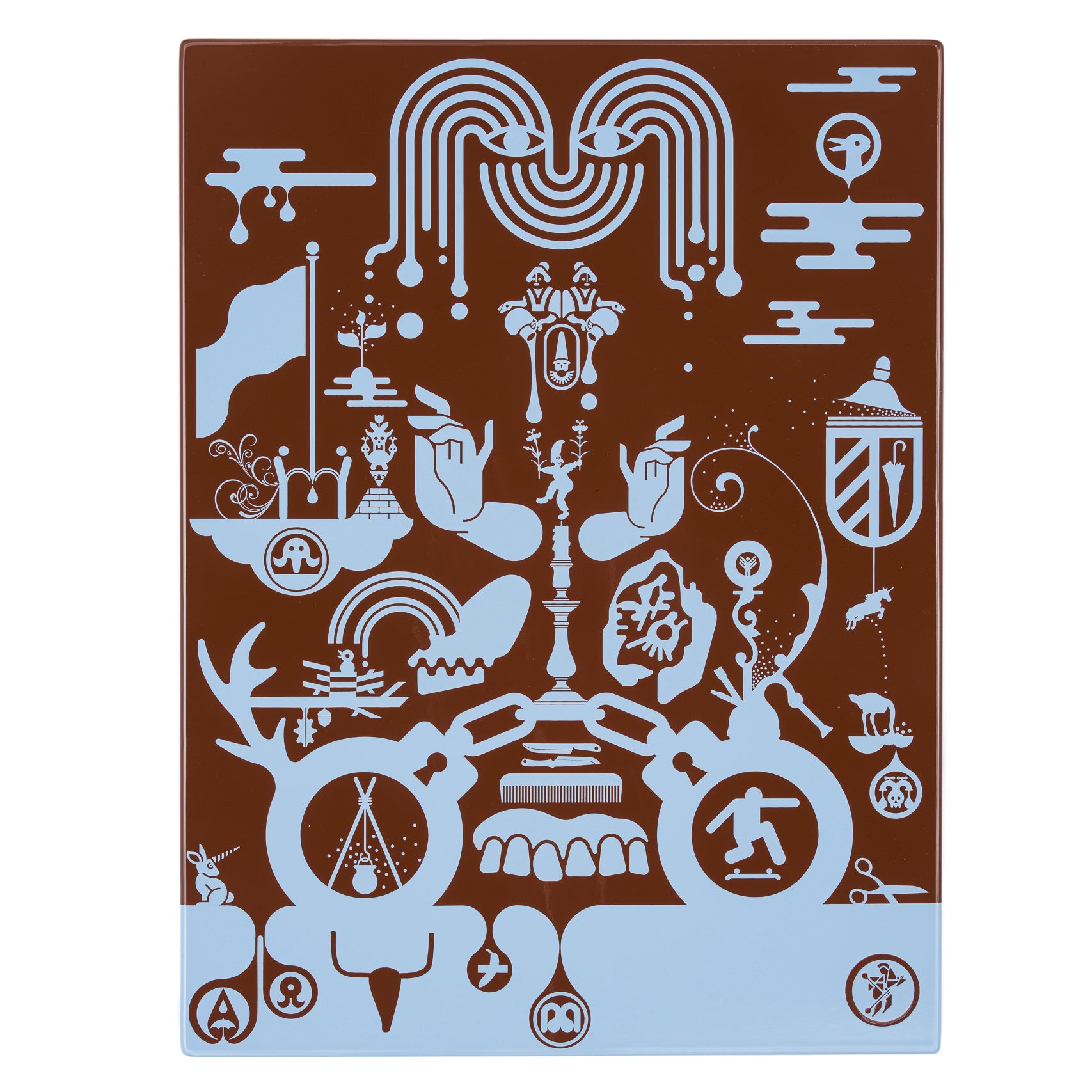 Operation Mindfuck is the fourth porcelain-baked enamel on steel edition in our ongoing collaboration with influential artist Ryan McGinness. Often used in subway systems and other public areas, porcelain-baked enamel on steel is the most durable signage material in the world and a medium McGinness has used since 2001 to translate his ideas into form.

Building compositions from core visual elements, McGinness electrifies the chemistry of coded meaning. Reflecting the literal and symbolic image saturation present in contemporary life, his distinctive language blends organic natural with synthetic commercial, resulting in familiar yet complex navigations like personal memories translated by an alien tongue.

The title of McGinness' new release, Operation Mindfuck, is derived from the satirical conspiracy theory started by Robert Anton Wilson and Kerry Thornley, co-founder of the parody religion called Discordianism. Discordianism emerged from the psychedelic 60s, inspired by the ideas of Ayn Rand and catalyzed by the growing paranoia of the Nixon era, eventually birthing Operation Mindfuck, an organized attempt to spread the now-infamous Illuminati conspiracy theory, which is referenced in the upper left hand quadrant of the edition: an eye housed within an upside down triangle, balancing on a pyramid-like structure, crowned with a flowering skull atop a two-headed turtle. Other surreal symbols sprinkled throughout the work speak to psychedelics and the undermining of a shared reality, including citations to Dadaism, the early 20th century anti-art movement, and Comedian (2019), the conceptual anti-art artwork, by Maurizio Cattelan.

McGinness explains, "Conspiracies are belief-based black holes any intellectually stimulated individual can fall into. The cul-de-sac thinking can lead one to simultaneously believe that I am not a part of the conspiracy while making such a claim confirms that I am. Where the mind folds in on itself is where I want to be."
Ryan McGinness (b. 1972, Virginia Beach, VA) has held solo exhibitions at County Gallery (Palm Beach), Miles McEnery Gallery (New York), Baldwin Gallery (Aspen), Kohn Gallery (Los Angeles), Virginia Museum of Contemporary Art (Virginia Beach), Pace Prints (New York), La Casa Encendida Museum (Madrid), and Deitch Projects (New York), among many others. Select group exhibitions include presentations at Hauser and Wirth (New York), Lehman College Art Gallery (New York), and The Andy Warhol Museum (Pittsburgh). McGinness' work is featured in numerous permanent collections including those of the Metropolitan Museum of Art (New York), the Museum of Modern Art (New York), Virginia Museum of Fine Arts (Richmond), Museum of Contemporary Art (San Diego), The Albright-Knox Gallery (Buffalo, NY), The Charles Saatchi Collection, Cranbrook Art Museum (Bloomfield Hills, MI), and Art in Embassies at U.S Department of State (Washington DC), among many others. He received his Bachelor of Fine Arts from Carnegie Mellon University. McGinness lives and works in New York, NY.
Signed, titled, and numbered en verso by the artist.
This work is also accompanied by a Certificate of Authenticity signed and numbered by Exhibition A.
Be sure to keep your Certificate of Authenticity (COA) in a safe place. We are unable to replace or reissue COAs.
The work requires no framing, and hangs flush to the wall on a provided cleat.
Unframed work ships within 5 business days of your order. Framed artwork is custom framed once it is ordered. Please allow 2-4 weeks for framing and delivery. Need it faster? Expedited options may be available by emailing service@exhibitiona.com. All work ships from the US. International customers are responsible for any customs, duty, or VAT charges.
If you change your mind after placing your order, please email us at service@exhibitiona.com within 24 hours. We will not be able to accommodate cancellations for framed orders after that time period (as your frame will have been ordered and cut within that time period). We may not be able to accommodate your request to cancel your order for an unframed work after 24 hours if it has been packaged and processed by our fulfillment center.
We are unable to accept returns on custom framed artwork. Our general policy is that we do not accept returns. If your print arrives damaged or does not meet your expectations, you may be eligible for a replacement or return. Any issues must be reported within 5 business days of receipt by emailing service@exhibitiona.com.