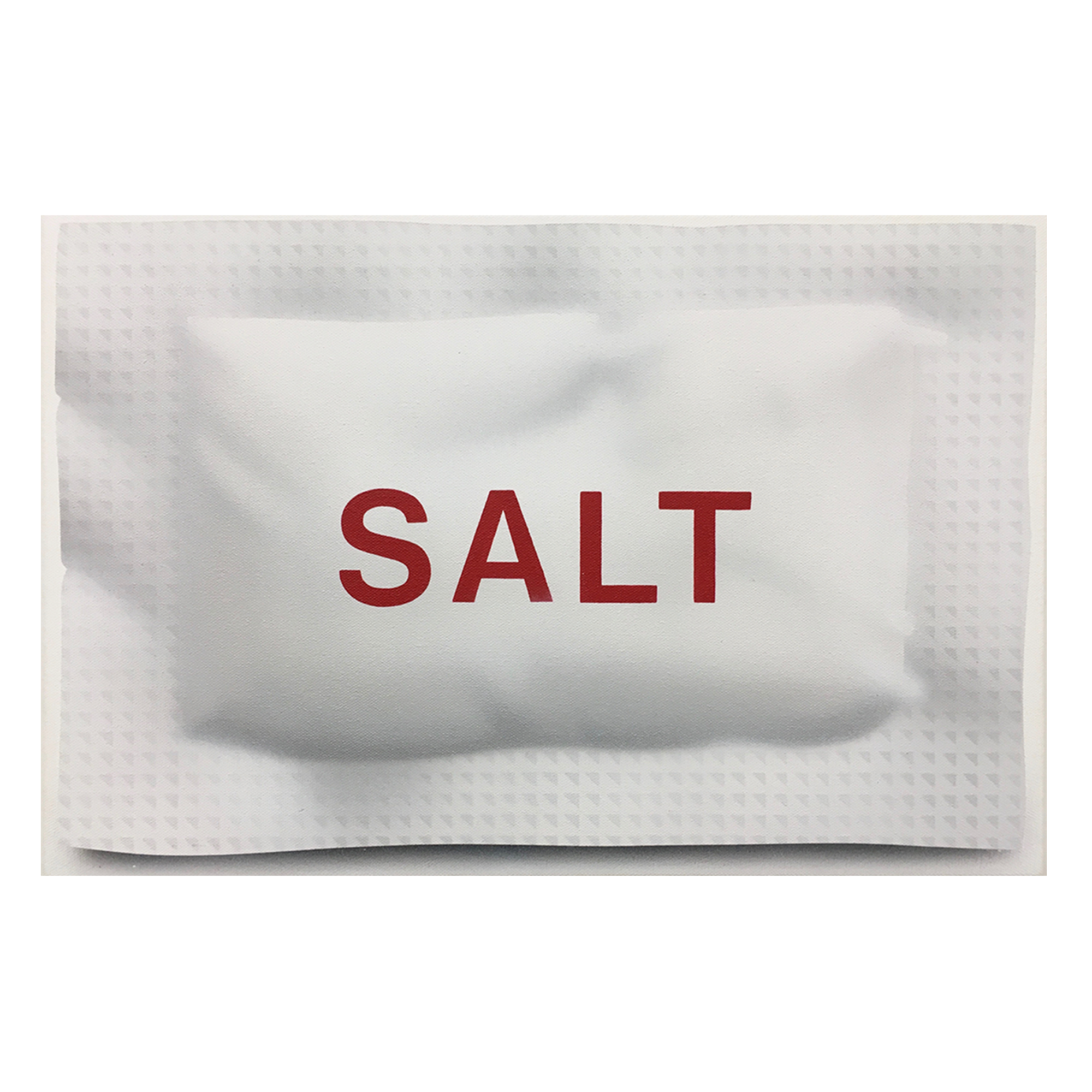 Collections of mundane items are endlessly enlivened by Rachel Hecker throughout her body of work. Charred matches and a cigarette butt, the verisimilitude of which prompts an olfactory response; smoke, tar. Crumpled tissues and college-ruled papers punctuated by grocery lists, sell-by dates, and circular Made in China stickers. In her 2017 solo exhibition, Exhibition Title Goes Here, at yours mine & ours gallery (New York), Hecker showcased her technical ability via airbrushed renderings of the aforementioned objects, as well as demonstrated her cinematic understanding of character by illustrating the non-linear collection of images and references which amount to a personality. Hecker's paintings simultaneously evoke distance – the artist's hand is absent in the airbrushed objects that are uncannily recontexualized in the case of human-sized air fresheners and gumdrops as big as a watermelon – and closeness, given the intimately derived subject matter. In our two new editions by Hecker, available separately and exclusive to Exhibition A, the mega-utilitarian seasoning packets are imbued with a meditative quality, as we are confronted with the desire to slow down and truly see what is otherwise ubiquitous, thus realizing the reflective magnitude of painting's potential.
Rachel Hecker has shown extensively at institutions such as the Contemporary Arts Museum Houston, the Dallas Museum of Art, the Menil Collection and ArtPace. Her work is represented in many private and public collections, including the Houston, Dallas, San Antonio and New Orleans Museums of Art, the Menil Collection, the General Services Administration; and the Federal Reserve Bank in Dallas. Hecker has received critical attention in publications including The Los Angeles Times, Art in America, Art Papers, and ArtReview (London), and BLAU (Berlin). She received a National Endowment for the Arts Award in painting, the inaugural award for "best in show" from the Texas Contemporary Art Fair, and an Artist Award from the American Institute of Architects for her work on civic art projects. In 2013, she was named Texas Artist of the Year by the Art League Houston. She received her BFA in sculpture from Moore College of Art in Philadelphia, and her MFA in painting from the Rhode Island School of Design. Hecker lives and works in Houston, TX.
This work is accompanied by a Certificate of Authenticity signed and numbered by the artist.
Be sure to keep your Certificate of Authenticity (COA) in a safe place. We are unable to replace or reissue COAs.
Framed artwork is custom framed once it is ordered. Allow 3-5 weeks for framing and delivery.
FRAME
All of our frames are made from sustainably sourced engineered hardwood that is manufactured in the USA. Frames are available in Black or White Matte and Walnut.
MAT
Prints are hinged to a conservation quality, acid-free and lignin-free Cellulose matboard, using acid-free polyethylene cloth tape. Each mat's surface paper is fade and bleed resistant and is attached to a conversation quality foam-core board. Some of our work (typically those pieces with a deckled edge) is floated on the matboard with spacers to separate the artwork from the glazing.
GLAZING
We use museum quality .060 mm plexiglass to frame your work. It blocks 82-85% of UV rays to prevent color fading from exposure to light, protecting your art for years to come.
DIMENSIONS
Our White and Black frames have a ⅞" wide flat face and are 15/16" deep. Mats are 1" wide for prints up to 8" x 10". Mats are 2" wide for prints larger than 8" x 10".
Our Natural and Walnut frames have a ¾" wide flat face and are 1 ⅛" deep. Mats are 1" wide for prints up to 8" x 10". Mats are 2" wide for prints larger than 8" x 10".
Any artwork that is floated will be placed in a frame that has a ⅝" wide flat face and is 1 5/16" deep. Work will be floated with a 1" border around it.
Unframed work ships within 5 business days of your order. Framed artwork is custom framed once it is ordered. Please allow 2-4 weeks for framing and delivery. Need it faster? Expedited options may be available by emailing service@exhibitiona.com. All work ships from the US. International customers are responsible for any customs, duty, or VAT charges.
If you change your mind after placing your order, please email us at service@exhibitiona.com within 24 hours. We will not be able to accommodate cancellations for framed orders after that time period (as your frame will have been ordered and cut within that time period). We may not be able to accommodate your request to cancel your order for an unframed work after 24 hours if it has been packaged and processed by our fulfillment center.
We are unable to accept returns on custom framed artwork. Our general policy is that we do not accept returns. If your print arrives damaged or does not meet your expectations, you may be eligible for a replacement or return. Any issues must be reported within 5 business days of receipt by emailing service@exhibitiona.com.