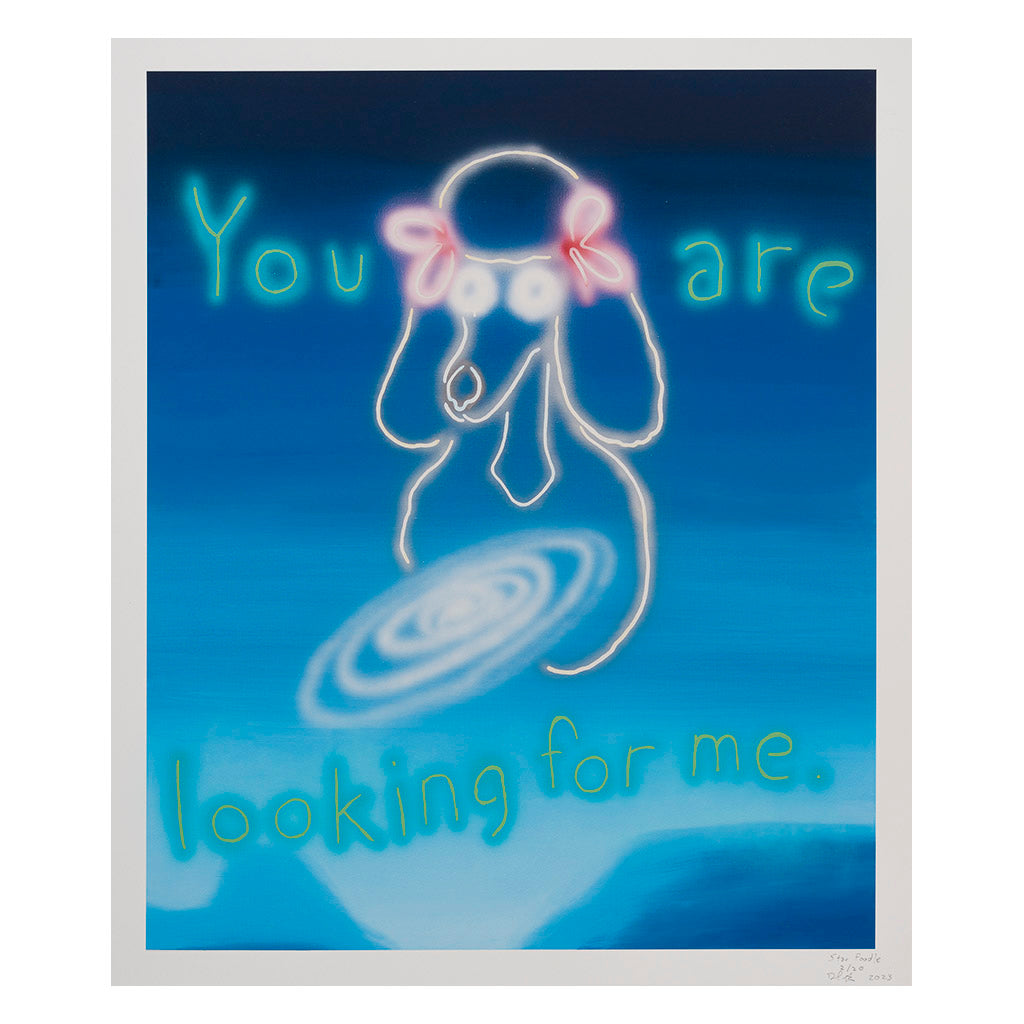 Dan Attoe offers us glimpses into the sublime, ineffable qualities of our physical world. Demonstrating an intimate grasp of interconnectedness fused with deftness of technique, Attoe creates dream-like visions in succinct atmospheres, imbued with ethereal poetics. Rendered in his characteristic scrawl, these textual whispers aren't entirely dissimilar from Jenny Holzer's Truisms or Ed Ruscha's snippets, though the separation is tonal — Attoe's one-liners read as conversational, passing thoughts, plucked from the subconscious quality of the image. Whether executed through tranquil painted landscapes, his dedicated drawing process, minimalist neon sculptures, or burgeoning tattoo practice, Attoe's approach echoes with authentic adoration for the natural world.

In our new collaboration with Attoe, a hand-finished series of 20, his painting practice merges with his neon concepts, resulting in a compelling narrative of unique works.

"We used one of my neon paintings as the printed foundation. I make these types of paintings because some drawings that might inspire a neon sculpture have elements that instead work better as a painted faux-neon. I've designed neon for 17 years now and come up with ideas all the time but some of those ideas don't fit entirely into the constraints of the medium. For example, Poodle and Universe, the painting on which Star Poodle is based, has an element of a swirling galaxy that I wanted hovering in the night sky.

The folks at Exhibition A digitally removed the original text from the painting so I could create differentiated faux-neon phrases on each of the 20 prints. Using an airbrush to create the glow, I then painted lines on top, mimicking the effect of neon tubes.

The text I choose arises from my drawing process. Daily, I'll draw one image that could become a painting, one more cartoonish image — which is typically where the neon sculpture designs come from — and there's almost always text within or nearby the drawings. The wordings I selected for Star Poodle play on different qualities inherent in the image; a phrase someone might say to a dog, something referencing the celestial quality of the composition, the imagined psychological state of the poodle, or references to movie posters and album covers."
Dan Attoe (b. 1975, Bremerton, WA) has mounted solo exhibitions at The Hole (Los Angeles, New York), Western Exhibitions (Chicago), Half Gallery (New York), and Peres Projects (Berlin, Los Angeles), among others. Select group exhibitions include presentations at de boer (Los Angeles), Lubeznik Center for the Arts (Michigan City, IN) Over the Influence (Los Angeles), Institute of Contemporary Art at Maine College of Art (Portland), The Hall Art Foundation (Reading, VT) curated by Eric Fischl, MoMA PS1 (New York), and the Zabludowicz Collection (London). Attoe lives and works in Washougal, Washington.
Signed, dated, and numbered on front by the artist. This works ships with a Certificate of Authenticity signed by Exhibition A. Please keep this in a safe place as we are unable to replace COAs.
Framed artwork is custom framed once it is ordered. Allow 3-5 weeks for framing and delivery.
FRAME
All of our frames are made from sustainably sourced engineered hardwood that is manufactured in the USA. Frames are available in Black or White Matte and Walnut.
MAT
Prints are hinged to a conservation quality, acid-free and lignin-free Cellulose matboard, using acid-free polyethylene cloth tape. Each mat's surface paper is fade and bleed resistant and is attached to a conversation quality foam-core board. Some of our work (typically those pieces with a deckled edge) is floated on the matboard with spacers to separate the artwork from the glazing.
GLAZING
We use museum quality .060 mm plexiglass to frame your work. It blocks 82-85% of UV rays to prevent color fading from exposure to light, protecting your art for years to come.
DIMENSIONS
Our White and Black frames have a ⅞" wide flat face and are 15/16" deep. Mats are 1" wide for prints up to 8" x 10". Mats are 2" wide for prints larger than 8" x 10".
Our Natural and Walnut frames have a ¾" wide flat face and are 1 ⅛" deep. Mats are 1" wide for prints up to 8" x 10". Mats are 2" wide for prints larger than 8" x 10".
Any artwork that is floated will be placed in a frame that has a ⅝" wide flat face and is 1 5/16" deep. Work will be floated with a 1" border around it.
Unframed work ships within 5 business days of your order. Framed artwork is custom framed once it is ordered. Please allow 2-4 weeks for framing and delivery. Need it faster? Expedited options may be available by emailing service@exhibitiona.com. All work ships from the US. International customers are responsible for any customs, duty, or VAT charges.
If you change your mind after placing your order, please email us at service@exhibitiona.com within 24 hours. We will not be able to accommodate cancellations for framed orders after that time period (as your frame will have been ordered and cut within that time period). We may not be able to accommodate your request to cancel your order for an unframed work after 24 hours if it has been packaged and processed by our fulfillment center.
We are unable to accept returns on custom framed artwork. Our general policy is that we do not accept returns. If your print arrives damaged or does not meet your expectations, you may be eligible for a replacement or return. Any issues must be reported within 5 business days of receipt by emailing service@exhibitiona.com.