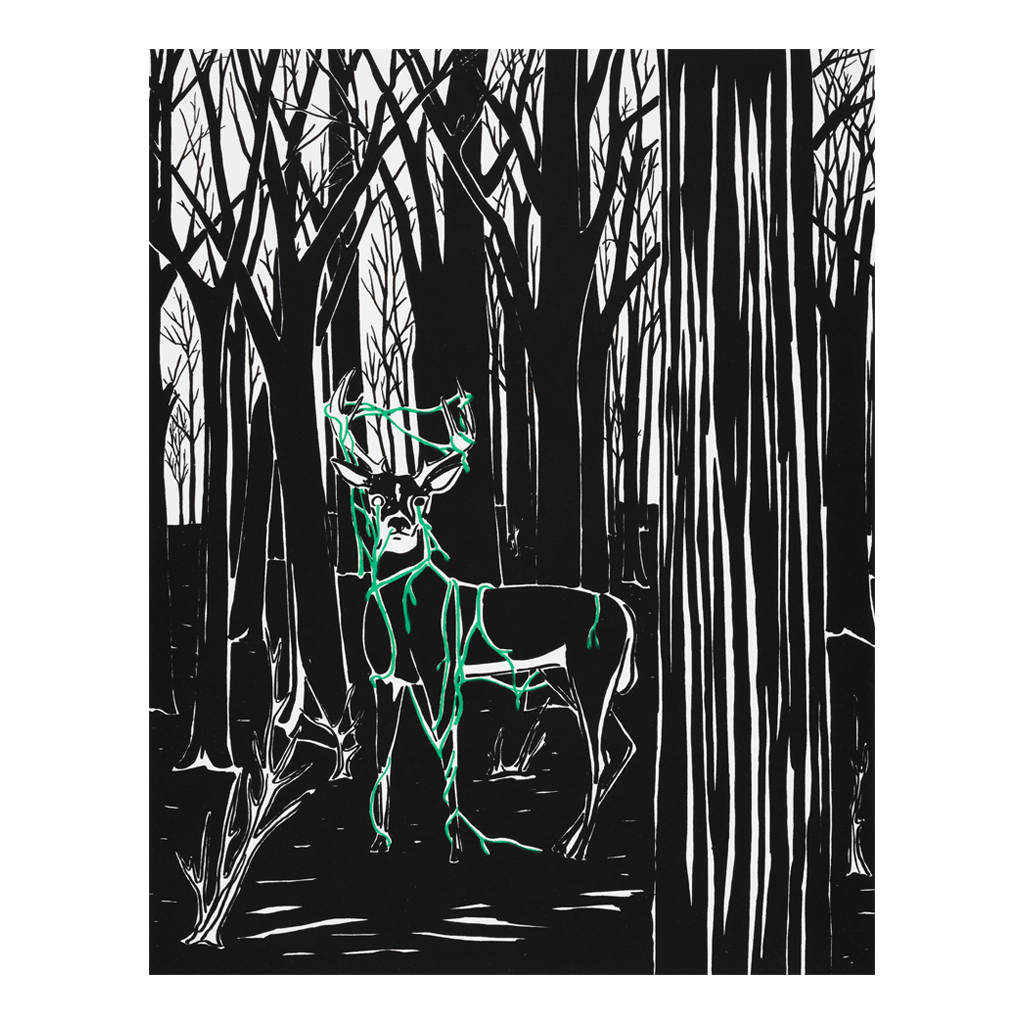 PRINT AID

This edition is part of an original series of limited edition silkscreen prints, entitled PRINT AID, created in response to the distress caused by the COVID-19 pandemic. PRINT AID is a collaborative effort between silkscreen studio Pegasus Prints, art consultancy Sidel & McElwreath, and Exhibition A to provide creativity and assistance through the art community. Each edition supports an artist whose business has been affected by the COVID-19 pandemic. In addition, a portion of sales is donated to The Artist's Fellowship, Inc, a non-profit organization that financially assists professional visual artists and their families in times of emergency, disability or bereavement.

"For the last couple of years, I've been working with a loose narrative about a landscape painter who goes off into the woods to paint, only to realize that it's a complete lie to paint pretty pictures of nature. He gives up, wanders deeper into the woods and starts seeing trippy things (like the deer covered in vines growing out of its skull) until eventually he's swallowed up by his surroundings. It's purposefully ambiguous whether these things are actually happening to him or are all in his head. The work is dealing with themes of anxiety - about our environment and the state of things socially/politically, etc. I wasn't thinking about pandemics or viruses when I made the drawing this print is based on, but it seems to work for that too." — Kim Dorland
Kim Dorland (b. 1974, Alberta, Canada) has held solo exhibitions at Patel Brown Gallery (Toronto), Five Car Garage (Los Angeles), NBB Gallery (Berlin), Bradley Ertaskirin Gallery (Montreal), and Museum of Contemporary Art Denver, among many others. The artist has work featured in the collections at Contemporary Art Foundation (Tokyo), The Sander Collection (Berlin), Musée des beaux-arts de Montréal, Glenbow Museum (Calgary), Musée d'art contemporain de Montreal, Museum of Contemporary Art San Diego, Art Gallery of Alberta, and the Audain Art Museum (Whistler, BC), as well as numerous private collections. The artist holds an MFA from York University (Toronto) and a BFA from the Emily Carr Institute of Art and Design (Vancouver). Dorland currently lives and works in Toronto, Canada.
This work is accompanied by a Certificate of Authenticity signed and numbered by the artist.
Be sure to keep your Certificate of Authenticity (COA) in a safe place. We are unable to replace or reissue COAs.
Framed artwork is custom framed once it is ordered. Allow 3-5 weeks for framing and delivery.
FRAME
All of our frames are made from sustainably sourced engineered hardwood that is manufactured in the USA. Frames are available in Black or White Matte and Walnut.
MAT
Prints are hinged to a conservation quality, acid-free and lignin-free Cellulose matboard, using acid-free polyethylene cloth tape. Each mat's surface paper is fade and bleed resistant and is attached to a conversation quality foam-core board. Some of our work (typically those pieces with a deckled edge) is floated on the matboard with spacers to separate the artwork from the glazing.
GLAZING
We use museum quality .060 mm plexiglass to frame your work. It blocks 82-85% of UV rays to prevent color fading from exposure to light, protecting your art for years to come.
DIMENSIONS
Our White and Black frames have a ⅞" wide flat face and are 15/16" deep. Mats are 1" wide for prints up to 8" x 10". Mats are 2" wide for prints larger than 8" x 10".
Our Natural and Walnut frames have a ¾" wide flat face and are 1 ⅛" deep. Mats are 1" wide for prints up to 8" x 10". Mats are 2" wide for prints larger than 8" x 10".
Any artwork that is floated will be placed in a frame that has a ⅝" wide flat face and is 1 5/16" deep. Work will be floated with a 1" border around it.
Unframed work ships within 5 business days of your order. Framed artwork is custom framed once it is ordered. Please allow 2-4 weeks for framing and delivery. Need it faster? Expedited options may be available by emailing service@exhibitiona.com. All work ships from the US. International customers are responsible for any customs, duty, or VAT charges.
If you change your mind after placing your order, please email us at service@exhibitiona.com within 24 hours. We will not be able to accommodate cancellations for framed orders after that time period (as your frame will have been ordered and cut within that time period). We may not be able to accommodate your request to cancel your order for an unframed work after 24 hours if it has been packaged and processed by our fulfillment center.
We are unable to accept returns on custom framed artwork. Our general policy is that we do not accept returns. If your print arrives damaged or does not meet your expectations, you may be eligible for a replacement or return. Any issues must be reported within 5 business days of receipt by emailing service@exhibitiona.com.