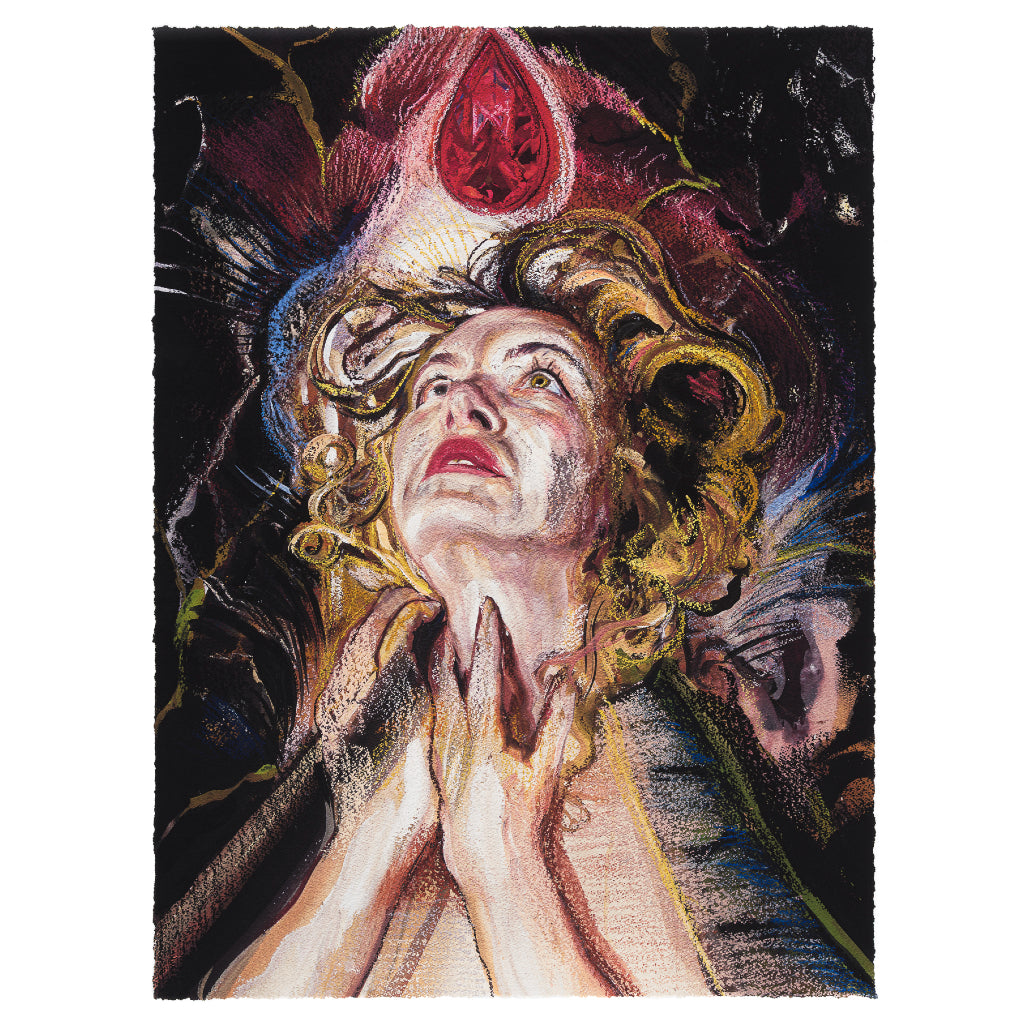 We're honored to have collaborated with Natalie Frank to release a series of artworks in tandem with The FLAG Art Foundation, alongside the launch of the artist's book The Wounded Storyteller: The Traumatic Tales of E.T.A. Hoffman, published by Yale University Press.

The Wounded Storyteller celebrates the legacy of E.T.A. Hoffman, German writer of beloved magical realist classics like the Nutcracker and the Sandman. A fully-illustrated art book with drawings by Frank on each page, it was designed by Marian Bantjes and includes a foreword by Karen Russell, as well as an introduction and translations by Jack Zipes.

Inspired by Frank's remarkable visuals in The Wounded Storyteller, we collaborated with the artist to create a limited edition series of six prints. Additionally, we're thrilled to be offering Hoffman's Tales, an exclusive Collector's Edition custom boxed set, which includes all six limited edition prints, as well as a stunning hand-finished work based on Frank's drawing of Hoffman's The Golden Pot. Please note the Hoffman's Tales Collector Edition will launch exclusively at The FLAG Art Foundation on June 3rd. It is extremely limited, with only five sets in existence.

Frank has long bridged the ether between text and image. With a particular penchant for unearthing feminist narratives otherwise obscured by history, Frank has channeled historical and contemporary women's oral and literary tales into visual stories since 2011, when she undertook drawings of the unsanitized Grimm's tales. This became her first show of drawing, her first museum show that originated at The Drawing Center (New York, NY) traveled to the Blanton Museum (Austin, TX) and the University of Kentucky Art Museum (Lexington, KY), as well as her first book, Tales of the Brothers Grimm. Drawings by Natalie Frank, Damiani, 2015. Since then she has explored tales of the Sorcerer's Apprentice, those of Madame d'Aulnoy, and the Story of O.

Folklore and fairy tales hold particular fascination for Frank, who examines these universally-known arcs from a contemporary vantage point, employing abstraction and figuration to explore the shadowed nuances of archetypal language. Recalling oral tradition, Frank's images appear to undergo continual transformation — swirling, indeterminate, open to imaginative interpretation. Amidst her dreamlike universe of alchemical colors, chalk pastel-sketched delineations, and roving compositions, there are sharp moments of clarity. Often, it's the eyes, rendered with a knowing and realistic gleam, that suggest that souls remain clear, even within environments that threaten disintegration, obfuscation, or erasure.
Natalie Frank (b. 1980, Austin, TX) has held exhibitions at Miles McEnery Gallery (New York), The Kemper Museum of Contemporary Art (Kansas City), Fort Worth Modern, Yale University Art Gallery (New Haven), FLAG Art Foundation (New York), Half Gallery (New York), Blum & Poe (Los Angeles), Salon 94 (New York), and Rhona Hoffman Gallery (Chicago), among many others. Frank is the recipient of numerous prestigious awards including the Pollock Krasner Foundation Grant and the Fulbright Scholarship. Her work is included in permanent collections including the Brooklyn Museum of Art, the Hall Art Foundation (Reading, VT), the Whitney Museum of American Art (New York), and Yale University Art Museum (New Haven). Frank earned her BA from Yale University in 2002 and an MFA from Columbia University in 2006. The artist lives and works in Brooklyn, New York.
Signed and numbered by the artist en verso.
This work is accompanied by a Certificate of Authenticity signed and numbered by Exhibition A.
Be sure to keep your Certificate of Authenticity (COA) in a safe place. We are unable to replace or reissue COAs.
Framed artwork is custom framed once it is ordered. Allow 3-5 weeks for framing and delivery.
FRAME
This frame is made of solid hardwood maple, manufactured in the USA. Frames are available in a Black, White, or Natural finish.
MAT
Prints are hinged to a conservation quality, acid-free and lignin-free Cellulose matboard, using acid-free polyethylene cloth tape. Each mat's surface paper is fade and bleed resistant and is attached to a conversation quality foam-core board. This particular work is floated on the matboard with spacers to separate the artwork from the glazing.
GLAZING
We use museum quality .060 mm plexiglass to frame your work. It blocks 82-85% of UV rays to prevent color fading from exposure to light, protecting your art for years to come.
DIMENSIONS
Any artwork that is floated will be placed in a frame that has a ⅝" wide flat face and is 1 1/4" deep. Work will be floated with a 1" border around it.
Unframed work ships within 5 business days of your order. Framed artwork is custom framed once it is ordered. Please allow 2-4 weeks for framing and delivery. Need it faster? Expedited options may be available by emailing service@exhibitiona.com. All work ships from the US. International customers are responsible for any customs, duty, or VAT charges.
If you change your mind after placing your order, please email us at service@exhibitiona.com within 24 hours. We will not be able to accommodate cancellations for framed orders after that time period (as your frame will have been ordered and cut within that time period). We may not be able to accommodate your request to cancel your order for an unframed work after 24 hours if it has been packaged and processed by our fulfillment center.
We are unable to accept returns on custom framed artwork. Our general policy is that we do not accept returns. If your print arrives damaged or does not meet your expectations, you may be eligible for a replacement or return. Any issues must be reported within 5 business days of receipt by emailing service@exhibitiona.com.