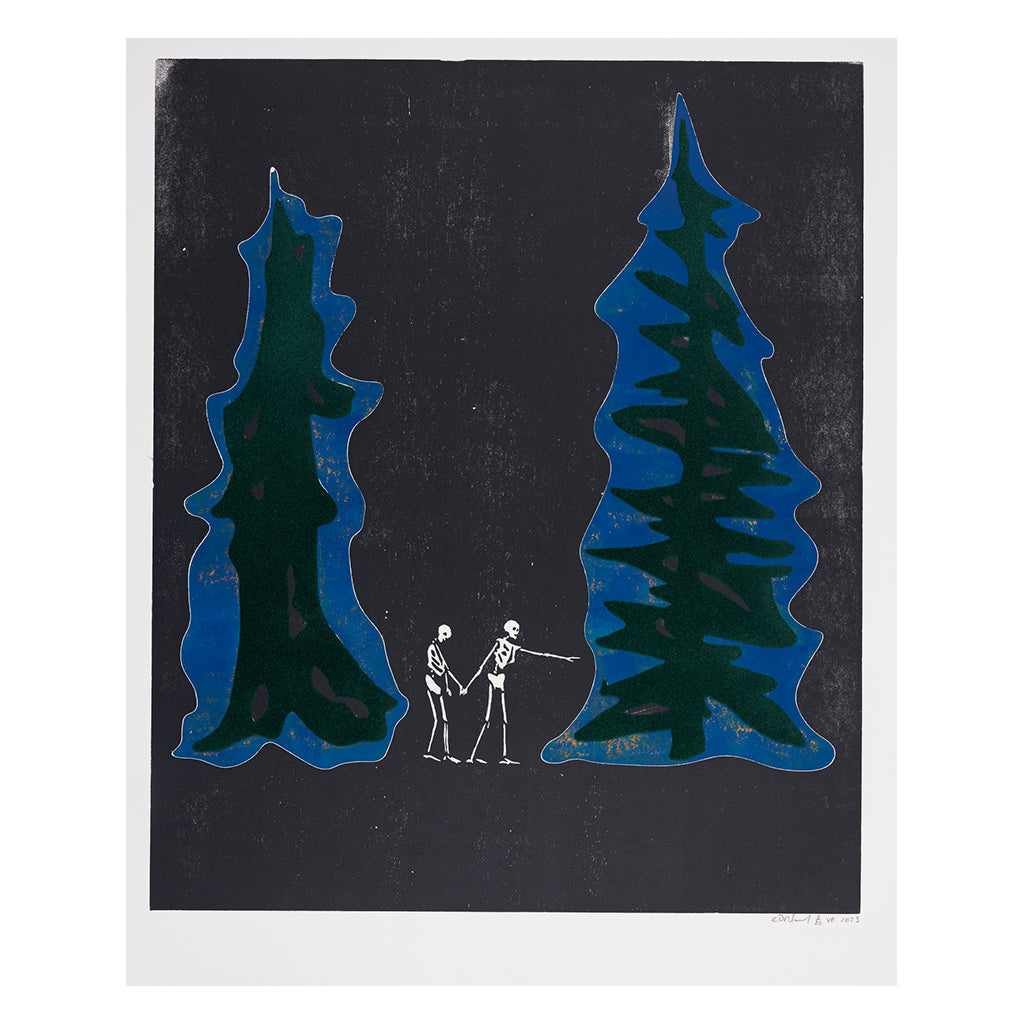 KIM DORLAND ON PROCESS "I love the entire process of woodcuts. I especially enjoy the idiosyncratic quality, that no matter how much one tries to control the result, the final image always ends up with surprising qualities. For my new collaboration with Exhibition A, This way is better, I wanted to exploit the happenstance nature of the medium by pulling each print through the press only once. This required finding a way to separate elements of the image that were to be differently colored, which grew into an interesting series of lessons.

I remembered reading that Munch used to cut his woodblocks into pieces for each different color, then reassemble them on the press to execute a multi-colored print in one pass. I thought, I can do that with a fret saw. So I went out and bought one — before quickly realizing my saw skills weren't up to par. That led me to the woodworker who builds a lot of my stretchers, but the request proved too complicated for his team, as well. He then passed me onto a puzzlemaker, who ultimately recommended laser cutting – and success.

The laser was able to create a clean cut that came smoothly out of the block, so I could ink the pieces separately. Afterwards, I hand-cut the interior for the flocking and hand-carved the skeletons. After a very long process, I am so happy with the results — and to have added a new tool into my printing 'toolbox' — so thank you, Exhibition A."

KIM DORLAND ON CONCEPT "For obvious reasons, I've recently felt compelled to create work that reflects apocalyptic themes. In 2022, I had a show at Patel Brown in Toronto that was titled Where Are all the Protest Songs? I'm interested in highlighting the reality of the moment — how we're living in the midst of numerous simultaneous undeniable potentially catastrophic events and how we're continuing to watch it happen. I don't see any significant protest groups forming or artists, poets, writers making work that meaningfully address these events. I mean, they're out there, of course, but we're all so separated and isolated in our endeavors or generally exhausted by the daunting degree of issues to tackle… so, the skeletons emerged from that [2022 — ongoing] body of work. The skeletons are meant to represent us, people living through these times. One skeleton leads the other in an effort to forge ahead, though they've literally lost everything — including their flesh — while the world burns around them. There is a timeless ambiguity to skeletal forms versus rendering specific figures, it creates an uncertainty whether one is peeking into the past, present, or future."
Kim Dorland (b. 1974, Alberta, Canada) has held solo exhibitions at Patel Brown Gallery (Toronto), Five Car Garage (Los Angeles), NBB Gallery (Berlin), Bradley Ertaskirin Gallery (Montreal), and Museum of Contemporary Art Denver, among many others. The artist has work featured in the collections at Contemporary Art Foundation (Tokyo), The Sander Collection (Berlin), Musée des beaux-arts de Montréal, Glenbow Museum (Calgary), Musée d'art contemporain de Montreal, Museum of Contemporary Art San Diego, Art Gallery of Alberta, and the Audain Art Museum (Whistler, BC), as well as numerous private collections. The artist holds an MFA from York University (Toronto) and a BFA from the Emily Carr Institute of Art and Design (Vancouver). Dorland currently lives and works in Toronto, Canada.
Signed, numbered, and dated on front by the artist
This work is accompanied by a Certificate of Authenticity signed and numbered by Exhibition A.
Be sure to keep your Certificate of Authenticity (COA) in a safe place. We are unable to replace or reissue COAs.
Framed artwork is custom framed once it is ordered. Allow 3-5 weeks for framing and delivery.
FRAME
All of our frames are made from sustainably sourced engineered hardwood that is manufactured in the USA. Frames are available in Black or White Matte and Walnut.
MAT
Prints are hinged to a conservation quality, acid-free and lignin-free Cellulose matboard, using acid-free polyethylene cloth tape. Each mat's surface paper is fade and bleed resistant and is attached to a conversation quality foam-core board. Some of our work (typically those pieces with a deckled edge) is floated on the matboard with spacers to separate the artwork from the glazing.
GLAZING
We use museum quality .060 mm plexiglass to frame your work. It blocks 82-85% of UV rays to prevent color fading from exposure to light, protecting your art for years to come.
DIMENSIONS
Our White and Black frames have a ⅞" wide flat face and are 15/16" deep. Mats are 1" wide for prints up to 8" x 10". Mats are 2" wide for prints larger than 8" x 10".
Our Natural and Walnut frames have a ¾" wide flat face and are 1 ⅛" deep. Mats are 1" wide for prints up to 8" x 10". Mats are 2" wide for prints larger than 8" x 10".
Any artwork that is floated will be placed in a frame that has a ⅝" wide flat face and is 1 5/16" deep. Work will be floated with a 1" border around it.
Unframed work ships within 5 business days of your order. Framed artwork is custom framed once it is ordered. Please allow 2-4 weeks for framing and delivery. Need it faster? Expedited options may be available by emailing service@exhibitiona.com. All work ships from the US. International customers are responsible for any customs, duty, or VAT charges.
If you change your mind after placing your order, please email us at service@exhibitiona.com within 24 hours. We will not be able to accommodate cancellations for framed orders after that time period (as your frame will have been ordered and cut within that time period). We may not be able to accommodate your request to cancel your order for an unframed work after 24 hours if it has been packaged and processed by our fulfillment center.
We are unable to accept returns on custom framed artwork. Our general policy is that we do not accept returns. If your print arrives damaged or does not meet your expectations, you may be eligible for a replacement or return. Any issues must be reported within 5 business days of receipt by emailing service@exhibitiona.com.