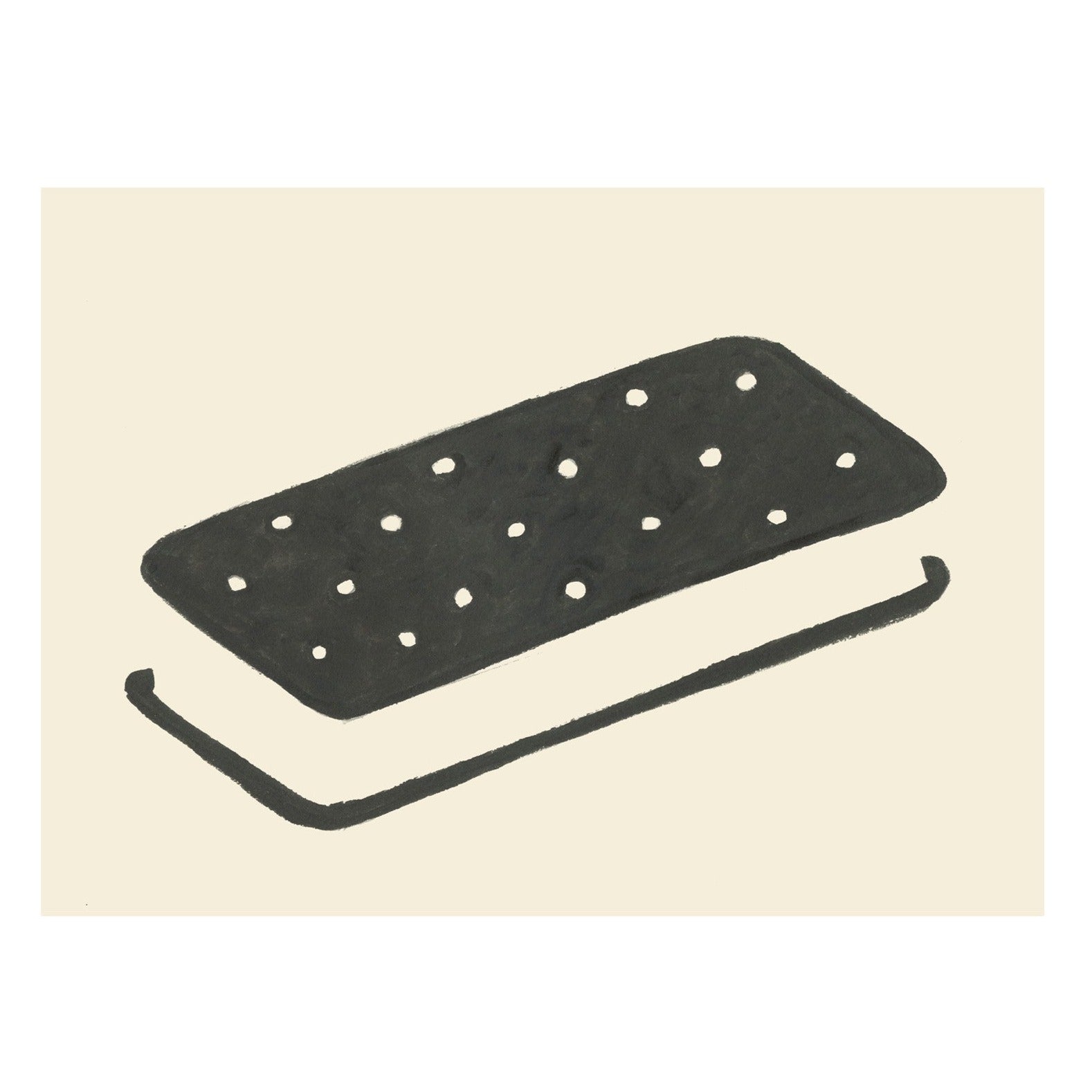 Untitled (Ice Cream Sandwich)
The iconic image of the ice cream sandwich evokes a comforting nostalgia, calling to mind childhood memories of playgrounds and endless summers. The simplicity of the illustration is Slaughter's homage to Ed Ruscha's floating book etching from the 60s, which plays with how one's eye perceives something that's actually not there. "The magic is that your eye perceives the ice cream. That's where the art is. Emotionally it's really about something else," Slaughter says. While living in a small summer cottage near Peconic Bay, the artist got the idea for this drawing while listening to the jingle of the ice cream truck drifting by each afternoon.
Thomas Slaughter (1955 – 2014), was an artist, designer, and illustrator who lived and worked in New York City. Discovered by Henry Geldzahler in the 1980's, Slaughter had more than 30 solo exhibitions in New York, Los Angeles, Miami, Vancouver, Germany and Japan. He worked as a printmaker in collaboration with Durham Press for 25 years, and his editions are included in the permanent collections of MoMA and the Whitney Museum of American Art. He illustrated twelve children's books, which have been translated into six languages. Slaughter also worked for the last ten seasons as the Art Director for the New Victory Theater. As a designer, he created everything from t-shirts to skateboard decks, beach towels as well as a line of wallpaper for Cavern Home. Slaughter served on the board of directors of MoMA PS1, the Public Theater, and the Horace W. Goldsmith Foundation. As a director of the Goldsmith Foundation, Slaughter was instrumental in the Foundation's support of numerous art and theater organizations including The Drawing Center, Naked Angels, and the Studio Museum in Harlem. Slaughter will be remembered as a consummate New Yorker, a vivid institution in his SoHo community.
This work is accompanied by a Certificate of Authenticity signed and numbered by the artist.
Be sure to keep your Certificate of Authenticity (COA) in a safe place. We are unable to replace or reissue COAs.
Framed artwork is custom framed once it is ordered. Allow 3-5 weeks for framing and delivery.
FRAME
All of our frames are made from sustainably sourced engineered hardwood that is manufactured in the USA. Frames are available in Black or White Matte and Walnut.
MAT
Prints are hinged to a conservation quality, acid-free and lignin-free Cellulose matboard, using acid-free polyethylene cloth tape. Each mat's surface paper is fade and bleed resistant and is attached to a conversation quality foam-core board. Some of our work (typically those pieces with a deckled edge) is floated on the matboard with spacers to separate the artwork from the glazing.
GLAZING
We use museum quality .060 mm plexiglass to frame your work. It blocks 82-85% of UV rays to prevent color fading from exposure to light, protecting your art for years to come.
DIMENSIONS
Our White and Black frames have a ⅞" wide flat face and are 15/16" deep. Mats are 1" wide for prints up to 8" x 10". Mats are 2" wide for prints larger than 8" x 10".
Our Natural and Walnut frames have a ¾" wide flat face and are 1 ⅛" deep. Mats are 1" wide for prints up to 8" x 10". Mats are 2" wide for prints larger than 8" x 10".
Any artwork that is floated will be placed in a frame that has a ⅝" wide flat face and is 1 5/16" deep. Work will be floated with a 1" border around it.
Unframed work ships within 5 business days of your order. Framed artwork is custom framed once it is ordered. Please allow 2-4 weeks for framing and delivery. Need it faster? Expedited options may be available by emailing service@exhibitiona.com. All work ships from the US. International customers are responsible for any customs, duty, or VAT charges.
If you change your mind after placing your order, please email us at service@exhibitiona.com within 24 hours. We will not be able to accommodate cancellations for framed orders after that time period (as your frame will have been ordered and cut within that time period). We may not be able to accommodate your request to cancel your order for an unframed work after 24 hours if it has been packaged and processed by our fulfillment center.
We are unable to accept returns on custom framed artwork. Our general policy is that we do not accept returns. If your print arrives damaged or does not meet your expectations, you may be eligible for a replacement or return. Any issues must be reported within 5 business days of receipt by emailing service@exhibitiona.com.