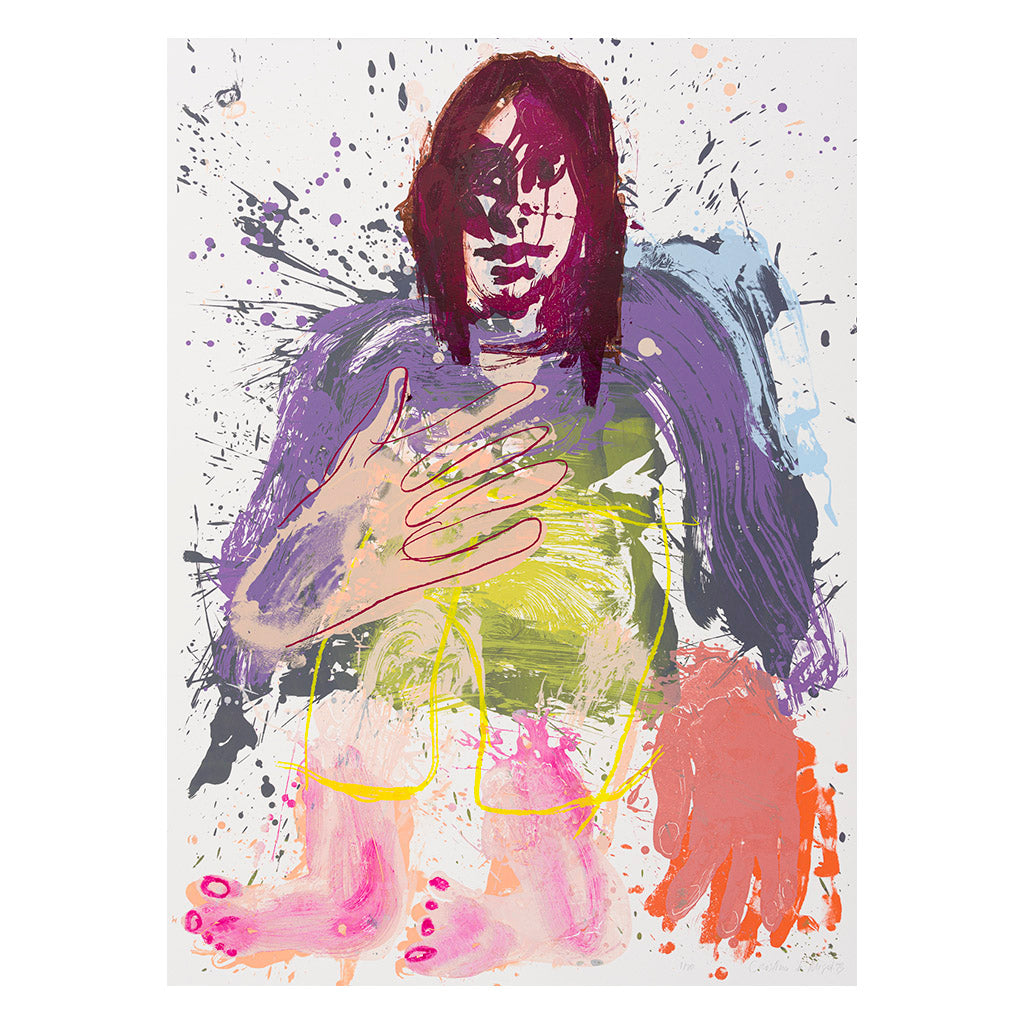 Cristina de Miguel collaborated with Exhibition A, Marginal Editions, and Shore Publishing to craft an innovative series of large-scale monoprints that capture experimental visions of traditional printmaking within the raw realm of de Miguel's expressive body of work. PROCESS "The marks are spontaneous and talking about the moment. The prints have that quality that I was looking for, of immediacy and freshness." — CDM Explosion in Parts began in Cristina's studio, where she transformed large sheets of frosted mylar into unique canvases. Channeling the essence of her practice — distinct, intuitive, alivened gestures — Cristina began with a matrix sketch that served as a foundational guide. She then painted directly on the mylar sheets, creating individual layers that would later be converted into silkscreens by printmaker Brad Ewing of Marginal Editions. From there, the work moved into the world of linoleum printing with Mae Shore of Shore Publishing. Cristina painted on the linoleum just as she did with the mylar. Envisioning a bold experiment wherein Cristina would paint directly onto the inked linoleum, masterfully carved by Ewing and Shore, the linoleum reflecting the artist's unique paintings. Blending structured printmaking techniques with freehand gestures, Cristina then painted onto each piece of freshly inked linoleum for each print.This experimental dual carve-and-paint technique created Explosion in Parts, a series of innovative monoprints that merge specificity with spontaneity, each figure endowed with a singular heartbeat, pulsating with Cristina's characteristic fluid expression. Tracing a journey from Brooklyn to Tuxedo, NY and back, Cristina's meticulously carved and painted prints returned to Brooklyn, where they received final silkscreen layers. One of our most hands-on collaborations to date, Explosion in Parts was a true artistic commitment that organically embraced the poetic unpredictability of creation. Cristina's forms emanate beyond the printed surface, as each print contains individual narrative, emotion, and memory within its intricate layers.
Cristina de Miguel is a Spanish artist renowned for her vivaciously expressive paintings that dance between the boundaries of form and spontaneity. Educated at the University of Seville and Pratt Institute in Brooklyn, her works often feature elastic female forms, mermaids, and mythic beasts that seamlessly meld into their backgrounds, making the environment as integral as the figures themselves. Drawing from a rich tapestry of influences ranging from Peloponnesian war artifacts to Baroque painting and modern social media, de Miguel insists on the materiality of her pieces. She embraces the act of painting as the focal point, often using the floor as her canvas, allowing her entire body to participate in the creation. This results in works that are not just depictions, but extensions of herself, capturing both the intentional and accidental marks of creation. With exhibitions spanning across New York, Athens, Mallorca, and more, Cristina's unique blend of neo-expressionist style and profound materiality has established her as a captivating voice in contemporary art.
Signed, dated, and numbered by the artist on front. This work is also accompanied by a Certificate of Authenticity signed and numbered by Exhibition A.
Be sure to keep your Certificate of Authenticity (COA) in a safe place. We are unable to replace or reissue COAs.
Due to the scale of this artwork, we recommend that you frame it with your local framer. Need help with framing? Email us at help@exhibitiona.com.
Unframed work ships within 5 business days of your order. Framed artwork is custom framed once it is ordered. Please allow 2-4 weeks for framing and delivery. Need it faster? Expedited options may be available by emailing help@exhibitiona.com. All work ships from the US. International customers are responsible for any customs, duty, or VAT charges.
If you change your mind after placing your order, please email us at help@exhibitiona.com within 24 hours. We will not be able to accommodate cancellations for framed orders after that time period (as your frame will have been ordered and cut within that time period). We may not be able to accommodate your request to cancel your order for an unframed work after 24 hours if it has been packaged and processed by our fulfillment center.
We are unable to accept returns on custom framed artwork. Our general policy is that we do not accept returns. If your print arrives damaged or does not meet your expectations, you may be eligible for a replacement or return. Any issues must be reported within 5 business days of receipt by emailing help@exhibitiona.com.